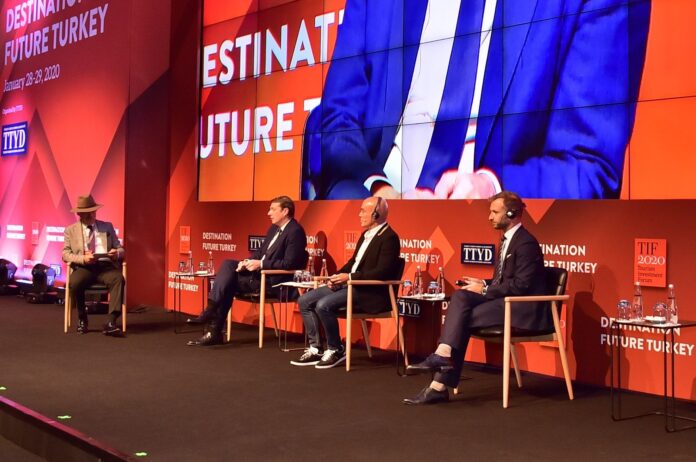 Istanbul: Shaza Hotels announced its expansion plan for the Turkish market at the Tourism Investment Forum 2020 (TIF) organised by the Turkish Tourism Investors Association TTYD in Istanbul last week. The exclusive conference brought together leading international investors, financial institutions, banks and real estate developers to discuss opportunities to shape the future of tourism in the country.
Chris Nader, Vice President, Shaza Hotels, said, "Shaza represents the cultures of the Silk Route, and Turkey is a strategic market for our story and expansion plans. We spent the last few years growing our brands in the Middle East and have now established an office in Istanbul to actively pursue opportunities in Turkey and surrounding markets. The country is ready to welcome new and fresh brands, and our unique brand proposition fits perfectly the needs of investors and travellers, both from a concept standpoint and investment criteria standpoint."
As members of the Global Hotel Alliance, luxury brand Shaza and its upscale brand Mysk by Shaza are the only international hotel brands that manage exclusively alcohol-free hotels.
Nader stressed, "Historically, investors and operators have focussed primarily on two markets: Istanbul and Bodrum. We would of course like to manage properties in these two highly performing cities; however, we also see immense potential in secondary cities and remote destinations. Turkey has so much richness in terms of culture, heritage and nature outside the main cities, and the country needs to promote these locations by developing quality hotels, resorts and retreats to attract the new generation of travellers. This is what we want to achieve."
Shaza Hotels is currently in discussion for various projects in Turkey, including wellness resorts, nature and thermal retreats, and historical palaces connected to heritage and cultural sites.
The Turkish Tourism Investors Association strives to achieve robust, resilient, sustainable, innovative and high-quality nation-wide growth in tourism. The government's 11th development plan has identified tourism as one of the strategic industries, which is to receive special incentives and support, especially outside primary cities. It was recently announced that Turkey has the potential to attract more than 75 million foreign tourists and generate $65 billion in tourism revenues by 2023.
About Shaza Hotels
Shaza Hotels is an international hotel management company comprising of two unique brands: Shaza in the luxury segment, and Mysk in the upscale segment. The brands are characterised by their dedication to offering true Arabian hospitality inspired by the traditions and culture of the Silk Route and reflected by a contemporary Middle Eastern style décor and serene ambiance that is appreciated by the most discerning travellers. Shaza is a member of the Global Hotel Alliance (GHA).
About DISCOVERY Loyalty
A memorable trip demands more than a comfortable stay. DISCOVERY, an award-winning global loyalty programme, provides 16 million members recognition and perks across over 570 hotels, resorts and palaces in 78 countries. Elite members have the opportunity to immerse themselves in local culture through Local Experiences, distinctive activities that capture an authentic taste of each destination. For more information, visit discoveryloyalty.com

For further information please contact:
Eyup Babur
Director for Turkey & CIS
Shaza Hotels
Website: www.shazahotels.com
Email: eyup.babur@shazahotels.com
Office:  +971 4 437 6460
Follow us on:
Facebook: www.facebook.com/ShazaHotels
www.facebook.com/MyskbyShaza
Twitter: @ShazaHotels @MyskbyShaza
Instagram: @ShazaHotels @MyskbyShaza
Linkedin: https://www.linkedin.com/company/shaza-hotels
#ShazaHotels #IamShaza #MyskbyShaza
For media please contact:
Hina Bakht
Managing Director
EVOPS Marketing & PR
Mob: 00971 50 6975146
Tel: 00971 4 566 7355
Hina.bakht@evops-pr.com
www.evops-pr.com