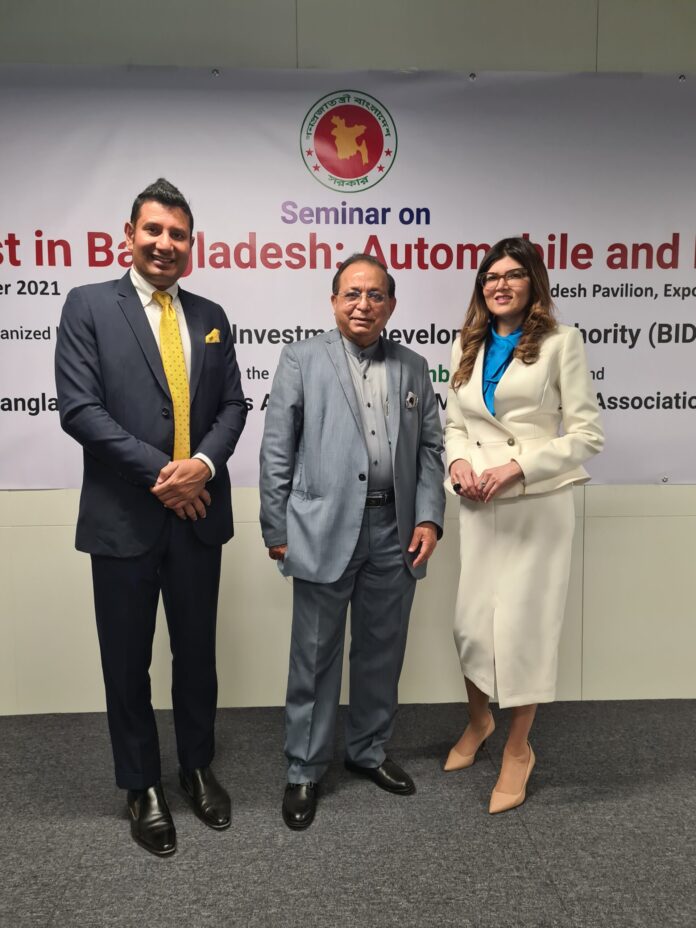 Bangladesh's economic growth is expected to increase to 6.6% in the fiscal year ending June 2022, according to International Monetary Fund. This month as the country celebrated its 50th Independence Day, its Cabinet Secretary declared that the nation's GDP per capita had grown by 9% over the past year, rising to $2,227. On the occasion, the Bangladesh Investment Development Authority (BIDA), along with the prime Investment Promotional Agency (IPA), hosted a special seminar at the EXPO 2020 Dubai to attract local and foreign investment.
Addressing this exclusive forum to promote ARY BEE Global were Dubai-based business growth experts Hina Bakht, Vice Chairman for ATECA Holding and Managing Director for EVOPS Marketing DMCC, and Amit Yadav, Head of Digital Marketing and e-Commerce for Kashkha.
Hina stated, "It is a great privilege and honour to address such a high-profile gathering at the EXPO 2020 Dubai – the world's greatest show of human brilliance and achievement. With its remarkable success story Bangladesh has set an extraordinary example for others in the region. The country has made tremendous progress through its spirit of entrepreneurship and resilience. Our aim with ARY BEE Global – Business Enhancement Ecosystem is to explore and establish bilateral and trilateral partnerships between investors, innovators and manufacturers. ARY is a made-in-Dubai super brand and leveraging on our vast professional network, technological resources and business expertise, we are eager to create unique partnerships between businesses to drive growth and enhance brands."
Amit stressed, "EXPO 2020 Dubai is an incredible opportunity to promote collaboration through innovation and creativity by connecting hearts and minds. The goal of ARY BEE Global is to connect humanity for prosperity. We call it the 'Business Club of Brands'. This unique programme offers an international platform to entrepreneurs across a multitude of sectors who are ready to elevate themselves and their businesses beyond borders."
Amit added, "It is an unbeatable opportunity for brands from Bangladesh, both emerging and established, to explore new frontiers to build a better future. No matter what their industry BEE Global makes it possible for businesses of any size and type, located anywhere in the world, to join our vast network to connect with new customers and penetrate new markets providing direct access to millions of buyers globally. Making us unique and distinctive is the BEE Global Sales Guarantee for a quick and secure Return on Investment. There are numerous factors that make Bangladesh an attractive business hub including stable financial system and regulatory framework and we look forward to embarking on fruitful partnerships to empower the business ties regionally and internationally."
Photo Caption: Amit Yadav, Head of Digital Marketing and e-Commerce Kashkha, Mr. Abdul Matlub Ahmad, Chairman, Nitol-Niloy Group, and Hina Bakht, Vice Chairman for ATECA Holding and Managing Director for EVOPS Marketing DMCC.
About EVOPS Marketing & PR
EVOPS Marketing & PR is equipped with the latest technology and digital capability to provide businesses with the most comprehensive and innovative marketing solutions and strategies. With an integrated 360° marketing approach, the agency offers its high-profile clients bespoke, seamless and personalized service in an era of fast-paced, real-time smart marketing. Included in its services are marketing strategy consultancy, website and mobile app development, PR, social media, advertising, creative design, and events management.
For more information visit www.evops-pr.com
ATECA Holding is a diversified group of companies operating in multiple sectors, from hotel management to tourism, investment, real estate, marketing and training. The organization is focused on development of tourism in Uzbekistan which holds huge potential for growth and is a key pillar of the economy, followed by Central Asia.
Every aspect of the group's business is a mark of perfection and is a step towards stronger brand equity and market leadership. Through the broad spectrum of its operations, ATECA Holding is eager to capitalise on every opportunity in the region to maximise the value of its resources, enhance returns for its associates and shareholders and create long-term value for all. For more information visit www.atecaholding.com