Hina Bakht, Managing Director of EVOPS Marketing and Hotel Development Consultancy, is also founder of Madinah Modest Wear, an e-commerce venture aimed at empowering women and celebrating Central Asia's rich cultural tapestry. She is also the interior designer for the Grand Chortoq Resort & Sanatorium – Uzbekistan's largest hospitality, wellness, and medical project.
Beyond business, Hina has been imparting her knowledge on digital innovation and the transformative impact of latest technologies such as Artificial Intelligence at conferences and universities like Expo 2020 Dubai, Birmingham University Dubai, Indian Institute of Management Calcutta, Krems University in Austria, Yeoju Institute of Technology in South Korea and Tashkent State University of Economics.
Hina has also been engaged in continuous learning with credentials from the world's top institutions like INSEAD, Harvard, ESSEC Business School and Delhi School of Economics. As a marketing expert, Hina has been instrumental in driving growth for numerous businesses in diverse industries.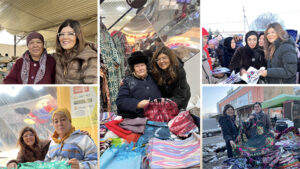 You were among the early NRI journalists who ventured into business. How has the journey been so far?
My journey from journalism to entrepreneurship in the UAE has been incredibly rewarding and fulfilling. I would say it's been a journey of continuous growth, learning, and adapting to the dynamic business landscape of the UAE. As a journalist, I developed a business network as well as a deep understanding of narratives and the power of storytelling. Transitioning to the business realm was a natural progression. Over the past decades, I've ventured into diverse areas, from marketing and e-commerce to hotel design and development, with each endeavour providing its own set of experiences Every venture taught me invaluable lessons, enabling me to further my horizons.
How did you cope with the insecurities of starting up and driving your own business?
Entrepreneurship comes with its own set of challenges. While insecurities are part of the process, the most daunting challenges often arise from unpredictable external factors such as geopolitical shifts or sudden global incidents like the COVID-19 pandemic. For instance, March 11, 2020, remains etched in my memory as we lost 20 key accounts in a single day while being stranded in Uzbekistan, with a subsequent four-month wait before a special Flydubai flight repatriated us. Such challenges, however daunting, shaped my resilience and adaptability. The forced pause in Uzbekistan allowed us to understand the country's untapped tourism potential leading to the opportunity to work on the Grand Chortoq Resort & Sanatorium – the region's largest hospitality, wellness, and medical project. Once back, I realised the boom in e-commerce propelled by the pandemic which led to the establishment of Modinah Modest Wear.

When did you launch your first company in the UAE? You have also launched a new brand. Tell us more about it.
Setting up business with my husband Michel Noblet in 2008 was a pivotal moment in my entrepreneurial journey. Our collaboration allowed us to think different and introduce innovative and flexible marketing strategies to serve a diverserange of businesses. The approach attracted many prestigious clients ranging from hospitality to tourism sector, government bodies, fashion brands, automobiles, and financial institutions. As we progressed, we incorporated an array of hotel development consultancy services serving markets such as Iraq, the GCC and Central Asia. Our objective to diversify led us to undertake interior design projects and we are currently engaged in the design of several hotels and mixed-use projects. With the e-commerce boom came Madinah Modest Wear in 2021. By supporting rural artisans and small textile businesses, Madinah Modest Wear aims to drive demand for their products and foster economic growth through its digital presence.
As a businesswoman, what are the challenges you face? How do you cope?
Challenges are an integral part of any business, more so for an SME like us operating in the dynamic realm of marketing, where technology is ceaselessly advancing. Highly competitive business landscape, changing market dynamics, financial and human resource constraints, rising cost of business, global events affecting client budgets and business plans, and sudden disruptions due to external factors, are some of the challenges we face. To cope one must stay relevant, and hence I believe in continuous learning.
Your professional journey could inspire more NRIs to take up entrepreneurship. Do you think more Indian expats should start a business in the UAE?
Absolutely. The UAE is a land of immense opportunities and I believe Indian expats have tremendous potential for entrepreneurship in the emirates. The country offers a dynamic and diverse business environment with excellent infrastructure, access to global markets, and a supportive ecosystem for startups. The UAE's strategic location, economic stability, and pro-business policies make it an ideal place for aspiring entrepreneurs.

Does your business have ties with India? Any expansion plans?
As a lot of the companies we deal with are from India, we definitely have strong business ties with the country. We have also been involved in initiatives that foster knowledge exchange and collaboration between the UAE and India through conferences and events. As for expansion plans, they are always on the horizon. However, specific developments will depend on the market conditions and opportunities that align with our business objectives. India's growing economic and digital power no doubt presents exciting possibilities, and we remain open to exploring them.
What are the brands you represent?
Although modest in size, our portfolio of clients is quite diverse, spanning sectors such as hospitality, tourism, banking, finance, compliance and technology. A personalised and reliable service with a holistic approach allows us to foster lasting relationships.

As a businessperson, you are also a job creator. It's a major responsibility. Are you a happy company?
Being a job creator is a significant responsibility, but it's also incredibly rewarding. Creating job opportunities and contributing to the development of talented individuals is a source of great satisfaction for me. I believe a happy company is one where employees are motivated, engaged, and work together towards common goals. Therefore, no matter where I am, I strive to foster a positive work culture, where innovation and creativity are encouraged, and employees feel valued and fulfilled in their roles. Ultimately, our objective is to not only to achieve success but also nurture the personal and professional growth of our team members. It's crucial to prepare the next generation with the skills needed to thrive in an increasingly tech-driven world. Hence, I have been conducting masterclasses to share my knowledge and expertise with students at various universities. We have also been extending support to local talent incubators and programmes dedicated to preparing students and graduates for the workforce by nurturing their talent and developing an entrepreneurial mindset.