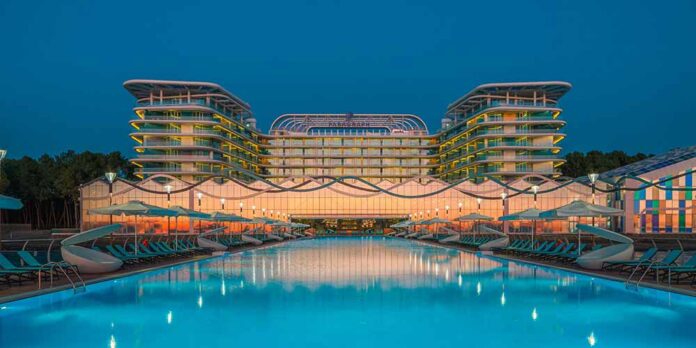 Autograph Collection Hotels, Marriott International's distinctive collection of passionately independent hotels has announced its debut in Georgia with the opening of Paragraph Resort & Spa in the Black Sea coastal resort of Shekvetili. The hotel joins the diverse and dynamic portfolio of Autograph Collection Hotels around the world – all independent, one-of-a-kind hotels that champion values of vision, design and craft.
"We are thrilled to welcome Paragraph Resort & Spa to the Autograph Collection Hotels portfolio," said John Licence, VP Premium & Select Brands Europe at Marriott International. "With its spectacular design and standout guest experiences, this hotel certainly delivers on the brand's commitment to offering exactly like nothing elsemoments at one-of-a-kind hotels around the world."
Nestled between the magnetic sand beaches of the Black Sea coast and an ancient pine forest, Paragraph Resort & Spa offers a unique array of features and exceptional meeting facilities, perfect for both leisure and corporate retreats. With a wealth of child-friendly facilities including kids club, cinema, zip line, bicycle trails and indoor aqua park, the hotel is also perfect for a family getaway.
An outstanding feature of Paragraph Resort & Spa is its expansive public spaces, which range from the lobby's walkthrough aquarium full of exotic marine life, to a majestic winter garden with indoor waterfall and aqua park. The jewel in the crown, however, is the 115m-long filtered seawater pool built into a panoramic deck leading out over the Black Sea.
"We are excited to debut our first Autograph Collection Hotel in Georgia with the beautiful Paragraph Resort & Spa Shekvetili," said Jennifer Connell, Vice President, Brand Marketing & Management, Autograph Collection Hotels. "With two additional hotels slated to open in Georgia by 2020, we look forward to expanding our footprint in the country, and continuing to grow our collection of more than 135 distinctive hotels around the world."
The 220 spacious bedrooms and suites feature distinguished design and luxurious furnishings, including ergonomically designed tubs and Roberto Cavalli amenities in the bathrooms. All rooms offer private balconies, many with spectacular views of the Black Sea coast.
Guests are catered to at any time during their stay and will enjoy the hotel's Lobby Bar, Winter Garden and all-day dining restaurant serving everything from breakfast to afternoon snacks and local delicacies for dinner. Sky Bar, located on the top floor of the hotel, offers a tailored menu of exotic drinks and expertly mixed cocktails to be enjoyed whilst soaking up the stunning 360⁰ views over both the surrounding coast and mountains.
Paragraph Resort & Spa is perfectly equipped to host corporate events with a total of six rooms offering over 8500sqft of event space. The largest of these is the 5000sqft ballroom featuring an aquarium wall and winter garden view. Additional facilities include a 24-hour fitness centre and spa offering a wide range of treatments for both adults and children, plus steam room and plunge pool.
About Autograph Collection Hotels
Autograph Collection Hotels, part of Marriott International, Inc., celebrates individuality by curating one-of-a-kind travel experiences at 135 lifestyle hotels in nearly 30 countries and territories, among the world's most desirable destinations. Exactly like nothing else, Autograph Collection properties are hand selected for their rich character and uncommon details. A personal realization of an individual founder's vision, these hotels are defined by unique design, differentiated guest experiences and their meaningful role in locality. Autograph Collection Hotels is proud to participate in the industry's award-winning loyalty program, Marriott Rewards® which includes The Ritz-Carlton Rewards®. Members can now link accounts with Starwood Preferred Guest® at members.marriott.com for instant elite status matching and unlimited points transfer.  For more information, please visit www.autographhotels.com, and explore our social media channels on Instagram, Twitter, and Facebook to learn more about championing the independent spirit that is #ExactlyLikeNothingElse.
About Marriott International, Inc.
Marriott International, Inc. (NASDAQ: MAR) is based in Bethesda, Maryland, USA, and encompasses a portfolio of more than 6,500 properties in 30 leading hotel brands spanning 127 countries and territories. Marriott operates and franchises hotels and licenses vacation ownership resorts all around the world. The company also operates award-winning loyalty programs: Marriott Rewards®, which includes The Ritz-Carlton Rewards®, and Starwood Preferred Guest®. For more information, please visit our website at www.marriott.com, and for the latest company news, visit www.marriottnewscenter.com. In addition, connect with us on Facebook and @MarriottIntl on Twitterand Instagram.
Note on Forward-Looking Statements: This news release contains "forward-looking statements" within the meaning of federal securities laws, including the number of lodging properties the company may add in future years and similar statements concerning possible future events or expectations that are not historical facts.  We caution you that these statements are not guarantees of future performance and are subject to a number of risks and uncertainties, including changes in market conditions; changes in global and regional economies; supply and demand changes for hotel rooms; competitive conditions in the lodging industry; relationships with clients and property owners; the availability of capital to finance hotel growth and refurbishment; and other risk factors that the company identifies in its most recent quarterly report on Form 10-Q or annual report on Form 10-K; any of which could cause actual results to differ materially from the expectations we express or imply here.  We make these statements as of the date of this press release, and we assume no obligation to publicly update or revise any forward-looking statement, whether as a result of new information, future events or otherwise.