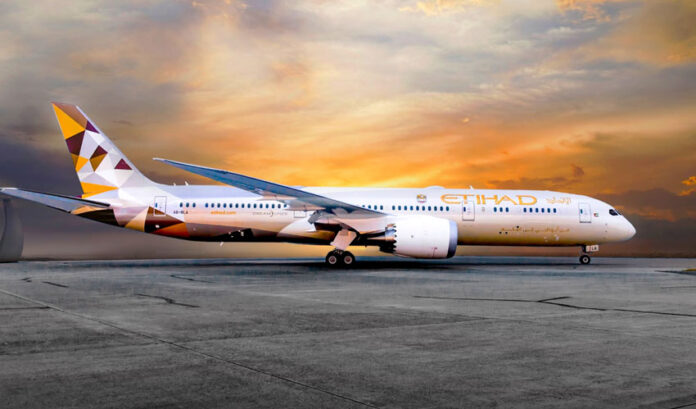 Abu Dhabi, United Arab Emirates – Etihad Airways has officially opened its Etihad Eco Residence, Abu Dhabi's first purpose-built, sustainable Leadership in Energy and Environmental Design (LEED) Platinum rated cabin crew accommodation. The project is the result of a unique partnership between the UAE's national airline and the Abu Dhabi Future Energy Company, Masdar.
The Etihad Eco Residence was inaugurated in the presence of Khaled Al Qubaisi, Chief Executive Officer, Aerospace, Renewables & Information Communications Technology (ICT) for Mubadala, by Tony Douglas, Group Chief Executive Officer, Etihad Aviation Group. Also present was Mohamed Jameel Al Ramahi, Chief Executive Officer for Masdar, alongside senior executives from Etihad Airways and Masdar.
The complex, which comprises 500 apartments in 11 buildings at the pioneering Masdar City development, was recently awarded 'Sustainable Design of the Year' at the 2017 Emirates Green Building Council (EGBC) MENA Green Awards, and 'Sustainable Construction Project of the Year' at the Big Projects Middle East Awards 2017. The residence offers comfortable, high-specification one and two-bedroom apartments which include furniture and white goods provided by Etihad Airways.
Mana Mohamed Saeed Al Mulla, Etihad Aviation Group Chief Group Support Services Officer, said: "The opening of the landmark Etihad Eco Residence underscores not only the importance we place on providing superior housing to our valued cabin crew, but also our responsibility, as part of the greater Abu Dhabi vision, to play a part in transforming the capital into a global leader in smart urban planning, clean energy and sustainability."
The residence reflects Masdar's commitment to the three pillars of social, economic and environmental sustainability and is designed to promote biodiversity while minimising the use of 'high embodied energy' materials. The use of local suppliers has also helped to reduce transport-related carbon emissions. At least 20 per cent of materials were either sourced or manufactured within 800 kilometres of the project.
Yousef Baselaib, Executive Director of Sustainable Real Estate at Masdar, said: "This new development demonstrates how early project involvement by key stakeholders, including the end-user, developer, design team and contractor, results in a highly desirable end-product. We hope Etihad Airways' cabin crew enjoy the amenities at their new building, as well as those at Masdar City."
Etihad Airways employs over 5,800 Abu Dhabi-based cabin crew. The opening of the Etihad Eco Residence reflects the airline's crew accommodation strategy of providing superior, environmentally-friendly homes with recreational, dining, health and lifestyle facilities, conveniently located close to the capital's international airport for ease of transport and operational efficiency.
Mark Scoble, Etihad Airways Head of In-flight Performance and Operations, added: "Our brief to the architects and designers of the Etihad Eco Residence was to create a development that is in line with Etihad's environmental principles as well as a safe, secure and commercially viable residential precinct that embraces our acclaimed cabin crew community, who hail from over 120 countries around the world.
"This new residence offers high quality homes and a desirable cosmopolitan lifestyle in a sustainable urban environment. We are proud that this has now been made a reality for our flying family here in Abu Dhabi."
An enhanced microclimate has been created around each of the buildings using sustainable landscaping methods and massing the shape and size of the buildings, which captures the breeze for natural ventilation while offering protection from wind and dust. These features complement the urban environment and contribute to overall energy saving.
Each of the Etihad Eco Residence's buildings has been designed using low environmental impact construction materials, which aid the reduction of strong sunlight yet maximise available natural daylight.
Solar hot water systems provide 76 per cent of the community's water demand and the buildings' design encourages greater water efficiency and the reduction of potable water usage, as well as smart waste management.
Masdar is collaborating with local stakeholders to pioneer a 'greenprint' for sustainable urban development at Masdar City using a holistic approach focused on integrating sustainable transportation initiatives, optimising waste management, reducing energy use, water consumption and carbon emissions, and accommodating rapid urbanisation.
In January 2018, autonomous vehicle producer NAVYA was awarded the contract to develop phase two of Masdar City's personal rapid transit (PRT) system, which will be expanded along a new one-kilometre route linking Masdar Institute with the headquarters of the International Renewable Energy Agency (IRENA) and Majid Al Futtaim's My City Centre Mall.