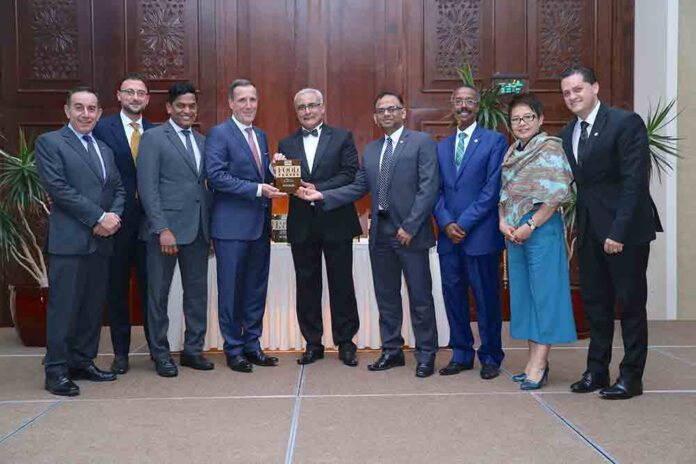 Bahrain – Swiss-Belhotel Seef was voted the winner of the 'Best 4-Star Hotel' and the 'Best Hotel of the Year' titles at the prestigious Bahrain 2018 Food & Travel Awards held in the Kingdom last week. The award celebrates excellence in Bahrain's hospitality industry and is only given to establishments that consistently deliver outstanding quality.
Congratulating the team, Laurent A. Voivenel, Senior Vice President, Operations and Development for the Middle East, Africa and India, Swiss-Belhotel International, said, "Swiss-Belhotel Seef is one of our flagship hotels in the region that has established a fabulous reputation in Bahrain in terms of its distinctive service standards and high quality of product. We are thrilled to receive these awards that are considered a benchmark of excellence. There is nothing more gratifying than to see guests appreciate our product and service. I take this opportunity to congratulate all our team whose passion and hard work has contributed to this exceptional success."
Competing with leading hotels in the country, Swiss-Belhotel Seef Bahrain's recognition came on the strength of various factors including product excellence and high quality of service, management, food, atmosphere and customer care all of which translate into excellent value for money.
Herve Peyre, General Manager, Swiss-Belhotel Seef and Area General Manager, Bahrain, said, "To be recognized as the 'Best 4-Star Hotel' for the third consecutive year as well as receive the coveted trophy of the 'Best Hotel of the Year' is a great honour. We are extremely proud of this achievement and attribute it to the hard work and dedication of our team who have been tirelessly delivering the most memorable experiences and excellent value to our guests at every step of their journey. Awards such as these motivate us to do better and we are truly grateful to both the organizers as well as our guests who have recognized and appreciated our efforts".
Located in Bahrain's central business and commercial district only 20 minutes' drive from Bahrain International Airport, Swiss-Belhotel Seef provides guests with superior facilities and standards of service. The 28-storeys tall hotel boasts a superb choice of 144 contemporary and spacious guestrooms and suites offering breath-taking sea and city views. The hotel is fully equipped to meet the needs of modern business and leisure travellers with an array of facilities and unique features including specialty dining venues, extensive banquet and conference facilities equipped with state-of-the-art technology, a fabulous fitness centre as well as outdoor swimming pool and spa.
For further information visit http://www.swiss-belhotel.com