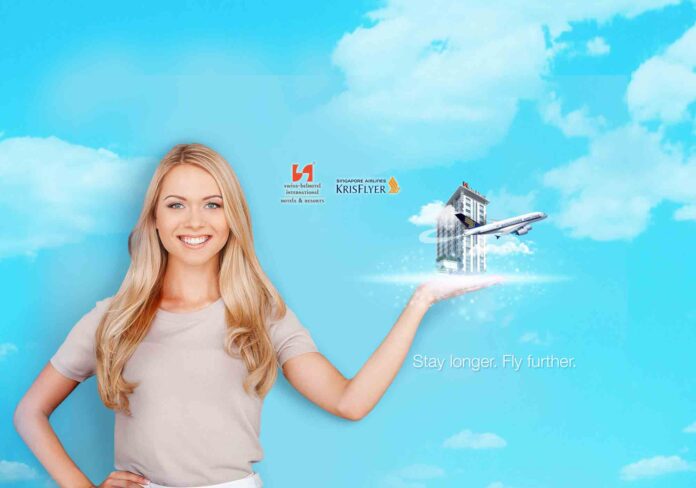 HONG KONG – Swiss-Belhotel International, the award-winning global hotel chain and hospitality management group, will offer Singapore Airlines KrisFlyer miles to members who stay at the brand's hotels, resorts and serviced residences around the world.
Swiss-Belhotel International hotel guests can Stay Happy & Fly Further, earning one KrisFlyer mile for every US Dollar spent during their stay at participating Swiss-Belhotel International hotels.
In addition to KrisFlyer miles earned when booking a stay, the more guests enjoy the restaurant, spa, bar or other hotel services, the more KrisFlyer miles they accrue.
Singapore Airlines flies to more than 60 countries and territories around the world, including many Swiss-Belhotel destinations. Members can accumulate miles through flights, credit card purchases, hotel stays and more.
Mr. Gavin M. Faull, Chairman and President of Swiss-Belhotel International believes that the new partnership with Singapore Airlines will be a high-flying success because of the way people travel today. "The once-a-year family vacation has been replaced by short getaways, longer holidays and more frequent travel. More affordable and better travel routes with companies such as Singapore Airlines are creating a smaller world, one where people travel and stay in hotels more often. Rewarding guests is a great way for us to give something back, inspire them to stay with us again and perhaps fly even further with their KrisFlyer miles and visit more of our Swiss-Belhotel hotels and resorts around the world."
It is easy to earn KrisFlyer miles with unique Swiss-Belhotel International stays at high-quality, well-appointed hotels and resorts. Guests can also benefit from a range of tempting offers by booking online. These include last-minute offers; online booking discounts; early bird deals; long weekend, seasonal and sporting event specials; wedding party and special event bookings; hot deals; and weekend, week-long and extended stay promotions.
 To learn more about the offers and points available visit http://www.swiss-belhotel.com/en-gb/krisflyer
For further information or high-resolution photography, please contact: 
Brayna Tolledo
Group Manager – Communication and Loyalty Programme
Swiss-Belhotel International, Group Sales and Marketing Office
Tel: (62 21) 2952 7277, 2952 7278
Fax: (62 21) 2952 7275, 2952 7276
Email: braynatolledo@swiss-belhotel.com