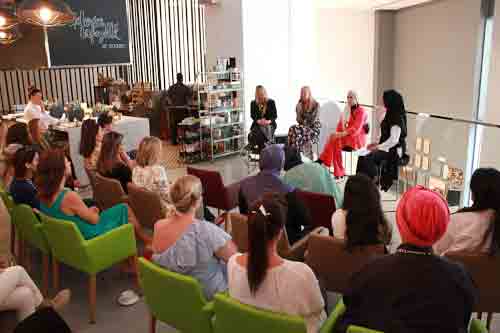 "On April 2nd we hosted our 7th Career Clinic on the closing day of the Islamic Fashion & Design Council's Pret-a-Cover Buyers Lane event, which took place over six days at the immaculate City Walk Dubai. We joined forces with the IFDC to bring together a panel knowledgable and influential women to discuss all things fashion in the region, including representatives from Harper's Bazaar and The College of Fashion Design Dubai.
Galeries Lafayette Le Gourmet hosted our morning upstairs in their stunning'Table Talk' venue – a culinary school turned perfect event space. The session opened and was led by our guest moderator Rabia Zargarpur, world class fashion entrepreneur, designer and creator of the Modest Fashion concept, who introduced our panel of speakers: Safiya Abdalla, fashion designer of Dulce by Safiya; Emily Baxter Deputy Editor of Harper's Bazaar Arabia and Dr Monica Gallant, President and CEO of the College of Fashion Design Dubai.
Each of our speakers answered a curated selection of questions ranging from starting up your own label and fashion business, to education, design, and working for the big industry game players. Emily shared her story and experience in having worked for over 10 years for leading fashion magazines, while Monica emphasised the importance of education and refining the necessary skills it takes for a fashion entrepreneur to get started. Safiya shared her own story and struggles with starting up a one-woman run business from the bottom up, whilst juggling motherhood to three young children and expat life in Dubai.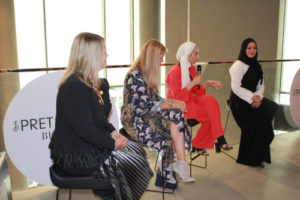 Other important areas addressed were the impact social media and influencer marketing has had and how one manages to keep their brand and image on social as authentic as possible, whilst overcoming some of the fashion misconceptions in the region.
Fashion has definitely seen a major shift in the GCC over the last few years, moving away from being known as purely high end 'fashion consumers' to giving rise to some of the industry's fashion game changers. Rabia Zargarpur is an example of such, becoming one of the first designers to showcase Modest Fashion ready-to-wear looks on mainstream runways and fashion shows.
A stand out take home message for all our guests would have to be that no designer 'made it' straight out of fashion school; brands like Tom Ford and Valentino all began at the bottom, working for others and building their story, and did not become successful overnight.  The other key message was that there is no such thing as perfection – trial and error are key in all aspects of career and life, and if you don't try you'll never know!
The panel wrapped up at 11am and all guests enjoyed an hour long opportunity to network with each other and the speakers after the talk, with business cards and contacts exchanged at all levels.   As always, the energy that built in the room was infectious and the advice shared invaluable."
Our next Career Clinic will be held in collaboration with Mompreneurs ME at Life N One, Jumeirah, on April 23rd.  To register your interest, email us at events@hopscotch.ae.