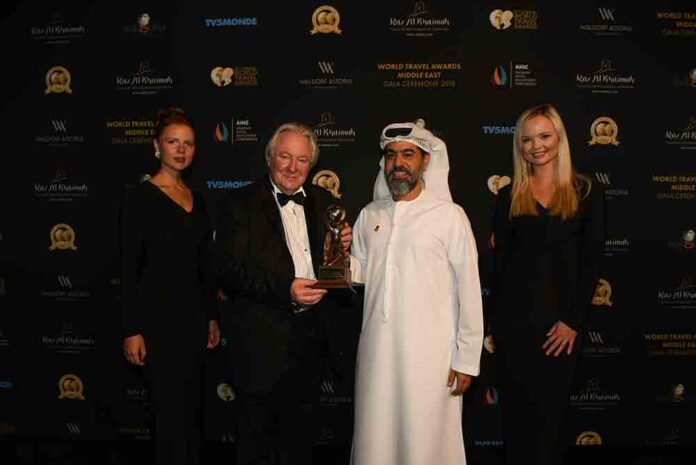 Emirates, the world's largest international airline, has been recognised at the World Travel Awards Middle East 2018 with four awards – Middle East's Leading Airline, Middle East's Leading Airline Brand, Middle East's Leading Business Class Airport Lounge and Middle East's Leading Cabin Crew.
The red carpet ceremony was attended by more than 500 industry leading figures and professionals from across the Middle East. Khalid Al Serkal, Emirates' District Manager Sharjah received the awards on behalf of the airline.
Sheikh Majid Al Mualla, Divisional Senior Vice President Commercial Operations Centre said: "It is an honour to be recognised by the World Travel Awards Middle East 2018 for our ongoing efforts to continually enhance the customer experience both onboard and on the ground. Taking the top spot in multiple categories is a reflection of the airline's commitment to operational excellence, outstanding customer service and a focused approach on building the brand."
Last year, the airline launched product enhancements on its Boeing 777 and A380 aircraft – unveiling its enhanced A380 Onboard Lounge, game-changing Boeing 777-300ER First Class private suites and new Business Class cabin and configuration on its Boeing 777-200LR aircraft. Passengers on Emirates across all cabins can enjoy its award winning in-flight entertainment system ice, with up to 3,500 channels and 20MB complimentary on-board Wi-Fi, as well as regionally inspired meals prepared by award-winning chefs.
Emirates' state-of-the-art, seven Business Class Lounges at Dubai International Airport Concourses A, B and C – boast a total seat capacity of over 4,500. Concourse B lounges recently completed a US$ 11 million makeover, offering Business Class customers, as well as Platinum and Gold Skywards members  the highest standards of comfort before their flight. The airline also expanded its global network of lounges to 41 dedicated Emirates Lounges in 2017.
The airline's international team of over 23,000 cabin crew come from over 135 countries, and speak more than 60 languages. Crew members are trained to provide the very best inflight service and Emirates on-board experience.
Emirates operates a modern fleet of 269 all wide-body aircraft, and is the first and only airline in the world to operate a fleet of all Airbus A380 and Boeing 777 aircraft for its passenger flights. The airline's extensive network offers customers travel choices to over 159 destinations, in 85 countries, across six continents.