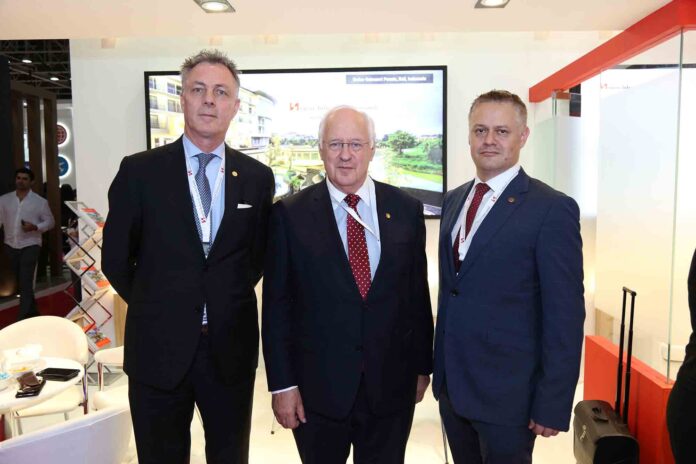 DUBAI – Swiss-Belhotel International, the award-winning global hospitality chain, announced today at the Arabian Travel Market (ATM) in Dubai a major milestone of reaching 150 hotels in operation and development.
Mr. Gavin M. Faull, Chairman and President of Swiss-Belhotel International, commented, "Reaching 150 hotels opened or signed globally is a very important milestone for us and highlights our momentous growth. This achievement illustrates the strength of Swiss-Belhotel International's superb portfolio of brands delivering exceptional guest experience in every segment of the market with the support of our outstanding partners and a great team."
Mr. Faull further added, "Our global success is driven by our aggressive expansion strategy in high-growth markets. Moving forward, we remain committed to accelerate the growth of our brands and are eager to capitalise on the upcoming opportunities by leveraging on the synergies across our wide industry network."
Swiss-Belhotel International's legacy dates back to the company's establishment in Hong Kong in 1987. The group currently operates 73 hotels worldwide and has 77 projects in the pipeline. It is counted among the top 100 hotel companies in the world offering a choice of 14 brands in 22 destinations across 4 continents with 10 regional offices. Since 2016, Swiss-Belhotel International started expanding aggressively in Australia and New Zealand where the group not only manages hotels but ventured into ownership of the management rights. Europe is also on the radar where the company recently signed a hotel in Italy and is considering 4 more projects in the region.
The Middle East and Africa are strategic markets for Swiss-Belhotel International with 17% of the global portfolio centered in the region. Mr. Laurent A. Voivenel, Senior Vice President, Operations and Development for the Middle East, Africa and India for Swiss-Belhotel International, said, "We have got an extremely strong development pipeline in the Middle East and Africa with a portfolio of over 3,500 rooms across 12 cities. 2018 is a significant year for us with six new hotels opening in quick succession. In addition,we are in negotiations for various other projects that will see our business grow substantially in the region over the coming months. We expect to reach 30 hotels in the Middle East and Africa by 2020."
Swiss-Belhotel International is present at Arabian Travel Market from 22 to 25 April on stand 'HC1130' in Sheikh Saeed Hall in Dubai International Convention and Exhibition Centre.
For media contact:
Hina Bakht
Managing Director
EVOPS Marketing & PR
Mob: 00971 50 6975146
Tel: 00971 4 566 7355
Hina.bakht@evops-pr.com
www.evops-pr.com
About Swiss-Belhotel International
Swiss-Belhotel International currently manages a portfolio of more than 150* hotels, resorts and projects located in Cambodia, China, Indonesia, Malaysia, Philippines, Vietnam, Bahrain, Egypt, Iraq, Kuwait, Oman, Qatar, Saudi Arabia, United Arab Emirates, Australia, New Zealand, Bulgaria, Georgia, Italy and Tanzania.  Awarded Indonesia's Leading Global Hotel Chain for six consecutive years, Swiss-Belhotel International is one of the world's fastest-growing international hotel and hospitality management groups. The Group provides comprehensive and highly professional development and management services in all aspects of hotel, resort and serviced residences. Offices are located in New Zealand, Hong Kong, Australia, China, Europe, Indonesia, United Arab Emirates, and Vietnam. www.swiss-behotel.com
*Numbers may fluctuate