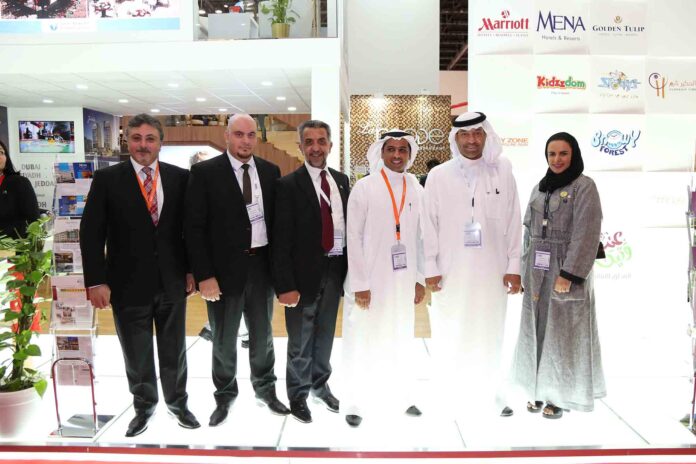 Consolidating its partnership with the world's leading hospitality brands, Al Hokair Group continues to expand rapidly in gateway business and leisure destinations across the Middle East.Following the addition of 1113 new rooms to its exceptional portfolio of hotels over the last 12 months, the group has increased its inventory of keys by approximately 25 per cent from 4548 rooms to 5661 rooms.
Speaking at the Arabian Travel Market (ATM) today Mr. Sami Al Hokair, Managing Director of Al Hokair Group, stated, "Al Hokair's expansion strategy is in line with region's growth and investment in the tourism sector. Our partnership with global hospitality brands such as Marriott International, IHG, ACCOR Hotels, Radisson Hotel Group and HILTON gives us a unique edge over the competitors while leveraging Al Hokair Group's position as a market leader in the hospitality industry. The recent addition of fabulous new hotels namely Jabal Omar Marriott Hotel, Radisson Blu Residence Istanbul Batisehir, Radisson Blu Hotel Jeddah Corniche, Park Inn by Radisson Jubail, MENA Plaza Al Barsha Dubai, MENA Airport Hotel Jeddah, MENA ApartHotel Al Barsha Dubai, MENA Hotel Tabuk KSA and Jeddah Marriott Hotel (opening 2019), has allowed us to penetrate new destinations like Makkah, Tabuk and Istanbul while growing our presence in existing territories".
Mr. Sami Al Hokair added, "Furthermore, we have accelerated the expansion of Al Hokair's owned brand MENA Hotels & Resorts with a fresh new look and concept reflecting the pulse of Arabian hospitality. This diversity of brands and hotels allows us to serve a wide range of market segments from mid-scale to luxury while providing a superb choice to our guests including the new generation of travellers."
The new additions and development will positively contribute to the revenue and increase market share of Al Hokair hotels' division. Mr. Omar Samara, CEO of Al Hokair Group, "We believe there is a tremendous potential for growth in the hospitality sector in spite of the current challenges in the market and the global market conditions. Our long-term strategic partnerships are founded on compelling value propositions and business transparency. Combining our resources and in-depth understanding of the region with the global network and expertise of the world's most successful hospitality brands we aim to contribute positively to the Vision 2030 as tourism and hospitality is a key pillar in the growth of Kingdom's GDP. All our hotels stand out for their outstanding location, design excellence and facilities developed to match the highest industry standards. Our success is rooted in our unrivalled heritage founded on principles of integrity,efficiency, quality, innovation, value, growth and teamwork."
Mr. Haitham Murad, Managing Director of the Hotels Division at Al Hokair Group, added: "The addition of new hotels to the Group enhances our presence in the Kingdom and beyond. We are always keen on providing quality service to our guests throughout our hotels, while preserving the principles of Arab hospitality that sets us apart and ensuring the guests' comfort and satisfaction during their stay, thanks to a carefully selected team of experienced hospitality professionals. In addition, we invest heavily in the training of Saudi young men and women and in recruiting them in the vital hotel sector. Our strategic partnership with some of the world's leading hotel companies has consolidated our position to keep on the path of competitiveness, delivering value and excellence, adopting new technologies and providing top-notch solutions, whether in the local or regional markets."
–ENDS–
Al Hokair Group will be present at Arabian Travel Market from 22 to 25 April on stand 'HC 0570' in Sheikh Saeed Hall in Dubai International Convention and Exhibition Centre.
About Al Hokair Group
Founded in 1975, under the leadership of Sheikh Abdulmohsin Al Hokair, Al Hokair Group boasts a portfolio of 90+ entertainment centres and 40+ hotels comprising more than 5500 rooms spread across KSA, UAE and JORDAN. Occupying over 882,226 sqm of space and employing over 4100 experienced professionals, the group serves over 12 million people annually.
For more information about Al Hokair Group visit www.alhokair.com
For media
Hina Bakht
Managing Director
EVOPS Marketing & PR
Mob: 00971 50 6975146
Tel: 00971 4 566 7355
Hina.bakht@evops-pr.com
www.evops-pr.com