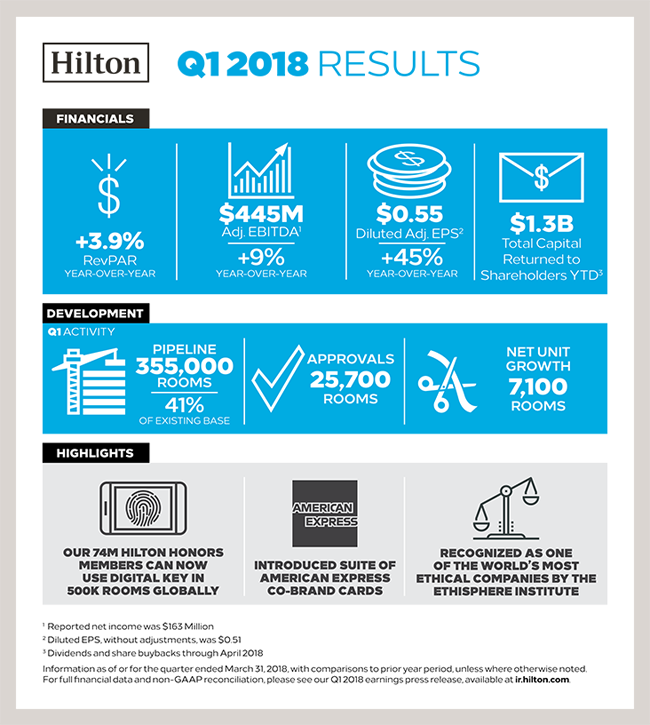 MCLEAN, Va. – Hilton Worldwide Holdings Inc. ("Hilton" or the "Company") (NYSE: HLT) today reported its first quarter 2018 results. All results herein, including prior year, reflect the adoption of new accounting standards, including Accounting Standards Update ("ASU") No. 2014-09, Revenue from Contracts with Customers (Topic 606) ("ASU 2014-09"). Highlights include:
Diluted EPS was $0.51 for the first quarter, and diluted EPS, adjusted for special items, was $0.55, a 45 percent increase from the first quarter of 2017
Net income for the first quarter was $163 million
Adjusted EBITDA for the first quarter was $445 million, an increase of 9 percent from the same period in 2017
System-wide comparable RevPAR increased 3.9 percent on a currency neutral basis for the first quarter from the same period in 2017
Approved 25,700 new rooms for development during the first quarter, growing Hilton's development pipeline to 355,000 rooms as of March 31, 2018, representing 9 percent growth from March 31, 2017
Opened 10,600 rooms in the first quarter, a 7 percent increase from the same period in 2017, adding 7,100 net rooms
Repurchased 1.3 million shares of Hilton common stock for an aggregate cost of $110 million during the first quarter
In April 2018, repurchased 16.5 million shares of Hilton common stock from HNA for $1.17 billion in connection with HNA's full divestiture of its investment in Hilton
In April 2018, issued $1.5 billion aggregate principal amount of 5.125% Senior Notes due 2026 to facilitate the stock buyback from HNA and to repay approximately $500 million of Hilton's senior secured term loan facility
Raised guidance for full year 2018 system-wide comparable RevPAR growth to between 2.0 percent and 4.0 percent, an increase of 100 basis points at the mid point
Raised Adjusted EBITDA guidance for full year 2018 to between $2,060 million and $2,100 million
Raised capital return guidance for full year 2018 to between $1.7 billion and $1.9 billion
Click here to view the full release. 
Contacts:
Jill Slattery
Investor Contact
+1 703 883 6043
jill.slattery@hilton.com
Katrina Jones
Media Contact
+1 703 883 6615
katrina.jones@hilton.com
ABOUT HILTON
Hilton (NYSE: HLT) is a leading global hospitality company, with a portfolio of 14 world-class brands comprising more than 5,300 properties with more than 863,000 rooms, in 106 countries and territories. Hilton is dedicated to fulfilling its mission to be the world's most hospitable company by delivering exceptional experiences – every hotel, every guest, every time. The company's portfolio includes Hilton Hotels & Resorts, Waldorf Astoria Hotels & Resorts, Conrad Hotels & Resorts, Canopy by Hilton, Curio Collection by Hilton, DoubleTree by Hilton, Tapestry Collection by Hilton, Embassy Suites by Hilton, Hilton Garden Inn, Hampton by Hilton, Tru by Hilton, Homewood Suites by Hilton, Home2 Suites by Hilton and Hilton Grand Vacations. The company also manages an award-winning customer loyalty program, Hilton Honors. Hilton Honors members who book directly through preferred Hilton channels have access to instant benefits, including a flexible payment slider that allows members to choose exactly how many Points to combine with money, an exclusive member discount that can't be found anywhere else, and free standard Wi-Fi. Visit 
newsroom.hilton.com
 for more information and connect with Hilton on 
Facebook
, 
Twitter
, 
LinkedIn
, 
Instagram
, and 
YouTube
.