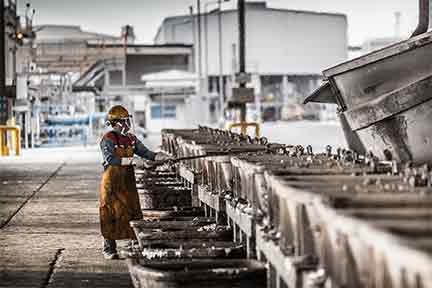 In its first year as a new entity, operating income was AED 10.7 billion; total comprehensive income was AED 10.3 billion; total assets grew to AED 469.4 billion.
Today, Mubadala Investment Company of Abu Dhabi announced its full-year 2017 financial and operational highlights.
Group Chief Executive Officer and Managing Director, Khaldoon Khalifa Al Mubarak, said: "2017 was a landmark year for our new organization. All four global platforms contributed to our strong financial and operational results. The scale of our integrated portfolio enabled us to increase investments in existing companies and monetize mature assets, while entering new sectors in key international markets where we see long-term growth potential and alignment with Abu Dhabi's strategic priorities."
Financial highlights for the full-year period ending 31st December 2017*, include:
Revenue was AED 165.6 billion compared to AED 145.4 billion in 2016, driven by the strong performance of all four global platforms, with major contributions from upstream & integrated, petrochemicals and the semiconductor business sectors.
Operating Income was AED 10.7 billion compared to AED 9.6 billion in 2016. Petrochemical and Aluminum manufacturing assets were major growth drivers.
Total Comprehensive Income was AED 10.3 billion compared to AED 5.1 billion in 2016, with gains from divestments of mature assets and the increase in value of financial holdings.
Total Assets were AED 469.4 billion at the end of 2017 compared to AED 449.7 billion at the end of 2016.
Total Equity was AED 258 billion at the end of 2017 compared to AED 228.3 billion at the end of 2016.
Cash and Cash Equivalents was AED 29.9 billion at the end of 2017 compared to AED 33.8 billion at the end of 2016.
The gearing ratio was 28.7% at the end of December 2017, compared to 29.6% at the end of 2016.
Mubadala Investment Company was formed through the merger of Mubadala Development Company and International Petroleum Investment Company in 2017. MDC and IPIC, both wholly owned subsidiaries of MIC, hold credit ratings by Moody's, Standard & Poor's and Fitch of Aa2/AA/AA respectively.
Chief Financial Officer, Carlos Obeid, said: "In 2017 we made significant progress by reducing overall leverage while maintaining appropriate liquidity to deploy capital in new investments. In addition, we took the opportunity to monetize some of our mature assets which provided a significant return on our original investments, in line with our mandate to deliver financial returns to our shareholder."
Operational highlights from across Mubadala Investment Company's four global business platforms are:
Aerospace, Renewables & ICT
Mubadala successfully completed the sale of a 40 percent stake in Tabreed, its district cooling business, to ENGIE, a global energy leader for AED 2.8 billion. Mubadala remains the largest shareholder of the Abu Dhabi based district cooling utility company.
Masdar inaugurated its third wind farm in the UK, the Dudgeon Offshore Windfarm, bringing the combined power generating capacity of all three projects to 1 gigawatt (GW) – enough clean energy to supply nearly 1 million homes. The wind farm comprises 67 wind turbines and is now supplying around 410,000 UK homes in one of the largest deployments of 6MW wind turbines, the most powerful on the market.
Strata Manufacturing completed delivery of its first set of A350-900 inboard flaps to Airbus. Airbus selected Strata to manufacture the A350-900 inboard flap in 2015. Strata-produced inboard flaps have been incorporated into A350s from January 2018 and the company expects to ramp up production of these important components in 2018 and 2019.
Alternative Investments & Infrastructure
Mubadala made a AED 55.1 billion (US $15 billion) commitment to the US $100 billion SoftBank Vision Fund, the world's largest dedicated technology investment vehicle.
Mubadala opened its first U.S. office in San Francisco, to support its Venture Capital business which will oversee early growth investments and manage the Softbank Vision Fund investments.
Ardian, the world-class French private equity investment company, confirmed it would commit up to AED 9.1 billion to private equity funds managed by Mubadala Capital.
Mubadala continued to invest in its world-class healthcare facilities, which saw substantial growth across 2017:

Cleveland Clinic Abu Dhabi recorded 475,319 patient visits and performed 13,372 surgical cases. The multi-specialty hospital also achieved a major medical landmark with the country's first full multi-organ transplant. This landmark moment for tertiary transplant medicine in the UAE, and the region, included a heart, lung, kidney and split-liver transplant.
Healthpoint recorded 319,870 patients visits and physicians performed 4,891 surgical cases.
Imperial College London Diabetes Centre (ICLDC) recorded an 18% increase in patient activity with a total of 326,684 patient visits, and the new Zayed Sports City branch reached breakeven point after only three months of operation.
Petroleum & Petrochemicals
Nova Chemicals announced the acquisition of one of the largest petrochemicals facilities in the U.S., the olefins plant in Geismar, Louisiana, for AED7.7 billion (US$2.1 billion), marking a major entry into the U.S. Gulf Coast market.
Borealis and ADNOC, working through the Borouge joint venture, announced plans to extend and expand petrochemical activities in Ruwais, through the building of the Borouge 4 polyolefin facility and an Engineering, Procurement & Construction tender for the new Borstar® polypropylene plant, PP5.
In November 2017, Cepsa and ADNOC signed an agreement to evaluate a new world-scale LAB complex in Ruwais, Abu Dhabi, expected to be operational in 2022. Cepsa is the world's leading producer of Linear Alkylbenzene (LAB), the main raw material used to make biodegradable detergents, producing 600,000 tonnes annually equating to 15% of global production. ADNOC and Cepsa bring complementary strengths to the project; ADNOC resources and expertise in the feedstock area from its Ruwais refinery, and Cepsa's LAB technology and market knowledge.
Technology, Manufacturing & Mining
EGA produced a record 2.6 million tonnes of cast metal in 2017, exceeding 2016's production and making EGA the third largest producer of primary aluminium outside China. EGA also opened its first office in China and continues to make progress on two major value chain integration projects including; a 2 million ton alumina refinery at Al Taweelah, Abu Dhabi, and a 12 million ton bauxite export mine in Guinea.
Mubadala sold 85 million shares worth 4.18 billion dirhams ($1.139 billion) in Advanced Micro Devices (AMD). Mubadala retained a 12.9% stake in AMD and remains the largest shareholder.
GLOBALFOUNDRIES successfully ramped up its most technologically advanced facility at Malta, in upstate New York, delivering 14nm technology to some of the largest fabless players in the industry at best-in-class product yields. The company is also building an advanced 300mm semiconductor fab in Chengdu, China. The construction of the fab is on track to be completed in 2018.
Notes:
Mubadala Investment Company results incorporate the Mubadala Development Company (MDC) and International Petroleum Investment Company (IPIC) financial statements for 2017 as legal entities with ongoing reporting obligations under the umbrella of the new Mubadala Investment Company Group. As part of an ongoing financial restructuring process related to the merger, a new non-public vehicle was established by Mubadala Investment Company to hold Mubadala's sovereign investment partnerships and other investments, which includes the SoftBank Vision Fund.
In March 2018, it was announced that the Abu Dhabi Investment Council (ADIC) will join the Mubadala Investment Company Group. Unlike MDC and IPIC, ADIC is not required to publish its financial results.
*Figures do not include Abu Dhabi Investment Council financials.
**2016 figures are pro forma and represent an aggregation of MDC and IPIC 2016 reported numbers