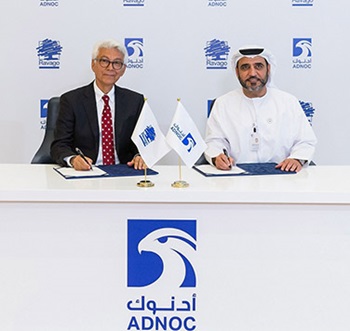 The Abu Dhabi National Oil Company (ADNOC) today announced that it has signed a Memorandum of Understanding (MOU) with Ravago Group (Ravago), a leading service solutions provider in the global polymers and chemicals market, to explore opportunities for cooperation at the Ruwais Industrial Complex in the UAE.
As part of ADNOC's efforts to maximize value across its value chain, Ravago and ADNOC will explore ways to upgrade and commercialize the non-prime product generated at Borouge, the joint venture between ADNOC and Austria-based Borealis. This process, known as compounding, would take place at the proposed facility, situated in the Ruwais Industrial Complex.
Ravago's manufacturing segment, operates 24 plants across 4 continents, producing plastics, rubbers and chemicals, serving the automotive, electronics, and building and construction industries through the company's global distribution network. Both companies will also explore potential collaboration opportunities leveraging Ravago's strengths across multiple areas to further unlock value within the petrochemical chain.
Mr. Abdulaziz Abdulla Alhajri, Director, Downstream Directorate, ADNOC, said: "ADNOC seeks to create partnerships with those who can bring additional value to our hydrocarbon resources, our downstream assets and the UAE economy at large. This proposed collaboration with Ravago is an excellent example of a partner bringing world-class technologies and expertise to complement ADNOC's strengths, unlocking conversion value and creating efficiencies, for the benefit of both partners."
Ravago CEO, Theo Roussis, commented: "This project confirms our commitment to the region and our legacy business, recycling, compounding and distribution."
The Ruwais Industrial Complex, where the new potential venture will be located, is already home to one of the largest downstream sites in the world. ADNOC aims to further develop and expand Ruwais into the world's largest integrated refining and petrochemicals complex, that will also include a large-scale, integrated manufacturing ecosystem, through the creation of new petrochemicals derivatives and conversion parks.
The agreement was signed at ADNOC's Downstream Investment Forum, where ADNOC revealed plans to significantly enhance and expand its downstream operations in support of its ambition to become a leading global downstream player.