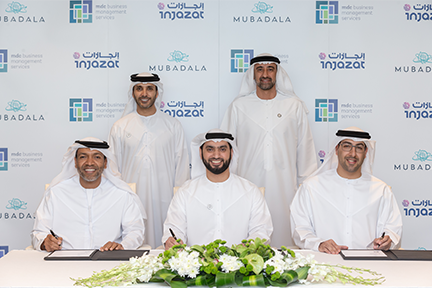 The strategic partnership program "TARABOT" will enhance organizational synergy and propel digital transformation journey, providing benefits to MDC-BMS' and its clients and the entire Mubadala Group.
Abu Dhabi, UAE – Injazat Data Systems (Injazat) and MDC Business Management Services (MDC-BMS), along with Mubadala Investment Company's Enterprise Technology Services division, have announced the establishing of "Project Tarabot", a strategic Joint initiative for building a Hybrid Cloud Platform in Abu Dhabi for the Mubadala Group of Companies.
The Hybrid Cloud platform will be aligned to the principle of in-country data sovereignty and will involve a Hybrid of cloud enabling platform technologies from key global vendors.
Project Tarabot will not only enable over 25+ MDC-BMS' existing clients and other Mubadala Group companies to maximize from the Hybrid Cloud Platform but also allow them to deploy new IT services faster, and expand their scope of services to the end-users in a scalable and efficient manner.
Project Tarabot shall introduce a transparent consumption based model of "Pay As You Go" for the platform utilization, ease the CIOs and IT Heads from making IT related capital expenditure commitments and allow them to focus on delivering business aligned IT strategic initiatives for their respective organizations.
Project Tarabot will be executed in a phased manner over 2018 and 2019. MDC-BMS will lead the IT shared service management functions on behalf Mubadala Group and transition the operational elements to Injazat and leverage the IT services thereof. In the subsequent transformation phases, the operations shall be on-boarded to the state-of-the-art Hybrid Cloud Platform that will be based on multi-tenant and scalable architecture. Eventually the platform will on board MIC Group assets and potentially extended to Abu Dhabi based Government public sector entities.
Commenting on how Project Tarabot is advancing efficient technological solutions in Abu Dhabi, Khaled Al Melhi, Chief Executive Officer of Injazat, said: "Project Tarabot demonstrates how this partnership with MDC-BMS and Mubadala will foster the implementation of advanced technologies to enable organizations to function more efficiently — in terms of time, resources and finances. At Injazat, we look forward to growing our UAE operations with this partnership that provides many organizational benefits across the Mubadala Group."
Nasir Al Nabhani, Managing Director of MDC-BMS, said: "This collaboration with Injazat allows the expansion of our shared services to Mubadala Group entities, underscoring the benefits of synergy in technology and set a new way for provisioning services. When fully operational, Project Tarabot will propel the shared services growth through faster, smoother deployment and in a more efficient way to the Mubadala Group."
Mansour Al Ketbi, Mubadala Chief Information Officer, emphasized: "As a globally diversified organization that works across multiple sectors and markets, establishing a standardized delivery mechanism and ability to deploy IT solutions aligned to the agile business needs in a faster way is critical to our success. Project Tarabot is a significant component of this strategy, and it will leverage the expertise from both Injazat and MDC-BMS. We are confident that this initiative will contribute to our ambitious growth plans."
Project Tarabot shall lay a solid foundation targeting value creation, faster go-to-market and reduction in total cost of ownership to the Mubadala Group by maximizing utilization of the central platform.
Project Tarabot will also facilitate MDC-BMS to expand the shared services offering and help bring in the global partnerships with key global IT vendors for engagements in futuristic technologies like block chain, artificial intelligence (AI), virtual reality and other capabilities of digitization for the Mubadala Group.