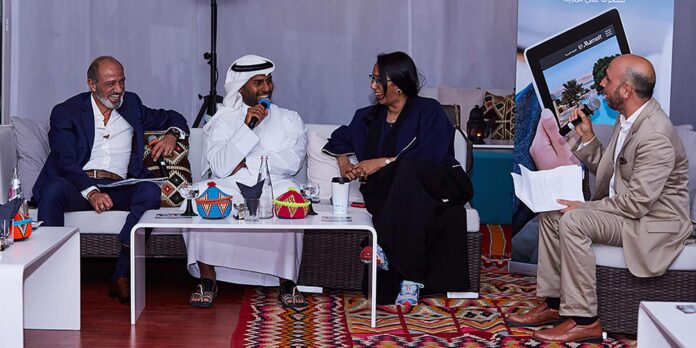 arriott International, the world's leading hotel company, has today announced the relaunch of its Arabic website to enhance the online customer journey of the Arab traveler. With nearly 400 million Arabic speakers in 22 countries, the company is now providing an end-to-end solution for a seamless Arabic booking experience.
The relaunch follows the recent announcement detailing the company's ambitious growth plans for the Middle East and Africa region where it will expand its current portfolio by 50%, and as a result add 30,000 jobs. With such an emphasis placed on the region, the relaunch of its Arabic website is the next step in an exciting growth story.
To mark the occasion this Ramadan, Marriott International hosted a Majlis panel joined by Aida Al Busaidy, Director, C2C Marketing & Campaigns at DTCM, Talal Al Rashed, Co-founder Contourage and Hospitality Consultant and Vladimir Dabbah, Vice President, Global Sales MEA at Marriott International. The esteemed panel discussed the importance of catering to the Arab Traveler, who often have a fierce sense of pride and remaining true to their identity.
Marriott International now provides and end-to-end solution for a seamless Arabic booking experience
Arab travelers generate more than double (+162%) room revenue per stay compared to other travelers, and annual revenue per Arab customer is 38% higher than other travelers. In order to cater to the traditional customs of the Arab travelers, symbols of Arab culture should be demonstrated in both communication and on hotel properties.
"To date, we have over 110 million loyalty members around the world across Marriott Rewards, The Ritz-Carlton Rewards & SPG. As the world's largest hotel operator, we aim to cater to every traveler on the planet, and with the majority of the world booking travel online we continue to enhance our end-to-end customer booking experience," said Alex Kyriakidis, President and Managing Director at Marriott International Middle East and Africa.
The revamped website has launched today as a phased approach where over 5,000 Marriott and The Ritz-Carlton Rewards properties globally will be available and bookable in Arabic. Marriott International will continue to add localized in-language content and will further improve site's functionality for the Arab online traveler.  SPG properties will be progressively be added to the new site between August and year end (until then, they remain available for bookings in Arabic at www.spg.com/arabic). To visit the website, please click here: www.Arabic.marriott.com
-ENDS-
Note on Forward-Looking Statements: This news release contains "forward-looking statements" within the meaning of federal securities laws, including the number of lodging properties the company may add in future years and similar statements concerning possible future events or expectations that are not historical facts.  We caution you that these statements are not guarantees of future performance and are subject to a number of risks and uncertainties, including changes in market conditions; changes in global and regional economies; supply and demand changes for hotel rooms; competitive conditions in the lodging industry; relationships with clients and property owners; the availability of capital to finance hotel growth and refurbishment; and other risk factors that the company identifies in its most recent quarterly report on Form 10-Q or annual report on Form 10-K; any of which could cause actual results to differ materially from the expectations we express or imply here.  We make these statements as of the date of this press release, and we assume no obligation to publicly update or revise any forward-looking statement, whether as a result of new information, future events or otherwise.
About Marriott International, Inc.
Marriott International, Inc. (NASDAQ: MAR) is based in Bethesda, Maryland, USA, and encompasses a portfolio of more than 6,500 properties in 30 leading hotel brands spanning 127 countries and territories. Marriott operates and franchises hotels and licenses vacation ownership resorts all around the world. The company also operates award-winning loyalty programs: Marriott Rewards®, which includes The Ritz-Carlton Rewards®, and Starwood Preferred Guest®. For more information, please visit our website at www.marriott.com, and for the latest company news, visit www.marriottnewscenter.com. In addition, connect with us on Facebook and @MarriottIntl on Twitterand Instagram.
###
Media Contact:
Bassel Barakat
+971525347568
Bassel.barakat@fourcommunications.com