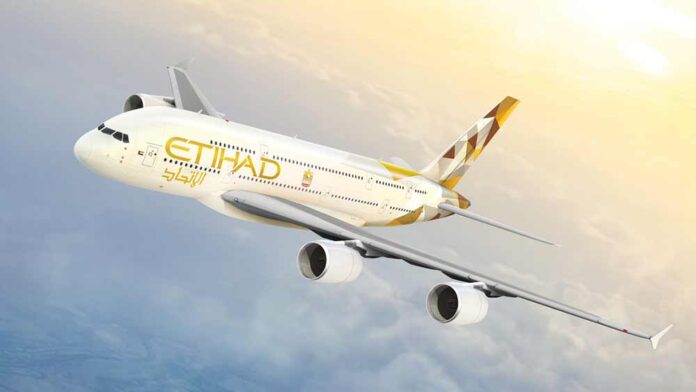 Etihad Airways will operate four daily services, the most frequent number of flights operated by any UAE airline to the Egyptian capital, offering greater choice and optimised timings to benefit business and leisure customers travelling point-to-point between the two cities.
The convenient schedules also provide seamless East-bound connections through Abu Dhabi onto the airline's network to the Gulf, Indian Subcontinent, North and Southeast Asia and Australia.
Mohammad Al Bulooki, Etihad Airways Executive Vice President Commercial, said: "Etihad Airways has been serving Cairo since 2004 and today it is one of the largest point-to-point markets on our global network, bolstered by the hugely important historic, economic, and cultural ties existing between the UAE and Egypt, and by the large Egyptian community in the emirates, which numbers over 750,000.
"In 2017 Etihad carried almost half a million guests on our multiple daily flights to and from Cairo. The introduction of the state-of-the-art 787 Dreamliner on the popular morning service from Abu Dhabi will provide guests with the latest innovation and technology, award-winning cabins, genuine hospitality and greater choice."
In April 2018, Etihad Airways and EGYPTAIR expanded their codeshare partnership from Abu Dhabi and Cairo to include several African destinations served by the Egyptian flag-carrier from its Cairo hub, including Ndjamena in Chad, Khartoum in Sudan, Entebbe in Uganda, and Dar es Salaam in Tanzania, and subject to government approvals, Abuja and Kano in Nigeria, and Asmara in Eritrea
EGYPTAIR places its 'MS' code on Etihad Airways flights from Abu Dhabi to Seoul, Brisbane, Melbourne and Sydney, and subject to government approvals, on flights to China.
Etihad Airways' two-class Boeing 787-9 features 28 Business Studios offering direct aisle access, a fully-flat bed of up to 80.5 inches in length, and an increase of 20 per cent in personal space.
Upholstered in fine Poltrona Frau Leather, the Business Studio is equipped with an in-seat massage and pneumatic cushion control system. Each Business Studio has an 18-inch personal touch-screen TV with noise-cancelling headsets. Guests can also enjoy mobile connectivity, onboard Wi-Fi and seven satellite channels of live TV.
271 Economy Smart Seats provide enhanced comfort with a unique 'fixed wing' headrest, adjustable lumbar support, a seat width of approximately 19 inches and an 11.1" personal TV monitor on each seat.
The airline's 787 Dreamliner fleet is equipped with the latest inflight entertainment system featuring over 750 hours of movies and programmes, as well as hundreds of music choices and a selection of games for both adults and children.
Flight schedule: Abu Dhabi – Cairo, effective 28 October 2018 (all times local):
| | | | | | | |
| --- | --- | --- | --- | --- | --- | --- |
| Flight No. | Origin | Departs | Destination | Arrives | Freq | Aircraft |
| EY651 | Abu Dhabi | 03:10 | Cairo | 05:20 | Daily | Airbus A321 |
| EY650 | Cairo | 06:25 | Abu Dhabi | 11:45 | Daily | Airbus A321 |
| EY653 | Abu Dhabi | 09:35 | Cairo | 11:45 | Daily | Boeing 787-9 |
| EY654 | Cairo | 13:35 | Abu Dhabi | 18:50 | Daily | Boeing 787-9 |
| EY655 | Abu Dhabi | 14:35 | Cairo | 16:45 | Daily | Airbus A320 |
| EY656 | Cairo | 17:50 | Abu Dhabi | 23:15 | Daily | Airbus A320 |
| EY657 | Abu Dhabi | 21:45 | Cairo | 23:50 | Daily | Airbus A320 |
| EY658 | Cairo | 00:50 | Abu Dhabi | 06:15 | Daily | Airbus A320 |