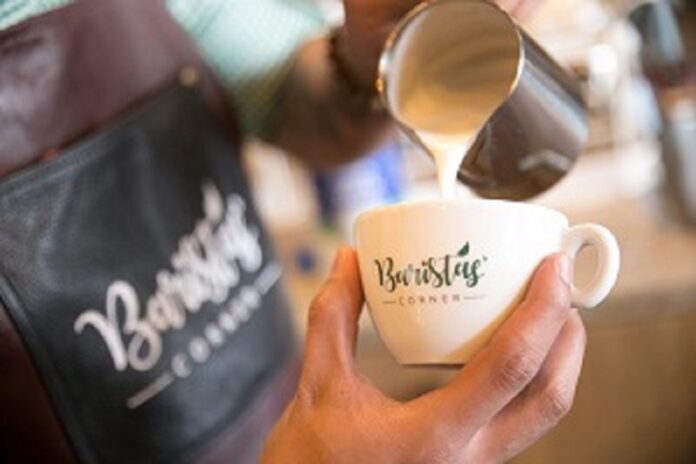 Need a good coffee? Head to the newly-opened specialty coffee house Baristas' Corner at Canal Central Hotel in Business Bay. Developed by Emirati entrepreneurs Mr. Abdulla Alabdulla, Partner and Co-Founder and Mr. Mohamed Hassan Alshamsi, Managing Partner and Co-Founder of the company, Baristas' Corner offers a wide selection of refreshing and unique brews.
Mr. Alabdulla said, "People want an experience when having a coffee and we found it hard to find one as we sipped our way around the city. Baristas' Corner was born as the outcome of having to continuously chase a consistently exceptional cup of coffee that remained elusive. It has been developed as much for coffee connoisseurs as it is for coffee lovers."
With competition heating up, how would Baristas' Corner fare in the market? Mr. Alshamsi stressed, "A coffee house is a social hub and has always been a mark of sophistication. This feeling and experience of being in a coffee house is so special and that is how Baristas' Corner has been designed. Moreover, nowadays coffee shops have taken a new role as a working place for freelance workers and digital nomads, who may not have an office, that is pushing the demand further."
There are many distinctive and diverse flavors of coffees to explore on the Baristas' Corner menu. Mr. Alabdulla elaborated, "The wide array of coffees at Baristas' Corner are handpicked matching exceptional grade with perfect ratios and flavor compositions. The single origin beans and bespoke blends are selectively sourced from different corners of the globe's sustainable farms, estates, and roasters including countries like Brazil, Columbia, Ethiopia, Guatemala, and many more.
Mr. Alshamsi, added, "Using these our talented and trained baristas follow precise brewing methods to deliver the ideal, fragrant cup. A must-try is Espresso-based: Fresco, a unique coffee drink with a refreshing mix of milk and mint. Equally superb is Manually Brewing Coffeewhere we produce a deliciously clean cup with full control on the brewing."
The design aesthetics at Baristas' Corner strikes the right note by creating a welcoming and relaxing ambience for people seeking to escape the city's frantic pace. Here, a tranquil place exists for coffee connoisseurs and caffeine addicts to celebrate the art of coffee and partake in a culture of sharing and discovery. Beyond coffee, Baristas' Corner also serves select artisanal teas and fresh, delicious pastries.
There are major expansion plans lined up to make the consummate cup at Baristas' Corner accessible to those curious and familiar about coffee's enriching experience. The second outlet will soon open at the Royal Central The Palm followed by future properties under Central Hotels as well as other brands.
Follow Us on
@CanalCentralAE
@BaristasCornerOfficial
#CanalCentalAE #CentralHotels #BaristasCorner 
About Central Hotels
Central Hotels has very quickly established itself as a reputed hotel management group in the UAE with its flagship property First Central Hotel Suites located in Barsha Heights (TECOM) near Sheikh Zayed Road. Building up on this amazing success, the brand is now poised to expand its footprint targeting the UAE and Turkey as the primary markets for growth in addition to other lucrative destinations in the Middle East. The group has recently added to its portfolio spectacular new 5-star hotels such as Canal Central Business Bay and Royal Central The Palm followed by Central House Citywalk focused on millennials, Novotel The Palm, Diamond Central – Business Bay, and Island Central in Dubai, as well as Valley Central Bursa, and Valley Central Trabzon in Turkey.
For Media Contact:
Hina Bakht
Managing Director
EVOPS Marketing & PR
M: +971 50 6975146 | T: +971 4 566 7355
Hina.bakht@evops-pr.com
www.evops-pr.com