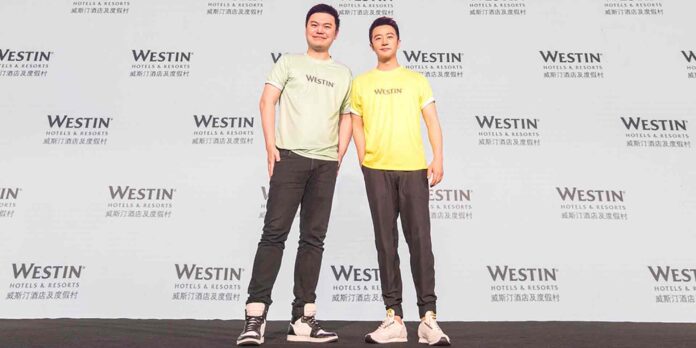 estin Hotels & Resorts, part of Marriott International, has announced the appointment of Huang Xuan as the new well-being brand advocate for Greater China. As part of his appointment, Huang Xuan will be featured in a new brand campaign video available in-room at all Westin hotels in China. The collaboration aims to further underscore the Westin brand's approach to wellness and encourage an active lifestyle, helping guests prioritize well-being even on the road.
Andy Kong, Director of Brand and Marketing, Asia Pacific, Marriott International, is thrilled about the collaboration: "Westin ensures all aspects of the guest experience is designed with well-being in mind – from the iconic Heavenly Bed and Gear Lending program, to partnerships with TRX(Total Resistance Exercise)SUSPENSION TRAININGTM . As one of our well-being advocates in Asia Pacific, Huang Xuan's mantra to wellness mirrors perfectly the brand values of Westin Hotels & Resorts. Through this collaboration, we hope to inspire our guests to stay active and feel their best."
Andy Kong (Left), Director of Brand and Marketing, Asia Pacific, Marriott International with Huang Xuan
Actor Huang Xuan has always had a positive public image, maintaining a healthy fitness regime around a fast-paced, demanding career. He received dance training from a young age, the experience helps him maintain a healthy workout routine and has became a way for him to relax and unwind, enabling him to take on various acting challenges in a good mental and physical state, and handle life's unexpected situations with confidence. In 2017, he won the Best Action Movie New Performer award at the Jackie Chan Action Movie Awards for his role in a crime thriller film.
Huang Xuan said: "My work requires me to give it my all, physically and mentally, which means I need a healthy body and a strong mind to support me through this process. Maintaining a balanced lifestyle is crucial in ensuring great performances in front of the camera. I am delighted to collaborate with the Westin brand; and hope to inspire others to lead a wholesome lifestyle. When traveling, I find it particularly important to choose a hotel where I can work out and unwind, it helps me maintain my well-being," said Huang Xuan.
Westin Hotels & Resorts Announces the Appointment of Huang Xuan as New Well-being Brand Advocate of Greater China
The collaboration between Westin and Huang Xuan includes a new brand campaign video inspired by the Move Well pillar, one of the brand's six pillars of Well-Being. It encourages guests to join Huang Xuan and get active anytime and anywhere at a Westin Hotel. From showcasing facilities, such as the well-equipped Westin WORKOUT®Fitness Studios to the swimming pool – facilities that encourage guests to move, Huang Xuan also presents alternative options such as doing simple stretches in rooms or even using every day amenities such as water bottles as mini weights to work out.  The video also highlights some of the Westin brand's signature programs such as RunWestin that features the best route to explore the surroundings on foot; and the Gear lending program in partnership with New Balance that allows guests to pack light and stay fit. The overall thematic of the video encourages travelers to break free from physical spaces and experience an active lifestyle across every aspect of a Westin hotel stay, a fitness studio on the move.
Last year, Westin introduced a global campaign called Let's Rise, taking on the distractions and unpredictability of travel and empowering people to regain control of their well-being when they need it most, while traveling. Westin aims to expand its portfolio to more destinations in China by 2022 including Haikou, Wenzhou, Qingdao, Changsha, Suzhou, Nanchang, Dalian and Nanning while also evolving its programs and partnerships, addressing how wellness is integrated into consumers' lives through the brand's Six Pillars of Well-Being: Sleep Well, Eat Well, Move Well, Feel Well, Work Well, and Play Well.
###
About Westin Hotels & Resorts
Westin Hotels & Resorts, a leader in wellness and hospitality for more than a decade, empowers guests and associates to embrace well-being and be their best selves through the brand's six pillars of Well-Being: Sleep Well, Eat Well, Move Well, Feel Well, Work Well, and Play Well.  At more than 200 hotels and resorts in nearly 40 countries and territories, guests can experience offerings that include the iconic Heavenly Bed, RunWESTIN and Westin Gear Lending with New Balance, delicious and nutritious SuperFoodsRx™ and more.  To learn more, visit www.westin.com. Stay connected to Westin: @westin on Twitter and Instagram and facebook.com/Westin.