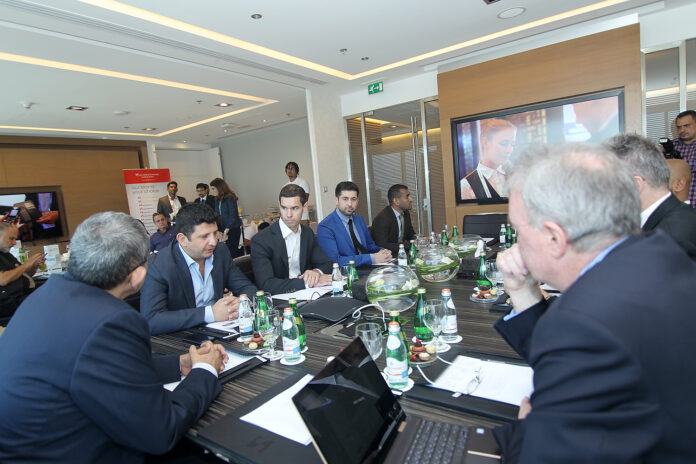 Dubai's drive towards technology-powered future is aimed at becoming the Middle East's biggest tech hub and a pioneer in smart services. This is attracting to the emirate the world's leading technology companies and events such as HITEC Dubai 2018 organised in association with Dubai's Department of Tourism and Commerce Marketing (DTCM). Co-produced by Hospitality Financial and Technology Professionals (HFTP®) and Naseba, HITEC Dubai 2018 is the region's largest hospitality Technology Exhibition and Conference and will be held on December 5 and 6, 2018 at the Madinat Jumeirah Dubai.
Speaking at the HITEC Dubai Advisory Council meeting recently, Mr. Samir Hamadeh General Manager of Alpha Destination Management, who is also a member of HITEC Council, stated, "New technologies are revolutionizing the travel industry with entrepreneurs targeting ever-narower niches in each sector of the industry. At the same time travel tech ecosystem is getting bigger with more diverse players getting involved and startups are an integral part of the structure. This is transforming our industry faster than ever, where small moves are creating massive disruptions. Events such as HITEC Dubai are the ideal forum to bridge the knowledge gap between startups and established brands as startups often face challenges both in commercializing their tech and in convincing target markets."
Some of the most celebrated startup success stories that have emerged and inspired globally in recent years include names such as Dropbox, Airbnb and Reddit.
Talking about the Middle East, Mr Hamadeh said, "Careem, a Dubai-based ride-hail startup has enjoyed great success and expanded into 26 cities across the region and beyond. Another home-based hero firm is e-commerce retailer Souq, once called the Amazon of the Middle East and now literally so. Amazon acquired Souq last year."
Elaborating on the need for greater participation from startups at HITEC Dubai, Mr. Hamadeh added, "It is important to engage startups from the Middle East in the show and listen to their ideas and concepts as well as give them an opportunity to connect with international technology leaders. After inception, accelerator and incubator programs and exposure in platforms such as HITEC Dubai can provide startups the springboard to realise the full potential of their ideas. This will not only encourage them but will also benefit the wider travel tech community."
Startup investment in the UAE exceeded $1 billion in 2016 and continues to grow at a steady pace. UAE startups dominated the Middle East region attracting 70 per cent of all investment amounts in 2017. The industry gained huge momentum in the first half of 2018 and will end the year on a very favourable note with optimism for 2019. The growth of incubators and business accelerators like Turn8, ImpactHub, Astrolabs Dubai and In5 are all at the center of the drive to make Dubai the next Silicon Valley, with Dubai Internet City, the emirate's designated technology and innovation zone, aiming for 10 per cent annual growth in the number of new business it hosts for 2018 and beyond. Further to that, technology giant Cisco recently demonstrated its confidence in Dubai when it opened an Innovation and Experience Centre.
#AlphaTours #AlphaToursDubai #AlphaDMC #AlphaToursAe #Dubai #VisitDubai #Dxb #MyDubai #ilovedubai #travelgram #traveltechnology #Hitecdxb #HFTP #DubaiTourism #Travel #Tours #naseba #technology
About Alpha Destination Management
Founded in 1996, by Mr. Ghassan Aridi and his partners, Alpha Destination Management is the leading destination management company and a pioneer in the tourism sector in the Arabian Gulf. Over the last two decades, the company has established itself as one of the most credible and reputed brands not only in the Gulf region but also in the international tourism industry. Controlling a significant market share of the lucrative tourism sector in the GCC, Alpha Destination Management is a market leader in the region with the largest annual turnover and wide network of international partners offering the highest levels of service and innovative and exciting experiences. Our extensive global and local knowledge and network, outstanding expertise and sound reputation is the key to success for us and all our partners.
For more information about Alpha Destination Management visit http://www.alphatoursdubai.com
Or call +971 4 701 9111
ABOUT HFTP
Hospitality Financial and Technology Professionals (HFTP) is a global non-profit hospitality association, headquartered in Austin, Texas, USA, that uniquely understands the industry's problems. HFTP has members and stakeholders across the globe. HFTP assists its members in finding solutions to industry problems more efficiently than any organization via its expert networks, research, conferences such as HITEC and certification programs. HFTP also owns the world's only hospitality specific search engine, PineappleSearch.com. HFTP is recognized as the spokes group for the finance and technology segment of the hospitality industry. 
ABOUT NASEBA
Naseba offers global business facilitation services. The company creates growth opportunities by bringing together people, partners and ideas. It helps clients raise capital, enter new markets, secure partners, close sales and educate workforces. Naseba's goal is to create opportunity and add economic value at every stage of its client's journey. It does this through three key areas: investor services, commercial services and leadership services. Since inception in 2002, Naseba has facilitated deals totalling billions of dollars for its clients. The company has connected over 100,000 global executives through more than 1,000 proprietary business platforms and is an expert in growth markets.
For more information or to register for HITEC Dubai 2018
visit https://www.hitec-dubai.com/
Call Amir Abdin on +971 44 55 7920 or Rouf Hyder Beigh +971 44 55 79 32
For media contact:
Hina Bakht
Managing Director
EVOPS Marketing & PR
Mob: 00971 50 6975146
Tel: 00971 4 566 7355
Hina.bakht@evops-pr.com
www.evops-pr.com