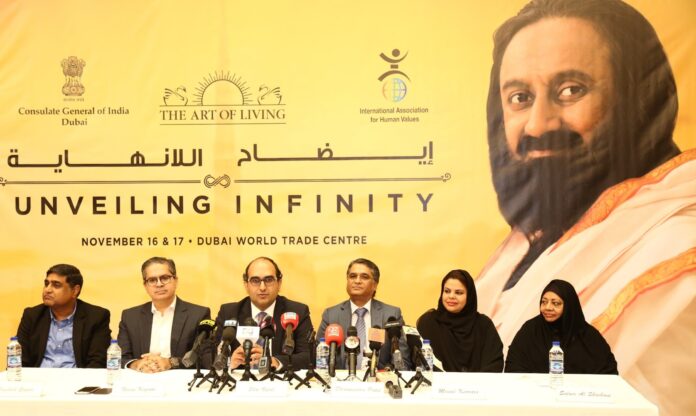 Internationally acclaimed humanitarian leader, ambassador of peace and founder of Art of Living Foundation (AOL) and International Association for Human Values (IAHV), Gurudev Sri Sri Ravi Shankar will visit Dubai to impart a unique two-day meditation masterclass. Announced today by Mr. Vipul, Consul General of India, 'Unveiling Infinity' will be held on 16th and 17th November 2018 at the Dubai World Trade Centre.
Over 6,000 participants from UAE, GCC and other countries in the region will undertake three meditation sessions, spread over two days. The techniques imparted will help them let go of deep seated emotional issues and frustrations, and gain a better perspective on their thoughts. The sessions will include powerful breathing techniques, meditation, yoga, and simple yet effective practical wisdom for daily living. They will have a rare opportunity to learn directly from Gurudev, one of the foremost experts in meditation in the world.
With followers and volunteers across 156 countries and through myriad programs and initiatives of the Art of Living Foundation and the International Association for Human Values, Gurudev has touched the lives of more than 370 million people worldwide.
Announcing 'Unveiling Infinity', Mr. Vipul, Consul General of India said, "We are very fortunate to welcome one of the most well-known global spiritual leaders of our time. Gurudev Sri Sri Ravi Shankar is an institution and his influence has touched millions irrespective of nationality, caste and creed. UAE residents will soon have an amazing opportunity to be with the great master as he shares his wisdom with them first hand. 'Unveiling Infinity' will further help the UAE residents take steps towards greater peace and contentment, making this world a happier place".
As per the statement issued by Fujairah Government: "The Emirate of Fujairah in the United Arab Emirates welcomes His Holiness Sri Sri Ravi Shankar and is pleased to host the yoga celebration. This is because of Fujairah's belief in the deep-rooted Emirati values of tolerance and respect for cultural diversity, which are reflected in the nation's lifestyle which promotes peace and anti-extremism. We hope that all our efforts are directed towards the successful organization of this event which promotes the UAE's work in achieving harmony and strengthening close connections between different cultures" .
"Art of Living Foundation's message of peace and wellness is spread by 35,000 instructors across 12,000 of its centres the world over, through practical steps that include breathing techniques, yoga and social initiatives. It has also conducted powerful empowerment and rehabilitation programs, benefiting hundreds of thousands in prisons, war zones, refugee camps and even in remote militancy-infested jungles", said Mr. Vinay Kapoor, Member of the Executive Committee, Unveiling Infinity Event.
"Gurudev's self-development programs have helped hundreds of millions around the globe experience stress relief and a state of calm and well-being. 'Unveiling Infinity' aims to create self-awareness and drain out negative energies that interfere with our contentment. This meditation masterclass will provide guiding tools for happier living. We are confident that these two days will be life-altering for many people as they turn to their inner selves for peace and happiness," added Mr. Kapoor.
Commenting on the vision and impact of IAHV, Mr. Dharmendra Patel,  Project Manager, Unveiling Infinity Event, COO, International Association for Human Values, said, "The language, culture and geography may differ across borders but Gurudev's overarching message remains the same: that the world is one family, and that diverse cultures and traditions are rooted in the same human values of love, compassion, peace, and non-violence."
He added: "International Association for Human Values (IAHV) and its sister organization, the Art of Living are conducting numerous workshops in the Middle East to help people cope with trauma caused by conflict and war. Comprehensive programs including evidence-based breathing techniques, deep relaxation, cognitive processes and physical exercises have been imparted to many, at high-risk and vulnerable people as part of different projects and initiatives."
Talking about Gurudev and the Art of Living Foundation's impact, Mr. Jagdish Gupta, Member of the Executive Committee, Unveiling Infinity Event, said: "In this day and age, when the world is rife with conflict and stress, there is a dire need to find peace within ourselves. We need to empower ourselves with the knowledge and skills to master the art of happiness and contentment, so that together we can build an outer world without violence and an inner world filled with happiness."
Participation fees for Unveiling Infinity has been set at AED 1000, AED 3,000.
For detailed information, please log on to www.gurudev.ae.