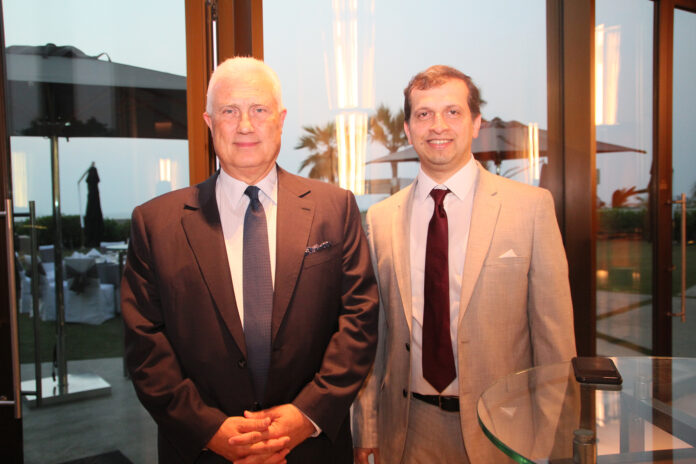 Hiperdist has announced the launch of its fully owned state-of-the-art facilities at Boulevard Plaza Tower – 1 in Emaar Square in Downtown Dubai. The move is aimed at supporting the company's growth and expansion in high-growth markets across the Middle East & Africa as well as to strengthen its pivotal position in Dubai.
To celebrate the occasion, the company organised 'UNVEIL 2018' a select launch hosted at the exclusive BVLGARI Luxury Resort Dubai this week for its top clients and vendors that included the region's most prominent technology leaders.
Playing the emcee during the dazzling evening was the acclaimed international TV & Events Presenter Rania Ali who is a regular at high-profile government ceremonies and conferences. The guests were entertained by Asia's finest mentalist Mr. Deepak Rao, who was especially flown in for the event, and thrilled the guests with his famous 'extra sensory perception' show.
Hiperdist is an established value-added distributor for some of the biggest global brands and is well-positioned in the Middle East and Africa as a leading technology distributor and solution provider. Dr. Antoine Kareh, CEO of the CIS Group, of which Hiperdist is a part, stated, "We are delighted to launch our new premises in Emaar Square, Dubai's most prestigious address that has been equipped with the finest facilities and cutting-edge technology, and supported by a highly specialised and experienced team.
Mr. Santosh Sansare, General Manager of Hiperdist, added, "Our new facilities will give us a definite competitive edge and will allow us to meet the demands of the new technology while accelerating our planned expansion. It will also add tremendous value for our vendors and partners and provide them a fantastic platform."
Hiperdist has made an investment of US$ 2.5 million in its latest office facilities and conference center. In addition to fantastic offices and meeting rooms, it is equipped with a state-of-the-art training space and hosts a solution center for DEMOs, proof of concept services, as well as to deliver sales and technical trainings to its channel partners.
Hiperdist is at the forefront of the latest advances in technology and has made major inroads in the arena working with brands offering the most innovative products. Some of the top brands that Hiperdist currently has in its portfolio include Canon, Lenovo, Acer, Asus, Avaya, Vertiv, ViewSonic, Synology, Zotac and G.Skill. In addition, at a group level, the company has had long, outstanding relationships with Oracle, Cisco, NetApp and VMware to name a few.
About CIS Group
With a footprint in over 30 countries, serving over 1000 corporate customers and 5000 resellers, CIS Group has proven to be a leading technology provider in the Middle East and Africa since its foundation in 1980. The group launched UNIDIST (the holding company that houses the group's distribution business) in 1992 which quickly established itself as one of the top information technology distributor and supply chain solution provider across the region. With a market penetration supported by 23 local entities and 4 logistic hubs throughout EMEA, UNIDIST provides end-to-end supply chain solutions for all categories of IT products including Computing, Printing & Imaging, Consumables, Energy, Software and Infrastructure Solutions. The local and regional entities in UNIDIST's distribution channel include Hiperdist, Superdist, Levant Distribution, Interdist Alliances, Hiperdist Alliances, IT4Africa and Hiperdist Information Technology Trading.
For media contact:
Hina Bakht
Managing Director
EVOPS Marketing & PR
Mob: 00971 50 6975146
Tel: 00971 4 566 7355
Hina.bakht@evops-pr.com
www.evops-pr.com