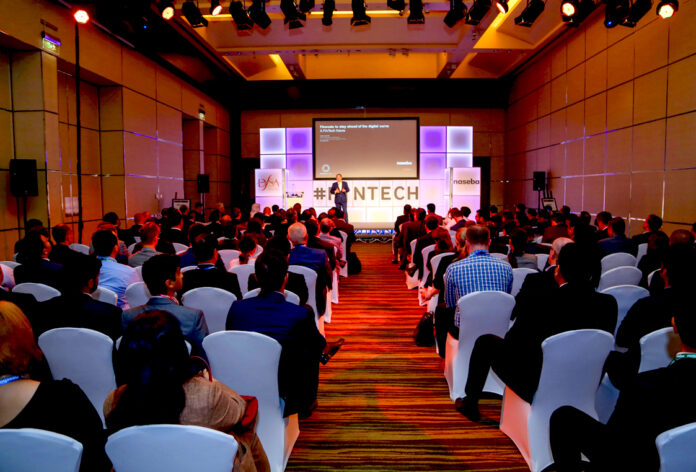 The leading financial technology experts and solution providers for Banking, Financial Services and Insurance (BFSI) sectors will come together at the 3rd annual Fintech Summit 2018 being held in Dubai on 30th October 2018 on board the Queen Elizabeth 2 at Port Rashid.
Organised by Naseba, the Fintech Summit is the only enterprise-grade financial technology focused event in the Middle East. This year, under the theme 'Enterprise Grade. Real World. Now.', more than 20 high profile speakers will lead the day packed with presentations, panel discussions, tech talks and round tables.
The vendor line-up for Fintech Summit 2018 includes gold sponsors Block Gemini, Nucleus Software, Etisalat and Status Today, with 63 Moons, EMQ, Orange Business Services, Maveric Systems, Novabase, IT Max Global, HCL Technologies, Akamai Technologies and LuxTag the silver sponsors. Guardsquare, Goonhilly, Panamax and BSC are the bronze sponsors. Rounding off the list are discovery sponsor, Ewally; Networking sponsor, Huawei Technologies; knowledge sponsor, IE Business School; and strategic partner, New Economies.
Daragh O' Byrne, VP, Nucleus Software said: "As sponsor of the Fintech Summit, we will be interacting with and supporting corporate leaders who have the foresight and desire to innovate and implement next generation system solutions that will propel their business. We live in incredibly exciting times and we are thrilled to be part of the discussion. Digitization is transforming entire industries, but with all the hype around digitization it should be seen as a destination rather than a part of a wider journey. The transformation is ongoing – what's next? What's Beyond Digital?"
Nasir Zubairi, CEO, Luxemburg House of Financial Technology, stressed, "This era of digital transformation is a wake-up call for many enterprises where legacy systems have ruled for decades and technological innovation has historically been at a much slower pace. It's a different world in 2018, and with the BFSI industry ultimately a customer-centric one, it's important to be on the same page as the 21st-century mobile consumer and to meet their expectations of service."
He further added, "Leaders must learn to understand the long-term pay-off of fintech investment and be ready to make both a knowledge and capital commitment. John F Kennedy once said: 'For time and the world do not stand still. Change is the law of life. And those who look only to the past or the present are certain to miss the future.' The Fintech Summit is an opportunity to discuss and move to redefine the consumer experience in the region and is a catalyst for growth".
More than 200 delegates are expected to participate in the Fintech Summit representing leading names from the Middle East's BFSI industry. These include top executives from Emirates NBD, Mashreq, Citi, ABN Amro, HSBC, RAKBANK, Finance House, Dubai Insurance, Oman Insurance, Watania, Abu Dhabi Exchange, Al Fardan Exchange and UAE Exchange to name a few. At government regulatory level, the Dubai Financial Services Authority (DFSA), Abu Dhabi Global Market (ADGM) and UAE Security and Commodities Authority will lend their unique perspective to the discussions.
To sponsor or attend the Fintech Summit as a buyer, please follow this link to submit your information.
About Fintech Summit
The FINTECH SUMMIT brings together BFSI decision makers that want to win in their industry by digitising processes, securing critical assets, analysing data and making tactical decisions. Naseba has been working with the BFSI industry since 2003, and has recognised the tremendous shift in business models and consumer attitudes driven by technology. The summit is a culmination of this experience and will deliver actionable solutions to business, strategic, and technological needs of BFSI enterprises.
While the MENA region remains a technologically sophisticated BFSI market, many financial organisations are still missing the digital innovations that are radically changing business models and redefining customer experiences. The summit will facilitate knowledge sharing, high-level networking, and most importantly, pre-scheduled one-to-one business meetings between BFSI leaders and top-tier solution providers who are ready to transform the digital future of BFSI enterprises in the region.
About Naseba
Naseba creates growth opportunities, connecting people, partners and ideas. Focused on deal facilitation, it helps clients: raise capital, close sales, enter new markets, secure partners and educate workforces. Naseba's goal is to create opportunity and add economic value at every stage of its client's journey. It does this through three key areas: investor services, commercial services and leadership services. Since 2002, Naseba has facilitated more than a billion dollars' worth of deals and has connected over 100,000 global executives through more than 1,000 proprietary business platforms in liquid growth markets.
Naseba is a signatory of the Women's Empowerment Principles – Equality Means Business, produced and disseminated by the United Nations Entity for Gender Equality and the Empowerment of Women (UN Women) and the United Nations Global Compact.
For media contact:
Hina Bakht
Managing Director
EVOPS Marketing & PR
Mob: 00971 50 6975146
Tel: 00971 4 566 7355
Hina.bakht@evops-pr.com
www.evops-pr.com