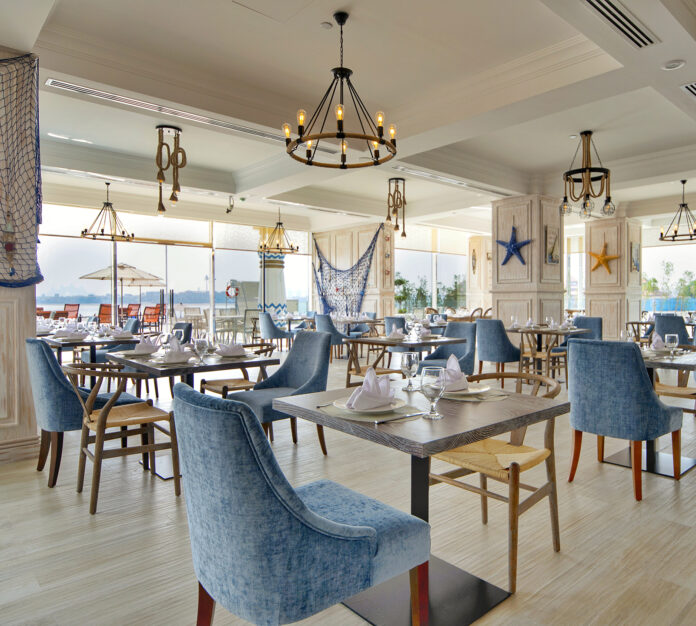 Craving for tables filled with delicious Lebanese seafood, refreshing mezzeh and delectable desserts? Newly opened, Ya Bahr restaurant at Royal Central Hotel The Palm takes you on a rendezvous of senses with a unique dining experience in a rustic setting with a modern feel – where every bite has a story to tell. Developed by Dynamic Operator, Ya Bahr is the perfect place for seafood lovers that reinterprets traditional Lebanese flavours with a modern twist.
Zaid Al Hachem, Group Director, Dynamic Operator, stated, "Ya Bahr is a laid-back and lively coastal style Lebanese Seafood Eatery where our chefs flirt with exotic and authentic flavours to produce extraordinary dishes. On the menu are lavish, soul-satisfying Lebanese seafood served in a beautiful ambience with great views and vibes including live music."
Mohamed Hassan, General Manager of the Royal Central Hotel The Palm, said, "We are delighted to announce the opening of Ya Bahr restaurant at The Royal Central Hotel The Palm. We are confident it will establish itself as one of the finest Lebanese seafood outlets in the UAE offering a wide range of Lebanese dishes combined with outstanding hospitality."
Ya Bahr invites diners to 'feast, share, laugh – and repeat!' Here is a place where you can dip the homemade warm bread in puddles of flavours or tuck into sizzling seafood as you enjoy the laughter and music with your family and friends.
Explaining the concept behind the restaurant's name, Zaid said, "The name is inspired from Ya Bahr which is counted as the Mediterranean cuisine that is a hybrid of local, Ottoman, Levant (the areas of Palestine, Lebanon, Jordan and Syria) and Persian as well as other cuisines from cultures that influenced the area through the centuries. Its base ingredients include olive oil, garlic, onions, lots of greens, veggies, grains and of course a variety of seafood!"
Ya Bahr offers both indoor and alfresco dining overlooking the beautiful Palm Jumeirah extending into the Arabian Gulf. The outdoor seating is ideal for both romantic candlelight dinner as well as groups. The restaurant also serves a variety of flavored shishas. Mohamed said, "Our laid-back terrace offers diners wide spaces under the sailors' shades surrounded by palm trees and stunning views of the ocean. It lends itself to stimulating conversations – held beneath the simmering sun or soothing moon light – over drinks, shisha and mouth-watering food. Take in the beauty of the sea during day time or with live music every evening. This is the kind of experience you will want to re-live over and over again."
Ya Bahr is open for Lunch and Dinner from 1.00pm till 1.00am
For reservations: Call +971 4 873 9300
or email fb.rc@central-hotels.com 
Follow Us on
@RoyalCentralAE
@YaBahrUAE
#CanalCentalAE #CentralHotels #YaBahrUAE #DynamicOperator
About Central Hotels
Central Hotels has very quickly established itself as a reputed hotel management group in the UAE with its flagship property First Central Hotel Suites located in Barsha Heights (TECOM) near Sheikh Zayed Road. Building up on this amazing success, the brand is now poised to expand its footprint targeting the UAE as the primary market for growth in addition to other lucrative destinations in the Middle East. The group has recently added to its portfolio spectacular new 5-star hotels such as Canal Central Business Bay and Royal Central The Palm followed by Central House Citywalk focused on millennials, Beach Central The Palm, Diamond Central – Business Bay, and Island Central in Dubai.
For more information visit www.central-hotels.com
For Media Contact:
Hina Bakht
Managing Director
EVOPS Marketing & PR
M: +971 50 6975146 | T: +971 4 566 7355
Hina.bakht@evops-pr.com
www.evops-pr.com