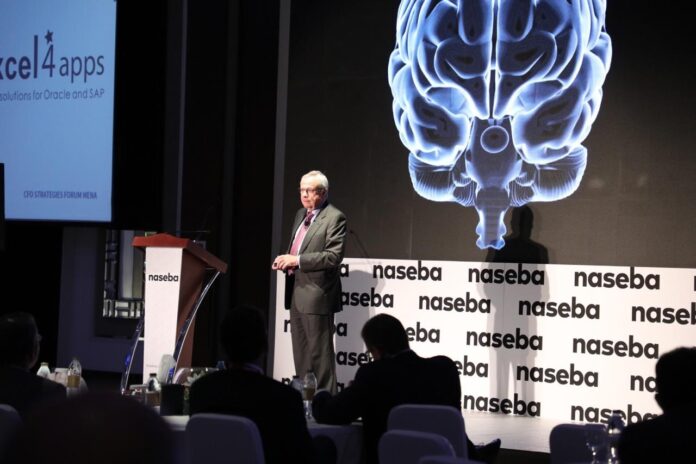 CFO Strategies Forum MENA, organised by Naseba, opened today in Dubai bringing together leading industry experts to discuss the latest trends in the financial sector steering the region's continuous growth. The key focus of the conference was the evolving roles in the C-suite and the opportunities technology and globalisation are bringing to the corporate finance function against a backdrop of rapidly changing business environment and technological advances.
The intensive two-day program was designed to facilitate discussion, promote innovative thinking and provide attendees with actionable strategies to fuel the development of their companies.
Some of the prominent speakers at the forum included David Allen, one of the world's most influential thinkers on productivity and author of international best-selling book on time management 'Getting Things Done'; and Ramses Gallego, professor in cybersecurity at IE Business School – Strategist & Evangelist, Symantec.
Opening the conference, Sophie Le Ray, CEO of Naseba, said, "Current trends and global developments have made the role of CFOs far more complex and challenging with new responsibilities that demand new skills in addition to strong leadership and business acumen. Change management is a key priority in organisations and CFOs are leading the pack being the strategists and catalysts of change. This necessitates the prioritization of financial innovation and digitalization".
The Middle East and Africa region is on the verge of a massive digital disruption. Pressure is mounting on institutions to accelerate the adoption and digitalisation of processes. The forecasted efficiency and productivity gains from the adoption of new technologies are enormous.
Nicholas Watson, Managing Director of Naseba said, "Digitalization and globalisation have permanently changed the financial sector and its operating environment. Digitalisation cannot simply be an add-on feature, it needs to underpin an organisation's entire business model to achieve a new level of performance and engagement. What is critical is how businesses are responding to the rapidly changing macroeconomic environment and how CFO's can drive corporate culture, restructuring and consolidation. Businesses need to collaborate in a digital ecosystem with industry leading partnerships and innovative initiatives that help them to overcome challenges and embrace digital change."
David Allen shared some valuable techniques for greater executive creativity and strategy with the delegates. Speaking on how high performers can get more productive and the critical opportunity that exists for improvement, he stressed, "It is not time management which is the main issue. It all about space, that is, how do we get more room to think more strategically, more creatively and more innovatively? How can we be more present in the critical conversations and critical situations that we find ourselves in?"
Key speakers at the Fintech Summit included
· Chris Fernandez, Founder and CEO, blockgemini
· Werner Flaig, Group Chief Financial Officer, Easa Saleh Al Gurg
· Ankur Shah, CFO, Careem
· Massimiliano Leopardi: CFO, Sadara
· Tariq Sanad: CFO, Fetchr!
· Kartik Thakrar, Finance Head – GCC, Aster
About Naseba
Naseba creates growth opportunities, connecting people, partners and ideas. Focused on deal facilitation, it helps clients: raise capital, close sales, enter new markets, secure partners and educate workforces. Naseba's goal is to create opportunity and add economic value at every stage of its client's journey. It does this through three key areas: investor services, commercial services and leadership services.
Since 2002, Naseba has facilitated more than a billion dollars' worth of deals and has connected over 100,000 global executives through more than 1,000 proprietary business platforms in liquid growth markets.
Naseba is a signatory of the Women's Empowerment Principles – Equality Means Business, produced and disseminated by the United Nations Entity for Gender Equality and the Empowerment of Women (UN Women) and the United Nations Global Compact.
For media contact:
Hina Bakht
Managing Director
EVOPS Marketing & PR
Mob: 00971 50 6975146
Tel: 00971 4 566 7355
Hina.bakht@evops-pr.com
www.evops-pr.com