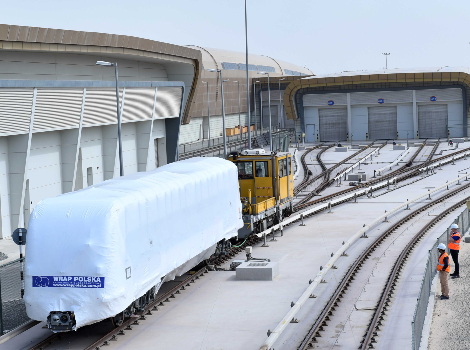 HE Mattar Al Tayer, Director-General and Chairman of the Board of Executive Directors of Roads and Transport Authority (RTA) announced that the first of the new Dubai metro trains had arrived in Dubai. The train had been transported to the Metro Depot at Rashidiya. The manufacturer will continue supplying the remaining trains in batches, and the last one is expected to arrive by the end of October 2019.
"RTA will carry the test-run of the first train destined for Route 2020 on the Red Line of the Dubai Metro. It will start with the static tests of all operating systems of the train. In the following stage, RTA will embark on dynamic tests, which involve testing the performance of systems while in motion, such as motors, brakes and control systems," noted Al Tayer.
50 trains will be supplied; 15 to serve Expo 2020 and 35 to enhance the service level of the Dubai metro. Several improvements were introduced to the interior design of the new metro carriages to make more room for riders and increase the intake of carriages. Changes include dedicating the last carriage for women and children and leaving part of the first carriage for the gold class. Other carriages will be of silver class. Seat distribution will be transversal in the gold class, and longitudinal in the silver class as well as women & children's carriage. This seats' configuration will increase the capacity of each train from 643 riders to 696 riders.
"Additions enhancements include revamping the designs of handles & lighting, using cutting-edge digital signage (VBSD), and an illuminated dynamic map for the metro route & stations. They also include using LED power-saving lighting system and modifying the design of the luggage compartment to make it usable for standing commuters. Improvements also include the distribution of seats on both sides of the train and widening the gangway between carriages. The new carriages are customised to serve "People of Determination' and the smooth boarding and alighting of riders as well. The exterior design of trains will remain unchanged to maintain the design identity of Dubai metro and its familiar colours to the public," said Al Tayer.