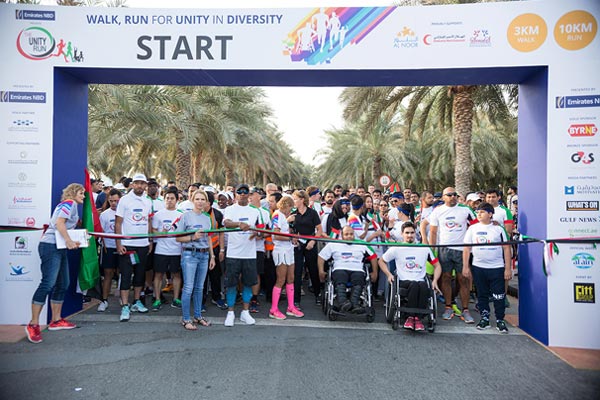 Emirates NBD, one of the leading banking groups in the region, in partnership with Community Development Authority (CDA), has announced that the third edition of its annual Unity Run will see the participation of UAE Special Olympics athletes for the first time.
The event, launched under the patronage of His Highness Sheikh Mansoor Bin Mohammed Bin Rashid Al Maktoum, Chairman of the Higher Committee for the Protection of the Rights of Persons with Disabilities (People of Determination), aims to promote the social inclusion of people of determination in the UAE.
Husam Al Sayed, Group Chief Human Resource Officer, Emirates NBD said, "We are delighted to confirm that this year's run will see participation from the UAE's Special Olympics team, making it a truly inclusive event. We strongly encourage people of all abilities to join us on 16 November to support our commitment and ongoing campaigns for the full inclusion of people of determination in the UAE."
Talal Al Hashemi, National Director of Special Olympics UAE said: " We always ensure and look forward to participate in these important sports events which brings everyone together and unite us under the umbrella of sports. Special Olympics UAE provides opportunities for people of determination that are intellectually disabled to participate in the numerous sports and community events to ensure the sustainable growth of their athletic skills and abilities besides engaging them in an inclusive society."
Special Olympics UAE provides year–round sports training and athletic competition in a variety of Olympic–type sports for children and adults with an intellectual disability, giving them continuing opportunities to develop physical fitness, demonstrate courage, experience joy and participate in the sharing of gifts, skills and friendship with their families, other Special Olympics athletes and the community. The UAE Special Olympics UAE team will be competing in the Special Olympics World Summer Games being held in Abu Dhabi in March 2019.
Led by Emirates NBD's flagship advocacy platform #TogetherLimitless, Emirates NBD Unity Run is held at Dubai Silicon Oasis, the event's venue partner and open to children and adults of all ages and abilities. The event is part of the the ongoing Dubai Fitness Challenge calendar, launched by His Highness Sheikh Hamdan Bin Mohammed Bin Rashid Al Maktoum, Crown Prince of Dubai and Chairman of the Executive Council for Dubai Government and Dubai Sports Council, the only one of its kind for people of determination.
Ruth Dickinson Managing Partner Fitt High Performance Centre and Event Director says, "We are absolutely delighted that the Emirates NBD Unity Run 2018 is 'in association with' and supported by Special Olympics UAE. A wonderful organisation that develops children and adults year round and helps them fulfill their true potential and offers them day to day opportunities to compete and find joy in success and ultimately represent their country on the world stage. We are honoured that the Special Olympics athletes will take part in the Emirates NBD Unity Run. They are amazing ambassadors for the UAE and all people of determination. The Emirates NBD Unity Run is a fun family event with a serious message of the importance of social inclusion for people of determination and Special Olympics UAE athletes are a wonderful example of what people of all abilities can achieve".
Emirates NBD Unity Run is strongly supported by centres and associations for people of determination, with a record number of participants taking part this year. It offers free entry to people of determination as well as their friends and family, and supports two major UAE institutions for children and young people of determination; Al Noor Training Centre for Persons with Disabilities and Senses Residential and Day Care Centre, as well as Emirates Red Crescent. Participants will complete an untimed three-kilometer walk followed by a ten-kilometer run, all wearing a uniquely designed run T shirt styled to celebrate the UAE flag colours.
Registration and tickets for the Emirates NBD Unity Run 2018 can be found here   https://dubai.platinumlist.net/  while further information is available on http://unityrun.ae/