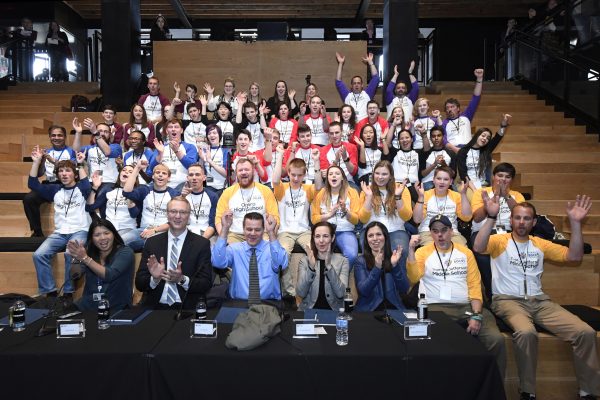 Samsung Electronics America, Inc. today announced the 250 state finalists in the 9th annual Samsung Solve for Tomorrow Contest in which teachers and students have a chance to win a share of $2 million* in technology and school supplies. The nationwide competition challenges students in grades 6-12 to apply STEM (science, technology, engineering and math) skills to find creative solutions to real-world issues impacting their local communities.
This year, teachers nationwide submitted creative and strategic proposals to solve current issues, such as school shootings, vaping, lead in water, accessibility and bullying.
"We are again humbled by the passion of classrooms all across the country to create lasting change in their communities," said Ann Woo, Senior Director of Corporate Citizenship at Samsung Electronics America. "The Samsung Solve for Tomorrow contest submissions reflect the pulse of the nation's students as well as a broad geographic span of the country. We look forward to seeing how their STEM projects unfold in the coming months."
Five schools from each state** were selected as state finalists from a pool of more than 2,000 entries nationwide. Each state finalist will receive a Samsung tablet for their classroom and has the opportunity to advance through future phases of the contest to win additional prizes and educational opportunities.
"I love participating in the Samsung Solve for Tomorrow contest because the whole concept of the challenge is helping others and making our world a better place," said Tate Rector, a teacher at Beebe Junior High School in Arkansas, an Arkansas state finalist in this year's competition and a 2017 national finalist. "That is what we hope these young engineers are going to do when they become adults and I think it is awesome that Samsung encourages them to start thinking about it at such a young age."
Teachers at each of the state finalist schools will submit lesson plans detailing how the proposed STEM project will address the identified community issue. The contest will then run in the following phases:
50 state winners will advance to the next phase of the contest and receive $20,000 in technology and supplies, as well as a video kit to help showcase their project in action.
10 national finalists will be selected to travel to the National Finalist Pitch Event in the spring to present their project to a panel of judges. For achieving national finalist status, seven of these schools will receive a $50,000 Samsung technology package while the remaining three will be named national grand prize winners.
The three national grand prize winners will receive $100,000 in classroom technology and supplies.
The general public will elect one Community Choice winner from the pool of national finalists who will be eligible to win an additional $10,000 in Samsung technology.
As part of this year's competition, Samsung also kicked off a collaboration with DonorsChoose.org, the nation's largest fundraising site for public school teachers, to provide funding to teachers that applied for the competition by matching 50 percent of their funding amount, up to $200 per teacher. Even for those classrooms that were not selected as state finalists, Samsung will continue to match donations through the end of 2018. More than $38,000 has been raised to date for schools of all sizes nationwide. From Hawaii to Alaska, and Maine to Key West, the Solve for Tomorrow Contest has a broad reach across the U.S. and supports schools with varying classroom needs. The contest even attracted a submission from a small island school in Wisconsin, which at one point, had a senior class comprised of a single student.
The Samsung Solve for Tomorrow Contest was created to encourage innovation among young students while addressing the technology gap in classrooms across the country. Since its inception in 2009, the contest has provided more than $23 million in technology.
For a full list of state finalist schools, please visit www.samsung.com/solve or follow on Instagram @SolveForTomorrow. For official rules and judging criteria, click here.