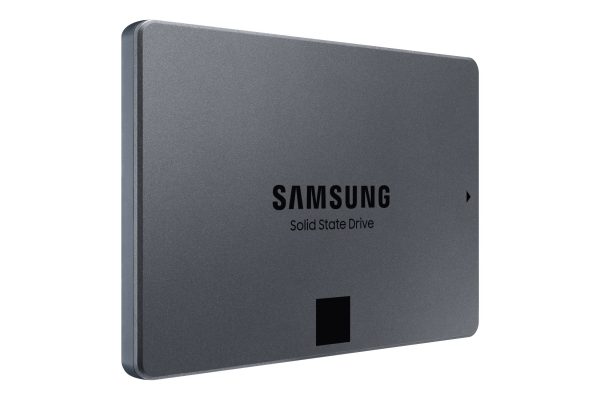 Samsung Electronics America, today unveiled its new consumer solid state drive (SSD) lineup — the Samsung 860 QVO SSD — featuring up to four terabytes (TB) of storage capacity with exceptional speed and reliability. Built on the company's high-density 4-bit multi-level cell (MLC) NAND flash architecture, the 860 QVO makes terabyte capacities more accessible to the masses at approachable price points.
"Today's consumers are using, producing and storing more high-resolution files than ever, including 4K videos and graphics-intensive games, escalating demand for greater capacities and performance in storage devices," said Dr. Mike Mang, vice president of Brand Product Marketing, Memory Business at Samsung Electronics."Samsung continues to lead the move toward multi-terabyte SSDs with the introduction of the Samsung 860 QVO, delivering fast performance, reliability and value to more consumers around the world."
Mainstream PC users handling large multi-media content often need to upgrade their PC's storage to improve everyday computing experience. Based on the commonly used SATA interface and 2.5-inch form factor, the 860 QVO fits perfectly in most standard laptops or desktops. Also, by offering both high capacity and performance in a single, affordable drive, the 860 QVO eliminates the need to use a combination of an SSD and an HDD for booting and storage.
Featuring sequential read and write speeds of up to 550 megabytes per second (MB/s) and 520 MB/s, respectively[1], the 860 QVO achieves the same level of performance as today's 3-bit MLC SSD, thanks to Samsung's latest 4-bit V-NAND and the proven MJX controller. The drive is also integrated with Intelligent TurboWrite technology[2], which helps to accelerate speeds while maintaining high performance for longer periods of time.
Based on a thorough analysis of consumers' SSD usage patterns, Samsung has designed the drive for optimal reliability: a three-year limited warranty[3] or up to 1,440 terabytes written (TBW) for the 4TB version, and 720 TBW and 360 TBW for the 2TB and 1TB versions, respectively.
The 860 QVO will be available on December 16, 2018, with a manufacturer's suggested retail price (MSRP) starting at $149.99 for the 1TB model. For more information, please visit samsung.com/ssd or samsungssd.com.
Key Specifications
Category
Samsung 860 QVO
Interface
SATA 6 Gbps
Form Factor
2.5-inch
Storage Memory
Samsung V-NAND 4-bit MLC
Controller
Samsung MJX Controller
DRAM
4GB LPDDR4 for 4TB
2GB LPDDR4 for 2TB
1GB LPDDR4 for 1TB
Capacity
4TB, 2TB, 1TB[1]
Sequential Read/Write Speed
Up to 550/520 MB/s
Random Read/Write Speed
Up to 97K/89K IOPS
Management Software
Magician Software for SSD management
Total Bytes Written
1,440TB (4TB)
720TB (2TB)
360TB (1TB)
Warranty
Three (3) Year Limited Warranty[2]
[1] Performances may vary depending on SSD's firmware version and system hardware & configuration. The sequential write performances were measured with Intelligent TurboWrite technology being activated. The sequential write performances may not be sustained for the portion of data exceeding over Intelligent TurboWrite buffer size. Sequential performance measurements are based on CrystalDiskMark v. 5.0.2. Random performances are measured with Intelligent TurboWrite technology being activated. Random performances may not be sustained for the portion of data exceeding over Intelligent TurboWrite buffer size. Random performance measurements are based on IOmeter1.1.0.
* Test system configuration: Intel® Core i7-4790k CPU@4GHz, DDR3 1600MHz 8GB, OS-Windows 7 Ultimate 64bit, Chipset-ASUS-Z97-PRO
[2] The IntelligentTurboWrite technology adjusts the buffer size to optimal levels within the usable disk space; up to 42GB for 1TB model and up to 78GB for 2TB and 4TB models. For more information on TurboWrite, please visit www.samsungssd.com.
[3] 3 years or TBW, whichever comes first. For more information on warranty, please find the enclosed warranty statement in the package
[4] 1GB=1,000,000,000 bytes by IDEMA. A certain portion of capacity may be used for system file and maintenance use, so the actual capacity may differ from what is indicated on the product label.
[5] Samsung Electronics shall not be liable for any loss, including but not limited to loss of data or other information contained on Samsung Electronics product or loss of profit or revenue which may be incurred by user. For more information on the warranty, please visit www.samsung.com/ssd.