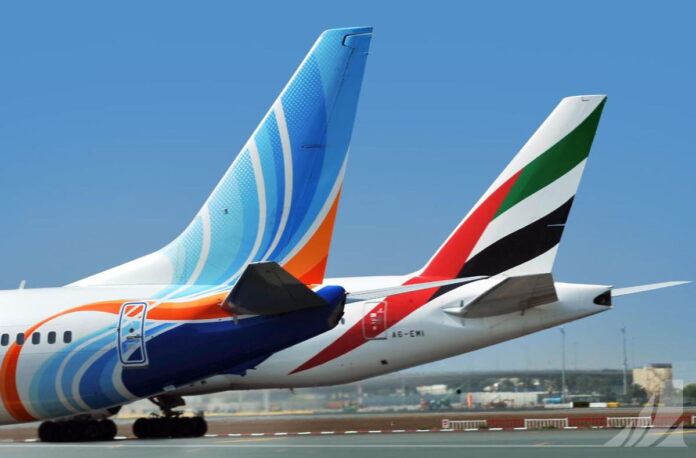 Dubai-based carrier flydubai has announced today that flights to 11 of its destinations will move from its current operating base of Terminal 2 and relocate to Terminal 3 at Dubai International (DXB). Other services will continue to operate from Terminal 2, Dubai International (DXB) and Dubai World Central (DWC).
This next step follows earlier announcements regarding the innovative partnership with Emirates, which goes beyond codesharing to a number of initiatives spanning commercial, network planning, airport operations, the alignment of the frequent flyer programmes and an enhanced customer journey.

His Highness Sheikh Ahmed bin Saeed Al Maktoum, Chairman of flydubai, said: "last July, we announced the extensive codeshare partnership which has seen Emirates and flydubai work closely together to offer customers unmatched opportunities to travel.  As part of this next phase flights to 11 flydubai destinations will operate from Terminal 3 optimising connectivity for their passengers from the world's busiest airport."

From 02 December 2018, flights to Belgrade, Bishkek, Bucharest, Catania, Helsinki, Krakow, Mineralnye Vody, Prague, Rostov-on-Don, Salalah and Zagreb will operate from Terminal 3, Dubai International.  Flights to these destinations before 02 December will continue to operate from Terminal 2.

Passengers booked to travel to these destinations will be able to check-in for their flight at the Business Class and Economy Class desks in the departures area of Terminal 3.  Business Class passengers will be able to use fast track on the ground and enjoy other Business Class services, whilst transiting passengers will have a smooth and quick transit time.

Destinations have been chosen to help improve the connection between Emirates and flydubai. Further flights operating from Terminal 3 will be added in the summer schedule in 2019.

Passengers who have booked to travel to these destinations from this period will receive communications from flydubai in advance of their date of travel informing them of the change in flight number and terminal.
About flydubai
From its home in Dubai, flydubai has created a network of more than 90 destinations and over the next decade the airline will see its fleet grow by up to 296 aircraft. Since commencing operations in June 2009, flydubai has been committed to removing barriers to travel, creating free flows of trade and tourism and enhancing connectivity between different cultures across its ever-expanding network.
flydubai has marked its journey with a number of milestones that represent the scale of the ambition planned for the airline:
An expanding network: Created a network of more than 85 destinations in 45 countries across Africa, Central Asia, the Caucasus, Central and South-East Europe, the GCC and the Middle East, and the Indian Subcontinent.
Serving underserved markets: Opened up more than 71 new routes that did not previously have direct air links to Dubai or were not served by a UAE national carrier from Dubai.
An efficient single fleet-type: Operates a single fleet-type of 58 aircraft including Boeing 737 MAX 8 and Next-Generation Boeing 737-800 aircraft.
Record-breaking orders: Placed the largest single-aisle aircraft orders in the region at the 2013 and 2017 editions of the Dubai Airshow.
Enhancing connectivity: Carried more than 60 million passengers since it began operations in 2009.