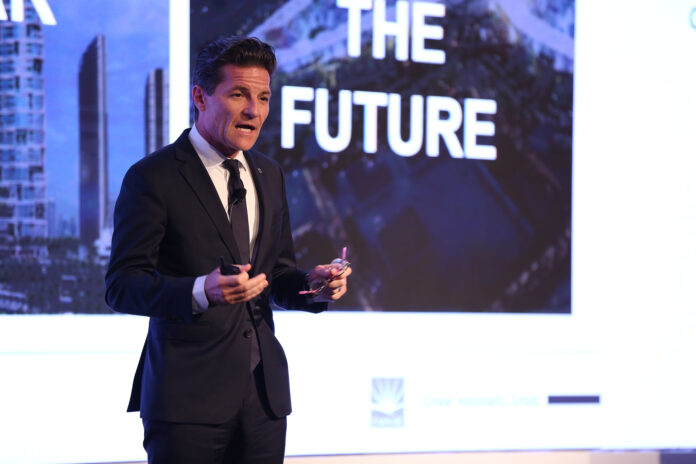 Emaar Hospitality Group presented a special case study at HITEC Dubai today highlighting its latest innovations in digitalization that will set a new benchmark for the hospitality sector.
What will the hotel of the future be like in Dubai? Speaking at the HITEC conference, Olivier Harnisch, CEO of Emaar Hospitality Group, said, "Emaar Hospitality Group has paved the way for creating an innovative hospitality landscape in Dubai, offering a range of experiences, from luxury to contemporary midscale. We aim to be the most innovative hospitality company and are excited to meld the best of technology with the warmth of human touch. The future of our industry is being defined by the all-encompassing digital transformation. Over the past year we have introduced a series of digital innovations that cover all the touch points focused on enhancing the guest experience. Continuing our journey, we look forward to showing the best that technology and human ingenuity has to offer at Expo 2020."
Frank Wolfe CAE, CEO of HFTP, said, "Expo 2020 is driving growth in Dubai as the emirate aims to complete 160,000 hotel rooms in time to welcome an additional five million visitors during the event. In preparation of the expected 25 million visitors the city has made unprecedented investments in its infrastructure and hospitality sector to cater for the influx of travellers. The hotel industry is going through a period of unparalleled changes. As in other parts of the world, technology is playing a crucial role in the future of hospitality industry while propelling Dubai's transition to a knowledge-based economy by 2021. It is exciting to see at HITEC Dubai how Emaar Hospitality Group's is leading the way with industry-first digital transformation initiatives aimed at enhancing the guest experience and operational excellence."
HITEC Dubai 2018, the Middle East's largest hospitality technology exhibition and conference, is endorsed by Corporation for Tourism and Commerce Marketing (DCTCM). Co-produced by Hospitality Financial and Technology Professionals (HFTP®) and Naseba, this year's expo, which is taking place at the Madinat Jumeirah Dubai from 5-6 December, is showcasing innovative solutions from the world's leading hospitality technology providers.
For more information or to register for HITEC Dubai 2018
visit https://www.hitec-dubai.com/
Call Amir Abdin on +971 44 55 7920 or Rouf Hyder Beigh +971 44 55 79 32
ABOUT HFTP
Hospitality Financial and Technology Professionals (HFTP) is a global non-profit hospitality association, headquartered in Austin, Texas, USA, that uniquely understands the industry's problems. HFTP has members and stakeholders across the globe. HFTP assists its members in finding solutions to industry problems more efficiently than any organization via its expert networks, research, conferences such as HITEC and certification programs. HFTP also owns the world's only hospitality specific search engine, PineappleSearch.com. HFTP is recognized as the spokes group for the finance and technology segment of the hospitality industry. 
ABOUT NASEBA
Naseba offers global business facilitation services. The company creates growth opportunities by bringing together people, partners and ideas. It helps clients raise capital, enter new markets, secure partners, close sales and educate workforces. Naseba's goal is to create opportunity and add economic value at every stage of its client's journey. It does this through three key areas: investor services, commercial services and leadership services. Since inception in 2002, Naseba has facilitated deals totalling billions of dollars for its clients. The company has connected over 100,000 global executives through more than 1,000 proprietary business platforms and is an expert in growth markets.
ABOUT EMAAR HOSPITALITY GROUP
Emaar Hospitality Group LLC is a wholly-owned subsidiary of Emaar Properties PJSC, the Dubai-based global property developer, and manages Emaar's hospitality and leisure projects globally.
Defining its competency in managing mixed-use property developments, Emaar Hospitality Group owns and manages a diversified portfolio of assets including hotels, serviced residences, golf clubs, polo club, marina and lifestyle dining restaurants.
Emaar Hospitality Group has defined its credentials in the hotel industry with its distinctive hotel brands – Address Hotels + Resorts and Vida Hotels and Resorts.
Address Hotels + Resorts has brought a fresh identity to the global hospitality and service sector by setting new benchmarks with its gracious hospitality and exceptional service standards. Address offers a more personal and engaging experience to guests in a premium lifestyle environment, enriching the lives of its guests with luxury, style and elegance. Address Hotels + Resorts is set to operate hotels and serviced residences in Saudi Arabia, Egypt, Turkey, Bahrain, Maldives and other key markets in the region as well as in the UAE.
An upscale lifestyle hotel and residences brand, Vida Hotels and Resorts is for the new generation of business executives, entrepreneurs and leisure travellers. Positioned as a lively and vibrant hub where inspiring minds can create, connect and come alive, Vida hotels are a stimulating environment where style meets convenience and interactivity. Vida Hotels and Resorts has two properties in Dubai and is set to operate hotels and serviced residences in Abu Dhabi, Bahrain, Saudi Arabia and Egypt, and other key markets in the region as well as in the UAE.
Underlining its strength and contribution to shaping the hospitality sector of the nation, Emaar Hospitality Group has been awarded as the Official Partner of Expo 2020 Dubai and will provide authentic experiences with a strong local flavour at various locations across the Expo 2020 site, including VIP clubs and lounges, as well as in its hotels and restaurants in Dubai.
www.emaarhospitality.com
For media contact:
Hina Bakht
Managing Director
EVOPS Marketing & PR
Mob: 00971 50 6975146
Tel: 00971 4 566 7355
Hina.bakht@evops-pr.com
www.evops-pr.com