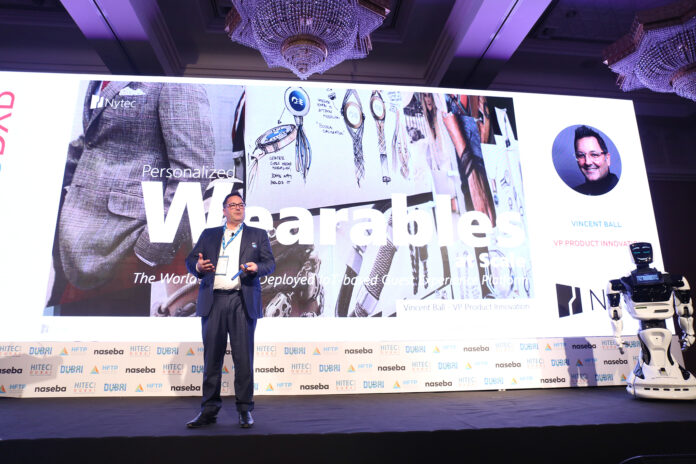 Nytec presented a special case study at HITEC Dubai on the world's largest deployed IoT-based guest experience platform created for Carnival Cruise Line. Speaking at the conference, Vincent Ball, the Vice President for Product Innovation at Nytec, stated, "We turned the cruise ship into a virtual 'smart city' at sea. It is the largest most extensive IOT deployment in the world and we are proud to be part of it.  At the heart of this experience, is the Ocean Medallion. A wearable that is waterproof, with no buttons and it does some amazing things."
The goal for Nytec was to enhance the overall Carnival cruise experience and profitability by developing a portfolio of attractive and desirable accessories that will hold the cruise Medallion, while serving as a form of personal expression for each passenger both on ship and post cruise.
When looked at in numbers, it is absolutely remarkable. Vincent said, "It was an extensive platform where we touched every part of the customer journey and operations making it a frictionless experience for guests. We installed over 7000 sensors on the ship, designed and engineered the hotel room door access with Assa Abloy, and the Medallion a wearable that enables secure transitions and personalized experiences for each guest.  Added to that were 700,000 feet of cables, 1000 readers and 3000 touch displays."
Talking about basic improvements, Vincent said, "A great example of how we transformed not only the guest experience, but operations too are photos. Before we got involved, Carnival printed every picture on the ship. Now it's tied to each guest, visible on 82" touch displays, and the guest can access and purchase these well beyond the vacation. This transformed not only how guest access their photos but the operations too.  There is no more printing required so there is no need to have paper or colour printers and ink on the ship which has reduced considerable weight."
Endorsed by Dubai Tourism and co-produced by Hospitality Financial and Technology Professionals (HFTP®) and Naseba, HITEC Dubai brought together top industry experts to present ground-breaking regional and international case studies, thought provoking panel discussions and game-changing technology demonstrations. The two-day expo was held at the Madinat Jumeirah Dubai from 5-6 December with an aim to facilitate knowledge sharing, networking and deal flow amongst hoteliers and hospitality technology providers.
For more information or to register for HITEC Dubai 2018
visit https://www.hitec-dubai.com/
Call Amir Abdin on +971 44 55 7920 or Rouf Hyder Beigh +971 44 55 79 32
ABOUT HFTP
Hospitality Financial and Technology Professionals (HFTP) is a global non-profit hospitality association, headquartered in Austin, Texas, USA, that uniquely understands the industry's problems. HFTP has members and stakeholders across the globe. HFTP assists its members in finding solutions to industry problems more efficiently than any organization via its expert networks, research, conferences such as HITEC and certification programs. HFTP also owns the world's only hospitality specific search engine, PineappleSearch.com. HFTP is recognized as the spokes group for the finance and technology segment of the hospitality industry. 
ABOUT NASEBA
Naseba offers global business facilitation services. The company creates growth opportunities by bringing together people, partners and ideas. It helps clients raise capital, enter new markets, secure partners, close sales and educate workforces. Naseba's goal is to create opportunity and add economic value at every stage of its client's journey. It does this through three key areas: investor services, commercial services and leadership services. Since inception in 2002, Naseba has facilitated deals totalling billions of dollars for its clients. The company has connected over 100,000 global executives through more than 1,000 proprietary business platforms and is an expert in growth markets.
For media contact:
Hina Bakht
Managing Director
EVOPS Marketing & PR
Mob: 00971 50 6975146
Tel: 00971 4 566 7355
Hina.bakht@evops-pr.com
www.evops-pr.com