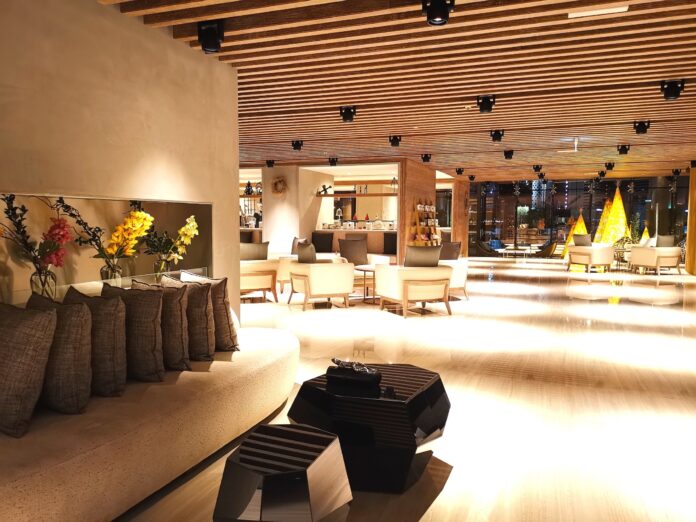 Almost a year ago Renaissance Downtown by Marriott International opened it's doors in Business Bay. Located right at the Dubai Canal, backed by 4 celebrity chef restaurants and interiors so a la mode one has to experience it to know.
Upon arrival the lobby is spacious, refreshingly chic and minimalistic with some statement art installations that beautifully stand out – the wooden wave bench backed by a 3D skyline of Dubai wall art and a quirky ceiling chandelier to match. The Renaissance boasts of distinctive local interiors and design features that can be seen across – from public areas to rooms and restaurants. Some 'DID YOU KNOW' feels quite necessary here:
The hotel interiors are a depiction of Dubai's growth – city of mere sand and water that created concrete and glass structures.
To use materials in their raw natural form was part of the design DNA such as the wood which is widely used in the hotel.
The statement lobby chandelier is hand blown and emulates the shape of sand dunes in the desert.
The black and gold colours seen in various parts of the hotel signify oil and gold of Dubai.
The rooms are gorgeous with options of the Burj view or the canal view, we went with the Burj view. All of them have an open plan concept giving the occupant an airy feel as the room naturally progresses to the bathroom, which is equipped with luxurious Amouage toiletries and has an entire wall of glass mosaics in the shower which is so beautiful. We were personally obsessed with the giant black screen/ mirror a part of which is also the television – super techy! The old fashion studio like lamp in the corner added a nice touch to the hotel's DNA of modern decor. All rooms have either the camel or the flamingo metal sculptures above the beds inspired by Picasso's line drawings.
Next of-course we went to the poolside which is an interesting half covered half open concept. Again you'll see some quirky, modern yet minimalistic decor elements which I found genuinely refreshing. Not to forget, the canal views are the best from the pool side, perfect setting to immerse yourself in water and your jet lag in a cocktail.
Next morning we had breakfast at BHAR which had a lovely international's spread and of course we can't get enough of the views. We sat at the massive outdoor terrace and something we hadn't experienced at breakfast before was – Music! which honestly was the highlight! They played mellow acoustic versions of most commercial tracks and I can't express how enjoyable that was. The restaurant is stunning and serves modern middle eastern cuisine the rest of the day. Now here's a tick in every box for evening visitors: Business Bay location – Canal views – Middle Eastern Cuisine – Beautiful spacious indoors and a gorgeous outdoor terrace – Full bar a & Shisha.
We've honestly always recieved more than expected at every Marriott property and this one surpassed every expectation. Can't wait to go back. Info and links down here:
Occupancy: 298 rooms of which 65 are suites
Locations: Business Bay
Restaurants: Morimoto by Masaharu Morimoto( Japanese)
Bleu Blanc by David Myers (French)
Basta by David Myers (Italian)
Grounded Cafe

Book your room here: https://www.marriott.com/hotels/travel/dxbbb-renaissance-downtown-hotel-dubai/
Tel: +971 4 512 5555