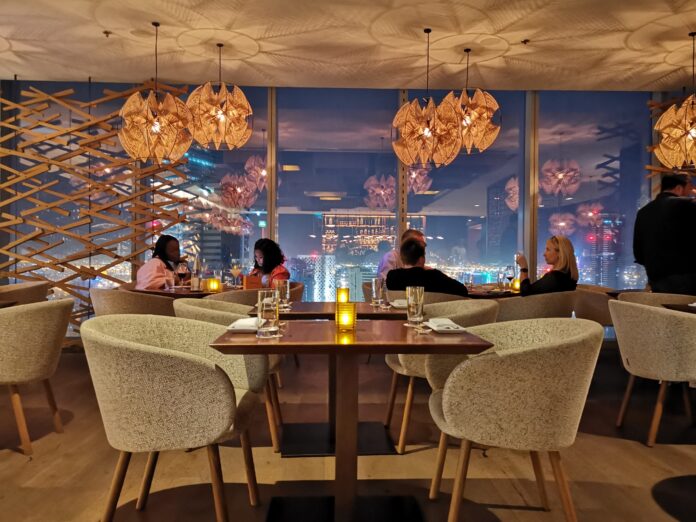 The stunning Morimoto , which resides inside the Renaissance Downtown is celebrity chef Masaharu Morimoto's first eponymous restaurant in the city. Flaunting its own entrance from the left of the lobby, Morimoto spans across the hotel's 23rd and 24th floors donned with interiors so luxe making it a perfect fit in Renaissance and – in Dubai. Upon entering, the hostesses greets you and you enter a beautiful space full of character – the glass-encased bonsai tree, sea creature like light fixture, tall windows giving you the best views of the downtown and in general a lovely ambience welcoming you. The restaurant also has a massive outdoor terrace with it's own bar offering gorgeous views of the city making it perfect for the winter months. Indoor sits about 250 diners with options of choosing the 10 seater sushi counter where you can watch chef's in action or if you wish to impress guests (or your date) pick the upstairs section that offers live teppanyaki, a chef's table, yet another bar and on some days DJ music too.
And now on to the food, well known for fusion Japanese we started our meal with some classic salted Edamame (AED 30) , Spicy Tuna Tacos (AED 90) a nice blend of light flavours in crunchy tacos drizzled with a light squeeze of lime. Hamachi Tartare (AED 68) extremely well presented the hamachi ( young yellow tail buttery in texture) was served with a variety of condiments each of which gave a different burst of flavours: nori paste, sour cream, sturgeon caviar and soy. Our appetisers were nicely paired with delicious cocktails inspired by our Chinese zodiac animals which our server Galym suggested we try.
Octopus carpaccio (AED 69) consisted of yuzu soy, mitsuba, hot oil. Again a lovely light appetiser with minimum but powerful flavours – A must order.
Chef's combo of Sushi & Sashimi (AED 165) – Classic and fail proof.
For the mains we ordered a portion of Ishi yaki buri bop (AED 130) yellow tail on rice. This was a perfect main in so many ways – just the right portion size cause you're sure to order plenty of appetisers. Amazing flavours, delicious fish with rice, mixed with carrots , spinach, an egg (for a creamy texture) all cooked in a stone pot at your table.
There's no way we'd ever say no to desserts and our server suggested just the right one – S'more (AED 45) a concoction of dark brown sugar graham, salted milk chocolate mousse & toasted marshmallow, this cushion-like looking dessert was just what we needed to end the experience on a high. It was light, it was fluffy, had chocolate, had salt, had mousse, sugar graham that complimented all these soft textures – simply perfection! Be prepared to order a lot of items as most of them are deliciously light and its quite nice to be able to try many different dishes than full up on a few. We must add our server Galym Dosmambetov was incredible! He is extremely passionate about his food and job (do ask for him when you visit), he suggested some amazing dishes and got us the perfect drinks pairing. He's really passionate and knowledgeable about wine and would definitely make an amazing wine connoisseur too.
Restaurant details, table booking and menus here: https://www.morimotodubai.com
Tel: 04 5125577 written by Chandan Mathrawala from fcubedubai.com