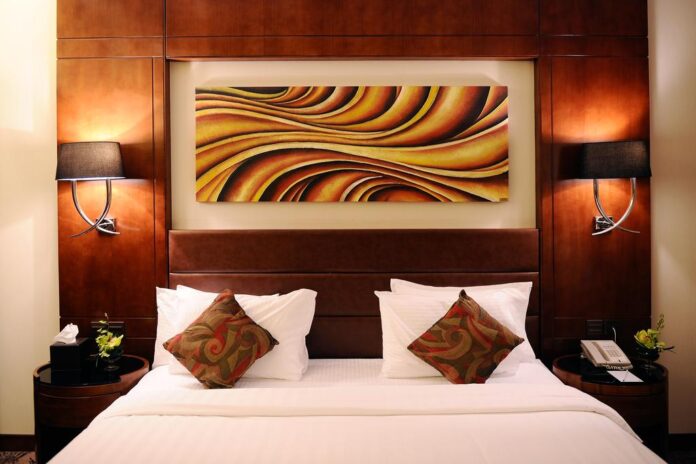 Longing for a small break? The Al Hamra Palace by Warwick in Riyadh, Saudi Arabia, offers the perfect weekend getaway package for families and leisure seekers. Book your weekend stay at the luxurious hotel this summer and enjoy 20 per cent discount on the room rates. The offer is inclusive of a sumptuous buffet breakfast at Al Moukhtar restaurant. In addition, guests can benefit from free room upgrade to the next level as per availability, 20% discount at the Lobby Café Lounge and late check-out at 4pm.
Labib Jamal, Rooms and Sales Manager of Al Hamra Palace by Warwick, said, "More and more people now prefer short weekend breaks over long vacations as it helps to refresh and rejuvenate them without affecting their work. Since going outside the country requires more time and is generally tiresome, people want to explore attractive weekend options closer to home or within the country. A weekend at the Al Hamra Palace by Warwick allows you to put your workday aside as you relax and revive in our comfortable surroundings".
The special Weekend offer at Al Hamra Palace by Warwick is subject to availability and is not applicable for bookings of 10 rooms or more. Moreover, the offer cannot be combined with other discounts, special offers or negotiated rates. The customer's credit card will be charged immediately at time of booking for the total amount quoted for the entire stay. The charged amount is non-refundable, and payments cannot be used for other stays, services. Al Hamra Palace by Warwick reserves the right to withdraw this offer at any time without prior notice.
About Al Hamra Palace by Warwick
Al Hamra Palace by Warwick is a stunning family-friendly 4-star hotel combining efficient service and elegant furnishings with modern amenities. The beautiful boutique hotel is superbly located in King Abdullah Financial District only 10km from the bustling downtown city square and offers a quick and easy access to nearby shopping malls, universities and more. With world-class leisure and meeting facilities featuring the very best of Saudi Arabian Hospitality, Al Hamra Palace by Warwick is equipped to meet the needs of any discerning traveller. It features 64 plush rooms and suites, an indoor pool, a myriad of multi-purpose function rooms, an exceptional international restaurant and complimentary onsite parking. Book your stay at Al Hamra Palace by Warwick on +966 11 229 0044 or visit www.warwickhotels.com/al-hamra-palace
For Media Contact:
Hina Bakht
Managing Director
EVOPS Marketing & PR
M: +971 50 6975146 | T: +971 4 566 7355
Hina.bakht@evops-pr.com
www.evops-pr.com