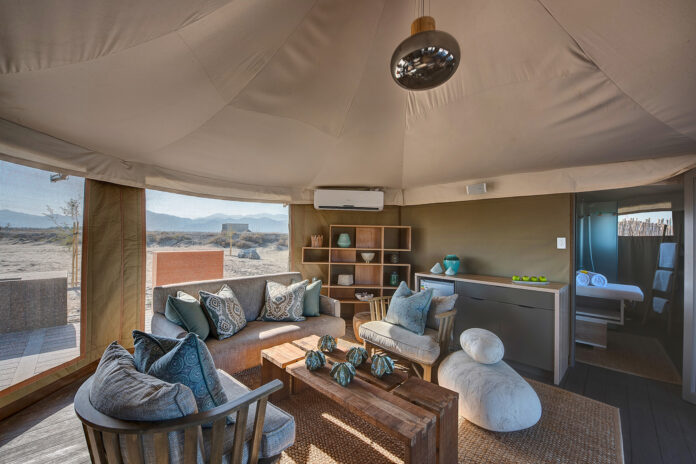 Whether you are in search of a dream getaway, a unique beach holiday or simply a blissful weekend break, Shaza Hotels offers the perfect escape for all nature lovers with the Sharjah Collection by Mysk. The moment you step into the peaceful surroundings of Kingfisher Lodge or Al Faya Lodge, you begin to feel the stress melt away.
Enjoy glorious isolation in the picturesque Kalba peninsula with a relaxing stay at the plush safari-style tents equipped with all modern comforts including beautiful patios and private plunge pools and explore the spectacular mangroves and sandy beaches. It is only here that you wake up to breath-taking views of the beach and mountains from your bed. Equally relaxing and invigorating is Al Faya Lodge set at the foot of the sandy mountains. It is a charming desert oasis that seamlessly blends into its sun-soaked landscape.
Shafik Alaaeddine, General Manager for Sharjah Collection by Mysk, said, "Both the Kingfisher Lodge and Al Faya Lodge are extraordinary in every way with their idyllic settings and marvellous facilities. It is hard to imagine the beauty of the natural surroundings, wilderness and rich heritage till you get there. We invite travellers to fuel their wanderlust this summer with a voyage of discovery, inspiration, joy and transformation."
Kingfisher Lodge ­– Sharjah Collection by Mysk
The arid island landscape, water, air, and wildlife create an awe-inspiring encounter at Kalba on the east coast of Sharjah. Set on this piece of heaven enveloped by the Gulf of Oman is Kingfisher Lodge. The beauty of the pristine beach and Indian Ocean waters is matched perfectly by refined interiors in soft beiges, blues and desert browns. Savour the tranquillity as you kayak through mangroves, watch sea turtles hatch, nest and swim, catch a glimpse of many rare bird species and the wildlife that all define Khor Kalba as a globally important wetland.
Activities in the Area
A world of adventure surrounds you at Kingfisher Lodge. From exploring the mangroves to relaxing on the sandy beaches, the days are filled with interesting sights, sounds and action. Head to the Al Hefaiyah Mountain Conservation Centre, where the rich biodiversity of the region's mountain habitats is protected. Spot some of the thirty different species that roam the mountains whilst learning about flora and fauna unique to this part of the mountains of the UAE. Love the water? A host of activities are on offer from diving to fishing. Kingfisher Lodge is the perfect place to slow down, breathe and just be.
Dining
Kingfisher Lodge offers a healthy organic culinary experience for in-house guests with all day dining. Al Korum boasts an enticing a la carte menu of international and local dishes for breakfast, lunch and dinner.
For reservations Call: +971 09 201 1900 or
E-mail: book.kingfisher@myskhotels.com
l Faya Lodge – Sharjah Collection by Mysk
Embracing its heritage, the Al Faya Lodge features just five rooms, masterfully combining its original features with contemporary feel and luxe modernity. On site are one-of-a-kind hands-free saltwater spa, a dining room, reception room, library and viewing deck, with every aspect of the design emphasizing its surroundings. Bedrooms feature a skylight for star-gazing at night with a fire pit primed for recapping the day's many adventures.
Dining
The restaurant at Al Faya lodge offers food for the soul. A roadside diner – both guests and visitors – can indulge in its sumptuous meals. Featuring produce that is locally sourced, guests can enjoy their meals whilst gazing out of the floor-to-ceiling windows. For those looking for an extra special experience, barbeques can be arranged or a private dinner under the stars upon request.
The Spa
Located in its own building, privacy is key with calming views across the desert. Guests can embark on a wellness journey as they venture through the herbal and Himalayan salt rooms, before heading to the tropical walk which is an immersive sensory experience through a 270-degree shower path with different water pressures, therapeutic lighting and calming sounds. Promoting both physical and mental health, the rooms aid in reducing inflammations, helping those with respiratory issues and improve overall well-being among others. A private swimming pool awaits allowing for an ideal spot to sit back and embrace nature.
For reservations Call: +971 06 538 7857 or
E-mail: book.alfaya@myskhotels.com
About Sharjah Collection
The Sharjah Collection unveils the soul of Sharjah and reveals the essence of this Emirate through the balance of luxurious accommodation, heritage, Arabian culture and hospitality, adventure and intimate encounters with the natural landscape. It is a group of distinctive boutique hotels, eco-retreats and lodges purposefully located in key locations throughout the Sharjah Emirate that will take you on an exquisite journey on the Eastern winds and sands of time. Kingfisher Lodge, Al Badayer Oasis and Al Faya Lodge are hallmarks of Sharjah's identity each with its own distinctive allure. At any of the Sharjah Collection accommodations, you will enjoy an illustrious experience that will leave you breathless, nostalgic, enchanted and bringing back cultural riches.
About Shaza Hotels
Shaza is the leading hotel management company dedicated to offering true Arabian hospitality inspired by the traditions and culture of various countries along the Silk Route and reflected by the supremely elegant Middle Eastern style décor and serene ambiance that is appreciated by the most discerning travellers.
With four hotels already operational in the Middle East – Shaza Makkah in the Holy city, the multiple award-winning Shaza Al Madina, the newly opened Shaza Riyadh and the flagship hotel under the "Mysk by Shaza" brand Mysk Al Mouj in Muscat – the brand is expanding rapidly with the opening this year of three retreats under the Sharjah Collection, followed by Shaza Doha, Shaza Salalah and Mysk The Palm in Dubai. Shaza is a member of Global Hotel Alliance (GHA), the world's largest alliance of independent hotel brands.
For more information please visit www.shazahotels.com
About Global Hotel Alliance
Global Hotel Alliance (GHA) is the world's largest alliance of independent hotel brands, bringing together more than 30 brands with over 550 hotels in 75 countries. GHA uses a shared technology platform to drive incremental revenues and create cost savings for its member brands. GHA's award-winning loyalty programme, DISCOVERY, provides 15 million members exclusive opportunities to immerse themselves in local culture wherever they travel. For more information, visit globalhotelalliance.com
For further information please contact:
Ali Ozbay
Director of Marketing & Communications
Shaza Hotels
Website: www.shazahotels.com
Email: ali.ozbay@shazahotels.com
Office: +971 4 437 6460
Follow us on:
Facebook: www.facebook.com/ShazaHotels
www.facebook.com/MyskbyShaza
Twitter: @ShazaHotels @MyskbyShaza
Instagram: @ShazaHotels @MyskbyShaza
Linkedin: https://www.linkedin.com/company/shaza-hotels/
#ShazaHotels #IamShaza #MyskbyShaza
#KingfisherLodge #AlFayaLodge
For media please contact:
Hina Bakht
Managing Director
EVOPS Marketing & PR
Mob: 00971 50 6975146
Tel: 00971 4 566 7355
Hina.bakht@evops-pr.com
www.evops-pr.com