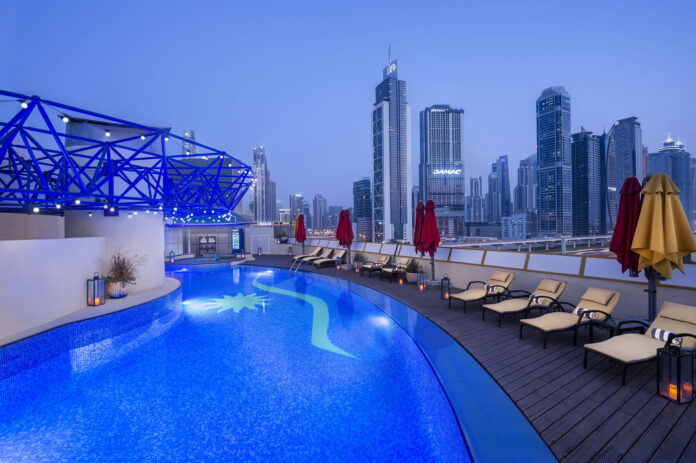 LEVA Hotel Mazaya Centre has been nominated among the finalists for Best New Deluxe Hotel of the Year category at the Hozpitality Excellence Awards 2019. The awards are presented to recognize the top hotel brands and professionals who have shown skill, creativity, ingenuity and success in the Middle East & North Africa's growing hospitality industry. The winners will be chosen based on the results of the online voting.
Mr. JS Anand, Founder and Chief Executive Officer of LEVA Hotels & Resorts, said, "We are very pleased to be nominated for these coveted awards and truly grateful to the organisers for the honour. Hozpitality Excellence Awards is an exceptional platform in the Middle East to celebrate the achievers behind the success of the travel and hospitality industry. This nomination is a recognition of our hard work and we are very proud of our team and associates who are dedicated to providing the finest experience to our guests."
Superbly located between Al Wasl Road and Sheikh Zayed Road, LEVA Mazaya Centre is a deluxe 4-star hotel, situated only 20 minutes-drive away from Dubai International Airport. Part of a mixed-use development that includes Al Mazaya Shopping Centre and residential spaces, LEVA makes for an ideal address for both business and leisure travellers in Dubai. Blending fresh and purposeful spaces with comfort, the beautiful property is a statement in style and enjoys close proximity to some of Dubai's biggest leisure attractions and business landmarks.
Connect with LEVA Hotels & Resorts on @LEVAHotels #LEVAHotels #LEVAHotelsAndResorts #LEVAMazayaCentre
About LEVA Hotels & Resorts
LEVA Hotels & Resorts is a dynamic lifestyle hotel brand uniquely positioned in the upscale and midscale segments offering a fresh perspective on hospitality. It attracts travellers who want to be immersed in vibrant spaces while enjoying world-class comfort and engaging service at affordable price points. Derived from the Latin word 'Levatio' meaning 'comfort', LEVA Hotels & Resorts boasts a unique portfolio of 4 complementary and well differentiated hospitality brands aimed at delivering greater value to guests with a balanced lifestyle and solid return on investment for owners. At every level, LEVA is focused on the essentials that turn the mundane into memorable. For more information visit www.stayleva.com
For Media Contact:
Hina Bakht
Managing Director
EVOPS Marketing & PR
M: +971 50 6975146 | T: +971 4 566 7355
Hina.bakht@evops-pr.com
www.evops-pr.com