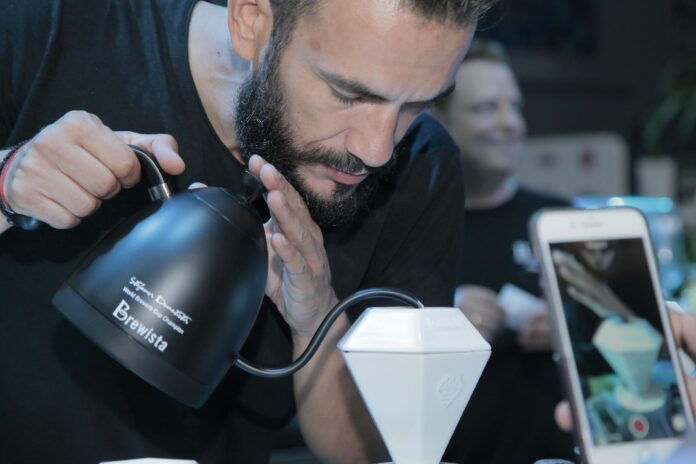 The Coffee Industry in the Middle East is expected to grow to $44 billion by 2021 according to Euromonitor International. Cultural shifts across MENA have seen a massive rise in coffee consumption, with sales growing at twice the global average. Changing the brewing game and ushering innovation to the world of coffee, the world-renowned Coffee Consultant, World Brewers Cup Champion a Editornd famous role-model Barista, Stefanos Domatiotis has introduced his revolutionary new brewing gadget – Brewista GEM Series Porcelain Dipper – to UAE coffee enthusiasts and baristas.
Designed by Stefanos Domatiotis himself – this latest brewing innovation is expertly designed to create consistent cups of clean, velvety mouthfuls of coffee for users of all experience levels. Thus, making coffee brewing easier for experts and ordinary coffee enthusiasts alike.
Over 2.25 billion cups of coffee are consumed globally every day, while the global market value of the beverage is expected to see an annual growth rate of 5.5% according to Mordor Intelligence.
In a series of events conducted in Abu Dhabi and Dubai, organized by Brewing Gadgets General Trading LLC, Stefanos Domatiotis provided live demonstrations of the new product. Moreover, the Champion Barista & Coffee Consultant also revealed his brewing tips and tricks for using the new Brewista GEM Series Dripper whilst explaining how his brewing invention can offer the best brewing experience – and how it could completely reshape future coffee brewing competitions.
The GEM Series Porcelain Dripper is a modern, authentic, high-quality dripper with a unique close thermo system. This enables steady water flow and traps aroma modules. It is made with a premium porcelain material with great heat retention and is easy to use as it promotes consistent brewing.
Speaking at the event, Stefanos Domatiotis had this to say, "Pour-over coffee brewing has gained a lot of popularity not only among coffee professionals, but also among consumers. However, the results were not always consistent despite the availability of great devices and all the essential ingredients and skills. I was trying to find the solution to enable everyone out there to create a consistent cup of coffee with extraordinary brew characteristics and the GEM Series Porcelain Dripper seems to be the perfect answer".
He went on to add that the fundamental solution to this issue addressed by the GEM Series design is the lid placed atop the brewer with a hole that naturally restricts the hot water pouring radius. This results in a more consistent bloom phase and more even contact time through the brew cycle, while minimizing the common human error of imprecise pouring. The brewer's lid also gives the device its diamond shape, a style point reinforced with the GEM Series name.
Additionally, a system of vertical and horizontal ribs on the brewer's inner walls are designed to prevent solids from clumping at the bottom of the brew bed, while allowing water to flow consistently by separating the included paper filter from the inner walls.
According to Stefanos Domatiotis, the positive association with Diamonds (such as illumination, purity and perfection) lends a unique aspect to the Dripper while adding to its aesthetics. The colour white was chosen as it stimulates clarity, purity, simplicity and hope.
Brewing Gadgets General Trading LLC is one of the leading names in the Middle East for innovative coffee gadgets, and will be exclusively distributing the GEM Porcelain Dipper across different regional markets.Commenting on the launch events held in UAE, Mr. Franklin Carvalho, General Manager of Brewing Gadgets Middle East said, "It has been our endeavor to bring the most innovative and creative brewing products to the Middle East markets. The UAE has a vibrant coffee culture with world-class Baristas here, who definitely deserve to learn from the best in the field. So who else better than the World Coffee Champion and the innovator of the product; Stefanos Domatiotis himself? The participation and enthusiasm at the events was palpable and we are very enthusiastic about the launch of this new product. Indeed, our commitment to bring the latest to the world of coffee for these markets remains our top priority and focus as we enter 2020 and beyond."