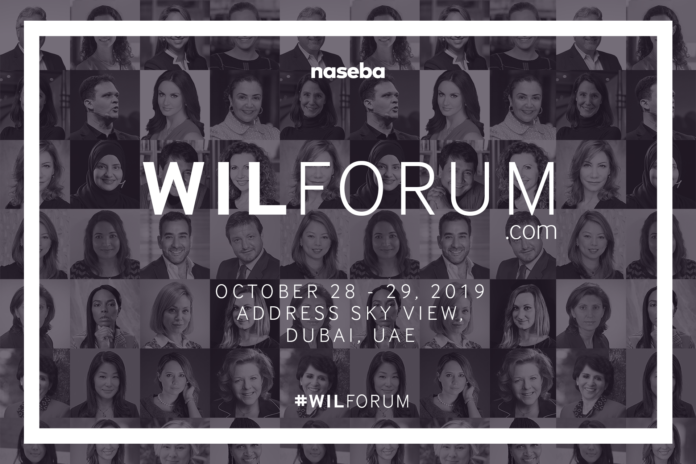 Women are driving positive change in the Middle East and the United Arab Emirates continues to be at the forefront of this progress offering greater opportunities to women to achieve their full economic, political and social potential in keeping with the country's goal to be one of the world's top 25 countries for gender equality by 2021. The emirates has closed 64% of its overall gender gap. Women in Leadership Economic Forum (WIL) by Naseba, the largest female economic empowerment platform in the Middle East will gather some of the leading regional and international organisations such as Siemens, Facebook, Allergan, FedEx, Philip Morris, PWC, General Motors and Emaar Hospitality, to share their success stories and strategies on closing the gender gap as they 'Dare to Build a Better Future'.
According to industry reports organizations where women hold nearly 30% of leadership positions could add up to 6% to their net margins.
Hani Ashkar, PwC Middle East Senior Partner, said, "Diversity is integral to business sustainability and overall success. Boosting the number of women in work is not just a moral imperative but also has a measurable impact on the bottom line. At PwC Middle East, we recognise that diversity and inclusion are multifaceted and that we need to tackle these challenges holistically. To do this, we believe we also need to honestly address head-on the concerns and needs of our diverse employees and increase equity for all. This is not a one-size-fits-all for our offices around the region, but we are working to drive this through targets and data-centric accountability, in order to be fit for the future and to continue to make a difference in our region."
The MEA region has been a development platform at Siemens for many high potential females who developed into key global leadership roles after their assignment with the company.
Eva Mourino, SVP HR Siemens Middle East, said: "I am always surprised that whenever we talk about gender parity, we mention specific metrics, like increasing net margins or boosting profit, to justify the cause. Why do we need to provide proof to explain that more leadership positions should be held by women? Women deserve a place at the table. At Siemens we believe that diversity on all levels of the organisation contributes to the overall success of the company."
Philip Morris International (PMI) is in the midst of a massive business transformation to create a smoke-free future. To succeed, the company is developing better, scientifically-substantiated smoke-free alternatives for the millions of adult smokers who would otherwise continue to smoke, to replace cigarettes as quickly as possible.
"To accomplish this vision, PMI is becoming a more agile, inclusive and gender-balanced workplace. We need a work environment that is inclusive so everyone can thrive, and a culture that is welcoming of different individuals with diverse skills, perspectives and ways of thinking so we can unlock the innovation and creativity needed to completely transform our business", said Melissa Whiting, Vice President Inclusion & Diversity at PMI.
Today, women hold just under 36% of management roles across PMI, up six percentage points since 2014.
Highlighting steps the company has taken to make progress within this timeframe, Whiting commented, "At PMI, we started by making progress on gender balance a business priority, with clear commitment from the top. We have set ourselves a target to improve the representation of women in management across PMI to at least 40% by 2022 and we regularly track and report on progress. In the UAE, we have seen positive results in our Middle East organization where the representation of women in our Leadership Team has increased by 30% in the last four years. And senior leaders are increasingly taking time to coach and mentor female talent, supporting them in their career development. This is especially important in the UAE, given the country's vision to become one of the world's top 25 countries for gender equality by 2021."
Women currently make up 35% of the GM Middle East (GM MEO) workforce, a significant increase from the 26% just over five years ago. In the past two years alone, nearly 50% of the total new hires at the company were female, with different education backgrounds including STEM fields
John Roth, President and Managing Director of GM Africa and Middle East, said, "At General Motors, we know that inclusivity is a vital element to driving success and retaining exceptional talent that makes those business goals possible.
He added: "Our commitment to diversity and inclusion at GM aligns with the UAE's goals for gender balance, as part of Vision 2021. It sits at the core of our business approach, raising diverse perspectives across our teams and ensuring everyone has the opportunity to grow and create impact."
Women in Leadership Economic Forum (WIL) by Naseba, will take place in Dubai on October 28 and 29 at the Address Sky View Hotel Dubai. It is supported by Chain Reaction and CCM as well as 2XL Furniture & Home Décor that will be creating inspiring stage settings for engaging discussions.
About Naseba
Naseba creates growth opportunities, connecting people, partners and ideas. Focused on deal facilitation, it helps clients raise capital, close sales, enter new markets, secure partners and educate workforces. Naseba creates opportunity and adds economic value at every stage of our client's journey.
Since 2002, Naseba has facilitated more than a billion dollars' worth of deals and has connected over 100,000 global executives through more than 1,000 proprietary business platforms in liquid growth markets.
Naseba is a signatory of the Women's Empowerment Principles – Equality Means Business, produced and disseminated by the United Nations Entity for Gender Equality and the Empowerment of Women (UN Women) and the United Nations Global Compact.
For media contact:
Hina Bakht
Managing Director
EVOPS Marketing & PR
Mob: 00971 50 6975146
Tel: 00971 4 566 7355
Hina.bakht@evops-pr.com
www.evops-pr.com