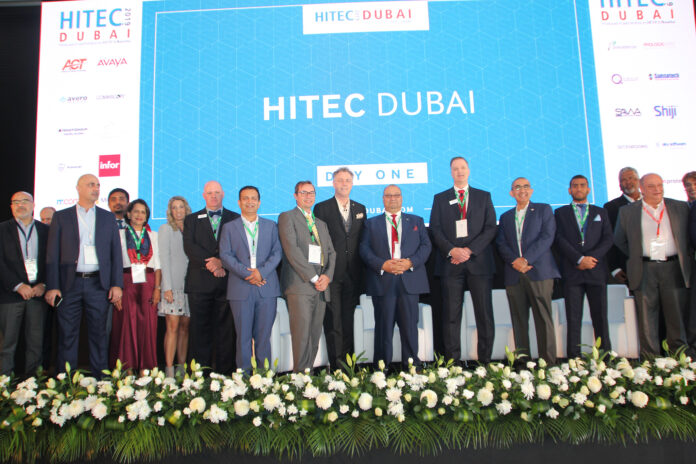 Artificial Intelligence, Robotics, Data Protection and
Digital Transformation in Hospitality Top the Agenda
HITEC Dubai 2019, the Middle East's largest hospitality technology show for hotels, organised by Hospitality Financial and Technology Professionals (HFTP®) and Naseba, and endorsed by Dubai Tourism, opened today with a focus on future.
The 2-day event, that is being held at the Festival Arena by Intercontinental at Dubai Festival City, brings together the world's leading technology solution providers and thought leaders to showcase the top tech trends transforming the hotel industry. The delegates were welcomed on Day-1 by Thomas Atzenhofer (CPA), Deputy CEO, HFTP, and Fabien Faure, Managing Director, Naseba.
The Middle East technology buyers are currently estimated to be worth over USD 75 billion. Frank Wolfe CAE, CEO of HFTP, said, "The growth and scale of HITEC Dubai is testament to the buoyant hospitality industry in the Middle East. Advances in digital and artificial intelligence are transforming the business faster than ever. Our core aim is to gather hospitality and technology leaders to share their success stories and tackle common challenges. As part of the HITEC Dubai agenda we will also feature ground-breaking regional and international case studies, thought provoking panel discussions and technology demonstrations from the world's top service providers and revolutionary thinkers."
In his opening address, HITEC Dubai's Advisory Council Chairperson Laurent A. Voivenel, Senior Vice President, Operations and Development for the Middle East, Africa and India for Swiss-Belhotel International, highlighted the need for greater security in terms of data.
Laurent stressed, "With rise of technologies like multicloud, IoT and 5G, we are on fast track to a highly connected future. While these technologies offer incredible promise to users, they also expose us to a number of potential vulnerabilities. Vast volumes of personal data are being shared online by customers and hotels need to ensure it is protected. HITEC Dubai's programme is designed to provide attendees with useful industry insights and information about all such pressing issues."
During the day, the delegates had a chance to listen to many top experts catering to the hotel industry.
Shane O'Flaherty, Global Director, Travel, Transportation & Hospitality, Microsoft, spoke on 'Using Emerging Technologies to Drive Digital Transformation in Hospitality'.
Ali Ajouz, CEO of Sawa Media, made a keynote presentation on media and trends in hospitality.
Simon L'Anson, CEO, Hoist Group, made a case for 'Technology as a Tool to Enhance Guest Experience, Increase Revenue and Reduce Cost'.
Frederick Sabty, VP — Hospitality International, Avaya, shared valuable information on 'Delivering Superior Guest Experiences through Digital Transformation'.
Finally, Youssef Senhaji Rhazi, Business Development Manager, CEEMA, Aruba, rounded off the sessions with a presentation on Aruba Hospitality Vision.
To register for HITEC Dubai visit: https://www.hitec-dubai.com
About HITEC Dubai
Hospitality Industry Technology Exposition and Conference (HITEC®) is the world's largest and oldest hospitality technology exposition and conference brand. HITEC offers a unique combination of top-notch education and brings together the brightest minds and hottest technologies from across the globe to one place.
Hospitality Financial and Technology Professionals (HFTP®), producers of HITEC, will partner with Naseba, a business facilitation company, to bring the brand to Dubai. Making the event accessible to buyers from the lucrative Middle Eastern market, currently worth over USD 75 bn.
The show will offer an education program and exhibits. In addition, HITEC Dubai will feature a summit with one-to-one business meetings that have become the hallmark of Naseba's platforms. Hoteliers attending the summit portion of HITEC Dubai will be pre-qualified to confirm their purchasing authority, budgets, timelines and solutions of interest.
About HFTP
Hospitality Financial and Technology Professionals (HFTP®), established in 1952, is a hospitality nonprofit association headquartered in Austin, Texas USA with offices in Hong Kong, United Kingdom, The Netherlands and Dubai. HFTP is recognized as the spokes group for the finance and technology segments of the hospitality industry with an international network of members and stakeholders. HFTP uniquely understands the industry's pressing issues, and assists its stakeholders in finding solutions to their challenges more efficiently than any organization. HFTP offers expert networks, educational resources, career development programs, research, leadership opportunities and conferences and events. HFTP produces international events throughout the year, including the world's largest hospitality technology tradeshow and conference brand: HITEC. The association also owns the world's only hospitality-specific search engine: PineappleSearch.com®. For more information about HFTP, visit www.hftp.org.For the latest news, visit the HFTP News page at news.hftp.organd the HFTP Connect blog at blog.hftp.org.
Follow HFTP on social media Facebook (@HFTPGlobal); LinkedIn; Twitter (@HFTP); Instagram (@HFTP_HITEC). Stay tuned to HFTP's industry-specific, informational news sites: HFTP News, HITEC Bytes, HFTP Club Bytes, HFTP Finance Bytes, HFTP GDPR Bytes and HFTP FB Bytes. HFTP event photos are available on Flickr, and HFTP event videos are available on YouTube.
For media contact:
Hina Bakht
Managing Director
EVOPS Marketing & PR
Mob: 00971 50 6975146
Tel: 00971 4 566 7355
Hina.bakht@evops-pr.com
www.evops-pr.com