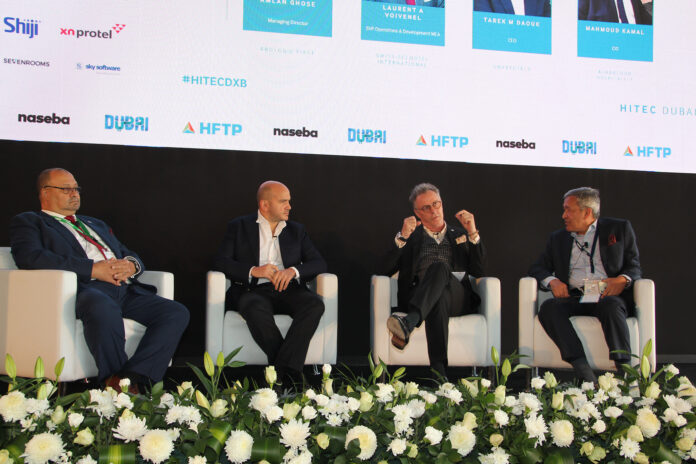 Artificial Intelligence and Robotics topped the agenda at HITEC Dubai 2019, the Middle East's largest hospitality technology show for hotels, organised by Hospitality Financial and Technology Professionals (HFTP®) and Naseba, and endorsed by Dubai Tourism.
An exciting panel discussion on 'Business Intelligence through AI and Robotics' moderated by Amlan Ghose, Managing Director, Prologic brought together leading experts to share industry insights. Participating in the panel were HITEC Dubai's Advisory Council Chairperson Laurent A. Voivenel, Senior Vice President, Operations and Development for the Middle East, Africa and India for Swiss-Belhotel International, Tarek M. Daouk, CEO of Smartotels, and Mahmoud Kamal, CIO of Al Habtoor Hospitality.
It is estimated that AI could contribute US$320 billion to the Middle East economy by 2030, which would be 11% of GDP. The UAE has an opportunity to become a key player in the new global digital economy, through its early investments in AI and are looking to contribute almost 14% of the GDP in 2030. AI is making great advances in all sectors of the economy including hotels.
Laurent who has been quoted as an evangelist for technology in the hospitality sector in the Middle East, said, "Artificial Intelligence is playing an increasingly important role in the hotel industry mainly because of its ability to carry out traditionally human functions at any time of the day. Although still in its infancy in our business, AI is extremely effective when it comes to direct messaging and online chat services as well as data analysis. We are seeing the development of robots with AI and the potential for this technology to grow is enormous for basic customer-facing situations."
Expanding on the possibility of an AI and Robotic Process Automation (RPA) enabled future, Laurent stated, "The future world of AI and RPA will most likely have much greater impact than we can anticipate today. One of the key benefits that AI brings is the 'always operational organisation' by empowering automation."
Responding to a question on whether AI and Robotics will lead to erosion of employment opportunities, Laurent said, "With technological breakthroughs, tasks performed by humans and machines are no doubt undergoing major transformations. While robots and algorithms will improve the productivity and efficiency of existing jobs, they will also create a number of new ones in the future."
To register for HITEC Dubai visit: https://www.hitec-dubai.com
About HITEC Dubai
Hospitality Industry Technology Exposition and Conference (HITEC®) is the world's largest and oldest hospitality technology exposition and conference brand. HITEC offers a unique combination of top-notch education and brings together the brightest minds and hottest technologies from across the globe to one place.
Hospitality Financial and Technology Professionals (HFTP®), producers of HITEC, will partner with Naseba, a business facilitation company, to bring the brand to Dubai. Making the event accessible to buyers from the lucrative Middle Eastern market, currently worth over USD 75 bn.
The show will offer an education program and exhibits. In addition, HITEC Dubai will feature a summit with one-to-one business meetings that have become the hallmark of Naseba's platforms. Hoteliers attending the summit portion of HITEC Dubai will be pre-qualified to confirm their purchasing authority, budgets, timelines and solutions of interest.
About HFTP
Hospitality Financial and Technology Professionals (HFTP®), established in 1952, is a hospitality nonprofit association headquartered in Austin, Texas USA with offices in Hong Kong, United Kingdom, The Netherlands and Dubai. HFTP is recognized as the spokes group for the finance and technology segments of the hospitality industry with an international network of members and stakeholders. HFTP uniquely understands the industry's pressing issues, and assists its stakeholders in finding solutions to their challenges more efficiently than any organization. HFTP offers expert networks, educational resources, career development programs, research, leadership opportunities and conferences and events. HFTP produces international events throughout the year, including the world's largest hospitality technology tradeshow and conference brand: HITEC. The association also owns the world's only hospitality-specific search engine: PineappleSearch.com®. For more information about HFTP, visit www.hftp.org.For the latest news, visit the HFTP News page at news.hftp.organd the HFTP Connect blog at blog.hftp.org.
Follow HFTP on social media Facebook (@HFTPGlobal); LinkedIn; Twitter (@HFTP); Instagram (@HFTP_HITEC). Stay tuned to HFTP's industry-specific, informational news sites: HFTP News, HITEC Bytes, HFTP Club Bytes, HFTP Finance Bytes, HFTP GDPR Bytes and HFTP FB Bytes. HFTP event photos are available on Flickr, and HFTP event videos are available on YouTube.
For media contact:
Hina Bakht
Managing Director
EVOPS Marketing & PR
Mob: 00971 50 6975146
Tel: 00971 4 566 7355
Hina.bakht@evops-pr.com
www.evops-pr.com