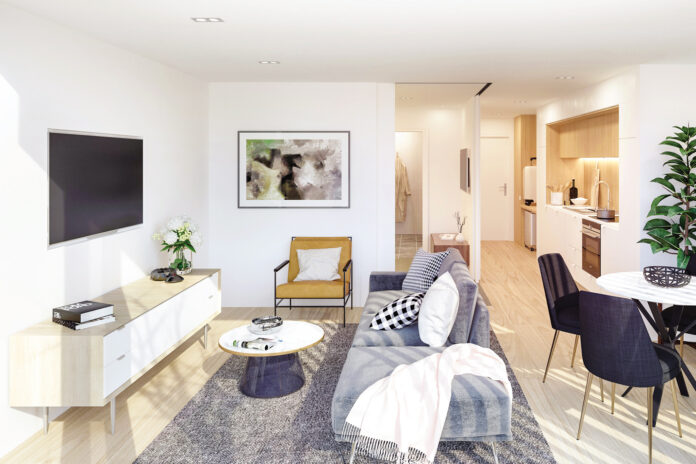 Swiss-Belhotel International will expand its New Zealand portfolio via the upcoming launch of two exciting Queenstown properties – ensuring that the popular tourist destination will keep pace with increasing visitor numbers.
Swiss-Belhotel & Residences Queenstown and the younger, more value-conscious brand Zest Queenstown by Swiss-Belhotel will be unveiled at the same time in the last quarter of 2020. It will be the brands' New Zealand debut.
Swiss-Belhotel & Residences Queenstown will be ideal for travellers looking for comprehensive and well-appointed international-standard facilities that are enhanced by efficient, attentive service as well as comfort and security. The residences are designed to meet the needs of extended-stay business and leisure travellers.
The vibrant Zest brand is a value hotel featuring modern facilities at an affordable price. It is designed with the social traveller in mind and appeals to the young and the young at heart, while providing state-of-the-art technology, comfort and security. Both properties will be located on Gorge Road, 100 metres apart and a convenient 10-minute walk to the town centre.
Mr. Gavin M. Faull, a New Zealander and the Chairman and President of Swiss-Belhotel International, said the new properties "will offer something completely different to each other, giving visitors more options when staying in the scenic town".
He said: "We've had a presence in Queenstown for the past six years through Swiss-Belresort Coronet Peak. And over this time we have developed a good sense of what visitors demand from their hotel stays. The time felt right to expand our presence in the region and launch two hotel brands that haven't previously been available in New Zealand."
Swiss-Belhotel International launched Swiss-Belresort Coronet Peak in 2013. The Group then expanded into Auckland in 2016 with the opening of Swiss-Belsuites Victoria Park, followed by the acquisition of Swiss-Belsuites Pounamu Queenstown in 2017. The new properties will increase the Group's New Zealand footprint to five hotels.
Swiss-Belhotel & Residences will be a 4.5-star property featuring a full-service hotel and furnished residences. The well-appointed facilities will comprise an architectural design that combines modern and local aesthetics, contemporary interiors and furnishings, the latest technology as well as food and beverage outlets and 24-hour services. The hotel will feature 194 rooms at 24 square metres and 32 apartments (one bedroom, 75-95 sq m, and two bedrooms, 120-150 sq m).
Like all Zest properties (there are 10 in Indonesia), Zest Queenstown will emanate a young and fun ambiance. It will be modern, inviting, bold and unique. The property's construction is being managed and developed by the Redwood Group and will feature 223 Zest rooms (16 sq m), 160 Pods (24 sq m sleeping capsules sleeping eight per unit) and communal bathrooms. Large social facilities will be on-site, along with a 24-hour reception, dining areas and seamless technology features throughout.
The new developments are part of the strategic expansion of Swiss-Belhotel International in New Zealand, and will support growing tourism in the market.
Mr. Faull said the Group was in discussions with developers in Australia and would make more announcements regarding hotel developments within the next six months. He added: "We have real confidence in the tourism industry in New Zealand – particularly in Queenstown, which requires new infrastructure to keep up with visitor demand. We are committed to looking at further opportunities in the local market."
For more information about Swiss-Belhotel International, please visit www.swiss-belhotel.com.
For further information and high-resolution photography, please contact:
Brayna Tolledo
Group Communication and Loyalty Programme Manager
Group Sales, Marketing, IT & E-Commerce
Swiss-Belhotel International
The Bluegreen Boutique Office, Tower C-D, 2nd Fl.
Lingkar Luar Barat Kav. 88, Puri Kembangan
Kembangan Utara, Jakarta 11610 – Indonesia
Tel: (6221) 2952 7277 / 2952 7278
Email: braynatolledo@swiss-belhotel.com
swiss-belhotel.com | zesthotel.com
For media contact:
Hina Bakht
Managing Director
EVOPS Marketing & PR
Mob: 00971 50 6975146
Tel: 00971 4 566 7355
Hina.bakht@evops-pr.com
www.evops-pr.com
Notes to Editors:
Swiss-Belhotel International currently manages a portfolio of more than 145* hotels, resorts and projects located in Cambodia, China, Indonesia, Malaysia, Philippines, Vietnam, Bahrain, Egypt, Georgia, Iraq, Kuwait, Oman, Qatar, Saudi Arabia, United Arab Emirates, Australia, New Zealand, Bulgaria, Germany, Italy and Tanzania. Awarded Indonesia's Leading Global Hotel Chain for eight years, Swiss-Belhotel International is one of the world's fastest-growing international hotel and hospitality management groups. The Group provides comprehensive and highly professional development and management services in all aspects of hotel, resort and serviced residences. Offices are located in Hong Kong, New Zealand, Australia, China, Europe, Indonesia, United Arab Emirates, and Vietnam.
*Numbers may fluctuate