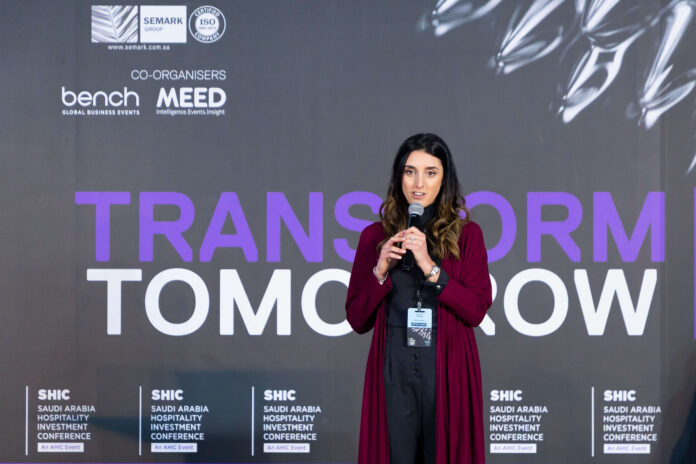 Riyadh: Mysk by Shaza took part in the 'Three Minute Pitch' at the Saudi Arabia Hospitality Investment Conference (SHIC) in Riyadh on 21 January. Noelle Homsy, Development Manager of Shaza Hotels, delivered a highly-acclaimed presentation, showcasing Mysk's enriching transformational experiences infused with cultural connections.
Elaborating on the concept, she stressed, "Today, travellers want experiences that transform them, they want to travel to learn something new; but most importantly, they want to embrace the local culture. With Mysk, we are creating immersive experiences in extraordinary locations. We are offering travellers the opportunity to discover the local culture through intimate, holistic and authentic experiences that are tailored to their needs."
A member of the Global Hotel Alliance, Shaza is becoming a leading player in transformational lodging in the Middle East.
Noelle stated, "We are reimagining experiences and taking them to the next level. For example, at our Kingfisher Lodge in Sharjah, guests can take part in beach-cleaning initiatives. This not only brings great satisfaction to the guests during the experience, but stimulates positive change that extends beyond their stay."
The recent reforms and widespread investment in Saudi Arabia's tourism sector are driving demand for a new generation of hotels and Mysk by Shaza is ideally suited for the market given its innovative concept.
Noelle said, "The new tourism strategy of Saudi Arabia has opened the doors for the world to discover the amazing nature and heritage of the Kingdom, and this represents a massive opportunity for us to develop transformational lodging in various areas of the country."
Shaza Hotels has operated in the Kingdom with great success since the launch of the group's first 5-star property Shaza Al Madina and thereafter expanded to Makkah, Riyadh and will soon be in Jeddah.
About Shaza Hotels
Shaza Hotels is an international hotel management company comprising of two unique brands: Shaza in the luxury segment, and Mysk in the upscale segment. The brands are characterised by their dedication to offering true Arabian hospitality inspired by the traditions and culture of the Silk Route and reflected by a contemporary Middle Eastern style décor and serene ambiance that is appreciated by the most discerning travellers. Shaza is a member of the Global Hotel Alliance (GHA).
About DISCOVERY Loyalty
A memorable trip demands more than a comfortable stay. DISCOVERY, an award-winning global loyalty programme, provides 16 million members recognition and perks across over 570 hotels, resorts and palaces in 78 countries. Elite members have the opportunity to immerse themselves in local culture through Local Experiences, distinctive activities that capture an authentic taste of each destination. For more information, visit discoveryloyalty.com
For further information please contact:
Ali Ozbay
Director of Marketing & Communications

Shaza Hotels
Website: www.shazahotels.com
Email: ali.ozbay@shazahotels.com
Office: +971 4 437 6460
Follow us on:
Facebook: www.facebook.com/ShazaHotels
www.facebook.com/MyskbyShaza
Twitter: @ShazaHotels @MyskbyShazaInstagram: @ShazaHotels @MyskbyShaza
Linkedin: https://www.linkedin.com/company/shaza-hotels/

#ShazaHotels #IamShaza #MyskbyShaza
For media please contact:
Hina Bakht
Managing Director
EVOPS Marketing & PR
Mob: 00971 50 6975146
Tel: 00971 4 566 7355
Hina.bakht@evops-pr.com
www.evops-pr.com