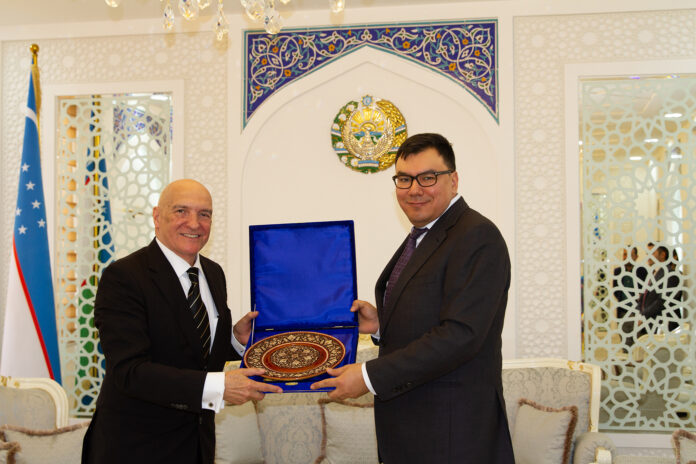 H.E. Aziz A. Abdukhakimov, Deputy Prime Minister of the Republic of Uzbekistan, receives a special delegation of hospitality experts from Dubai led by Mr. Michel P.J. Noblet, Chairman of ATECA Holding
H.E. Aziz A. Abdukhakimov, Deputy Prime Minister of the Republic of Uzbekistan, Chairman of the State Committee for Tourism Development, met with Mr. Michel P.J. Noblet, Chairman of ATECA Holding, to discuss opportunities of bilateral collaboration to drive growth of tourism and hospitality sector in Uzbekistan. He was joined by the executive team of ATECA including Mr. Karimov Kamoladdin, Chief Executive Officer, and Ms Hina Bakht, Chief Marketing Officer.
During the meeting, H.E. Aziz A. Abdukhakimov said, "Tourism is a key pillar of our economy. Although we have made remarkable progress in recent years in the sector, we still have a long way to go in realising our ambitions and potential. We are eager to showcase to the world the very best of our country and demonstrate that it is not only a fantastic place to visit for leisure but also exceptional to do business and study. We are eager to create the right infrastructure and experiences for tourism to thrive and make it easy for travellers to visit Uzbekistan."
H.E. Aziz A. Abdukhakimov further added, "We are working very hard on all aspects to deliver the very best in terms of product and experiences to global visitors. As the tourism sector expands and changes, it is vital we work together with all stakeholders removing any barriers to growth to build this important industry. Therefore, we welcome experts such as Mr. Michel P.J. Noblet who holds outstanding experience and expertise in the hospitality field to guide and support local owners with his international know-how and vision."
According to World Travel & Tourism Council statistics, the direct contribution of Travel & Tourism to GDP in Uzbekistan was 3.2% of total GDP in 2017 that is 1.6 billion $. In 2018 the figure rose to 3.4% of total GDP, which was 1.3 billion $. By 2028, the total contribution of Travel & Tourism is forecast to rise to 3.4% of GDP, that is 3.07 billion.
ATECA Holding has outlined a series of strategic and innovative initiatives defined around the hospitality and tourism industry's requirements in Uzbekistan. Chairman of ATECA Holding Mr. Michel P.J. Noblet's incredible experience spans across five continents in over 65 countries from Europe to Africa, the Caribbean region, Middle East, West Asia and Asia Pacific. Hospitality comes naturally to him having been in the industry for the past 55 years.
Michel stated, "It is a great honour and privilege to be received by H.E. Aziz A. Abdukhakimov, Deputy Prime Minister of the Republic of Uzbekistan. We are delighted by his dynamic and open-minded approach and extremely grateful for the support extended to ATECA Holding. Uzbekistan holds enormous tourism potential and is one of the most beautiful, safe and historically rich countries. At ATECA, we are well placed to provide holistic services to the local hospitality and tourism industry aimed at developing a competitive tourist offering at par with international standards. We are eager to play a part in supporting the tourism vision to leverage all-round growth while giving tourists an authentic experience of local culture and traditions."
Travel & Tourism investment in Uzbekistan in 2017 was 273 million $. In 2018 it was 225 million $.
About ATECA Holding
ATECA Holding is a diversified group of companies operating in multiple sectors, from hospitality to tourism, real estate, education and marketing. The organization is focused on development of tourism in Uzbekistan which holds huge potential for growth and is a key pillar of the economy, followed by Central Asia.
Every aspect of the group's business is a mark of perfection and is a step towards stronger brand equity and market leadership. Through the broad spectrum of its operations, ATECA Holding is eager to capitalise on every opportunity in the region to maximise the value of its resources, enhance returns for its associates and shareholders and create long-term value for all.
For more information visit www.atecaholding.com
For media contact:
Hina Bakht
Managing Director
EVOPS Marketing & PR
Mob: 00971 50 6975146
Tel: 00971 4 566 7355
Hina.bakht@evops-pr.com
www.evops-pr.com