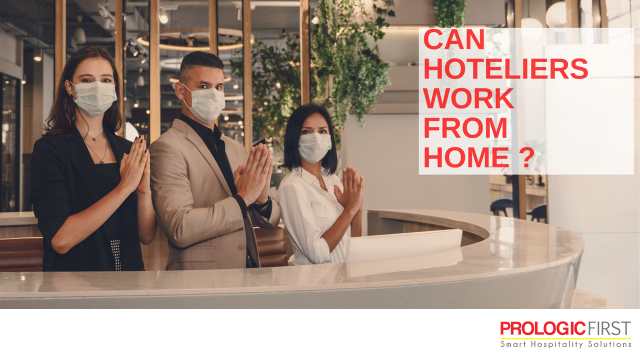 In a world hit hard by COVID-19, the work from home (WFH) is a long-term reality for most businesses and hotels are no exception. However, it is important to look beyond today. For managing essential functions in times of lock down as well as future business continuity, Prologic First offers a comprehensive array of WFH solutions ranging from options for back-office staff to sales and reservation teams.
Amlan Ghose, Managing Director of Prologic First, explained, "Even if your hotel is locked down and your employees are unable to get to work, your back office needs to function. You need to follow up on debtors to bolster your cash-on-hand, you need to pay essential suppliers so that they stand by you when you are back in business, you need to pay salaries & manage HR functions so that you do not lose talent without whom restarting will be harder and you still need to worry about statutory compliance."
Considering the above there are many questions that arise. Are you able to do all this? Does your IT allow you to? If your IT is capable and your team is able to WFH, how secure is your system? How well protected are you against unauthorised intrusion?
Prologic First has the answers. Amlan stressed, "Our popular hospitality ERP, Web Prol'IFIC, that is used at 1000+ sites, is web based and multi-property. You may host it in your private data centre or may use it off our public cloud. In either case, you will get rich functionality and high performance. More important, you will be secure. The application works over secure Internet (SSL enabled), access is restricted to authorised users down to the feature level and access may be restricted so that only recognised IP addresses are allowed to access the system."
Similarly, what are hotels doing to ensure that they have guests when the lock down is lifted, and life returns to normal? Are you taking bookings? If yes, how confident are you of your latest availability? Are all your reservation agents referring to a single image of availability so that you do not have situations of overbooking, under booking or double booking?
Amlan stated, "To do all the above, you need a cloud-based PMS connected, via a channel manager, to the online portals and your own brand web site. We have just the system for you. Request information about mycloudPMS or read about it at www.mycloudhospitality.com. Mycloud is a cloud service that you subscribe on a pay-as-you-use basis. By using mycloud you can ensure that your hotel reservations system is fully operational even when your hotel is not. Not just at this moment, when cities and countries are under lock down, but also after the lockdown is lifted. Afterall, WFH is being forecasted as the way of the future."
A big benefit of using cloud-based systems is that your hotel managers and owners get visibility into the operations and management information of their hotel or chain. You no longer need to depend on staff in office to provide you answers. You can seek them yourself. This is just what you need to be able to stay in control of your business and deal with WFH.
Trusted by global hospitality leaders, Prologic First has been at the forefront of providing multi-functional innovative technology solutions for hotels for more than two decades serving clients in over 40 countries. In addition to the most comprehensive hospitality cloud solutions, Prologic First has been a pioneer in hybrid and on-premise hospitality technology solutions and is the technology partner of choice for many leading hotels in the region and worldwide.
For more information visit www.prologicfirst.com or call (+971) 4 336 6345