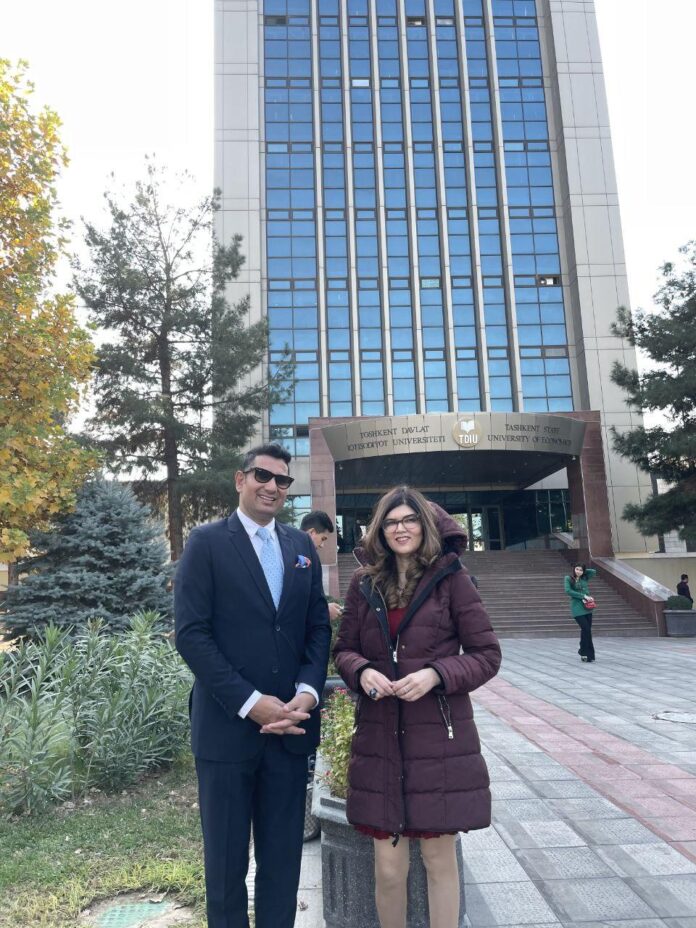 Dubai-based Digital Marketing experts Hina Bakht, Vice Chairman for ATECA Holding and Managing Director for EVOPS Marketing DMCC, and Amit Yadav, Head of Digital Marketing and e-Commerce for Kashkha, have embarked on a knowledge sharing world tour spanning multiple countries.
As part of the initiative, Hina and Amit have been conducting Masterclasses for senior students at some of the world's leading universities located in the UAE, Austria, Korea, Uzbekistan and India on the way Artificial Intelligence (AI) and other technology innovations are transforming digital marketing. Prominent among the institutes are Krems University in Austria, Yeoju Institute of Technology in South Korea, Tashkent State University of Economics, Indian Institute of Management Calcutta, Birla Institute of Technology & Science, Pilani – Dubai, and Manipal Academy of Higher Education, Dubai.
Hina stated, "The rapid advancement of technology, combined with the continued social media wave is transforming marketing every day. According to industry research 80% of most customer interactions are now digital therefore digital first approach is a priority for nearly every business. We are glad to have the opportunity to share our professional knowledge and experiences with students at some of the world's most prestigious and well-known universities and would like to express our sincere gratitude to all organisations who made it possible."
Elaborating on the significance of Artificial Intelligence in Digital Marketing Amit stressed, "Digital marketing is a highly specialized field and Artificial Intelligence has clearly sparked a revolution giving businesses insights into strategies related to conversational marketing, behavioural analytics, and customer profiling. It requires a wide range of skills, expertise and hands-on experience to help navigate the trends to make marketing more efficient and personalised. Therefore, we believe knowledge sharing and exchange is critical to success in the field. It is a two-way process and our goal with the Masterclass on Digital Marketing is to create value through learning."
Hina added, "There are many variables in digital marketing that need to be aligned to deliver the required results with precision. The most challenging and highest potential opportunities often come from spotting connections between essentially different areas. As experts our role is to identify and connect those dots for best performance."
Amit revealed that there many more countries on the list of the duo in the coming months. Among these are nations from Africa and Asia particularly those which are less advanced and in need of greater educational support from experts. He said, "Access to quality education and training is the right of every individual and fundamental to the growth of any community and economy. We believe all of us no matter how big or small can play a part in supporting education initiatives as part of corporate social responsibility. Therefore, both me and Hina feel privileged to share some of our learning with tomorrow's workforce and contribute to fostering a culture of academic collaboration."
Photo Caption: Amit Yadav, Head of Digital Marketing and e-Commerce Kashkha and Hina Bakht, Vice Chairman for ATECA Holding and Managing Director for EVOPS Marketing DMCC.