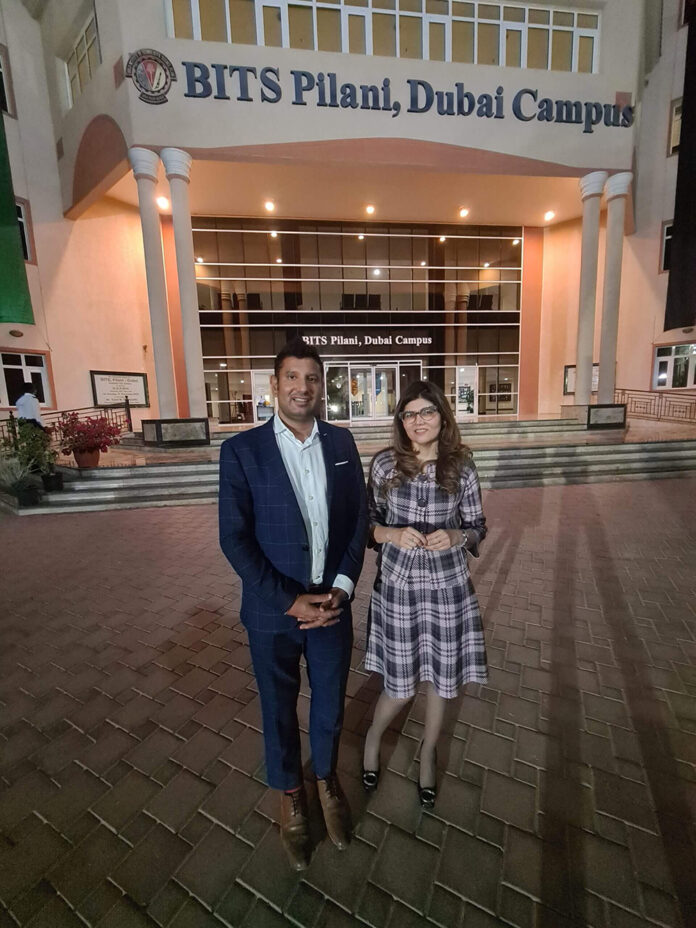 The COVID-19 pandemic has changed the business world and the new market reality requires a new approach from leaders. Hina Bakht, Vice Chairman for ATECA Holding and Managing Director for EVOPS Marketing DMCC, and Amit Yadav, Head of Digital Marketing and e-Commerce for Kashkha, delivered an insightful lecture on leadership 'Raise Your Game' for MBA students at Dubai campus of Birla Institute of Technology and Science, Pilani.
Focusing on what it takes to be a successful leader after the pandemic and drawing examples from real-world situations, Hina and Amit offered strategic guidance and requirements for senior management roles. The two experts highlighted what is needed to navigate through today's dynamic, volatile, complex and often ambiguous business environment and how employees can equip themselves with the relevant technical, relational and communication skills.
Addressing the attendees, Hina said, "Leadership development is an investment in the future. To be a successful leader it is important to develop and expand one's executive skills and mindset. It requires a defined framework based on an individual's capabilities and experience to achieve their full potential."
Amit stressed, "Every step in the professional journey of a leader must demonstrate greater mindfulness and clarity of purpose, proficiency of skill set needed, mastery of change and results and accountability for personal and organizational development."
Integrating practical business insights with proven, innovative development methods, Hina and Amit showed the students how they can embark on building an effective career while broadening their existing strengths.
Amit highlighted 'The 7 Habits of Highly Effective People' from Stephen R. Covey's popular business book. He said, "Far too many of us spend too much time on what is urgent and not enough time on what is important. It is essential to keep the focus on the main thing by getting the priorities right. Also, in order to achieve the company's goals, it is essential to combine the strengths of people through positive teamwork. To drive success, leaders need to be perceptive enough to know where things are headed and be engaged in continuous learning. A leader should be willing to give and receive feedback."
Drawing from the example of bestselling business fable 'Who Moved My Cheese' by Spencer Johnson, Hina said, "Most importantly business leaders need to be able to handle change whether it is due to an internal situation or an external shift. Flexibility is the key to success in times of change whereby one must be more receptive to new ideas. Agility and resilience are fundamental leadership qualities to face and overcome any challenge."
Photo Caption: Left to Right: Amit Yadav, Head of Digital Marketing and e-Commerce Kashkha; Hina Bakht, Vice Chairman for ATECA Holding and Managing Director for EVOPS Marketing DMCC.
About EVOPS Marketing & PR
EVOPS Marketing & PR is equipped with the latest technology and digital capability to provide businesses with the most comprehensive and innovative marketing solutions and strategies. With an integrated 360° marketing approach, the agency offers its high-profile clients bespoke, seamless and personalized service in an era of fast-paced, real-time smart marketing. Included in its services are marketing strategy consultancy, website and mobile app development, PR, social media, advertising, creative design, and events management.
For more information visit www.evops-pr.com