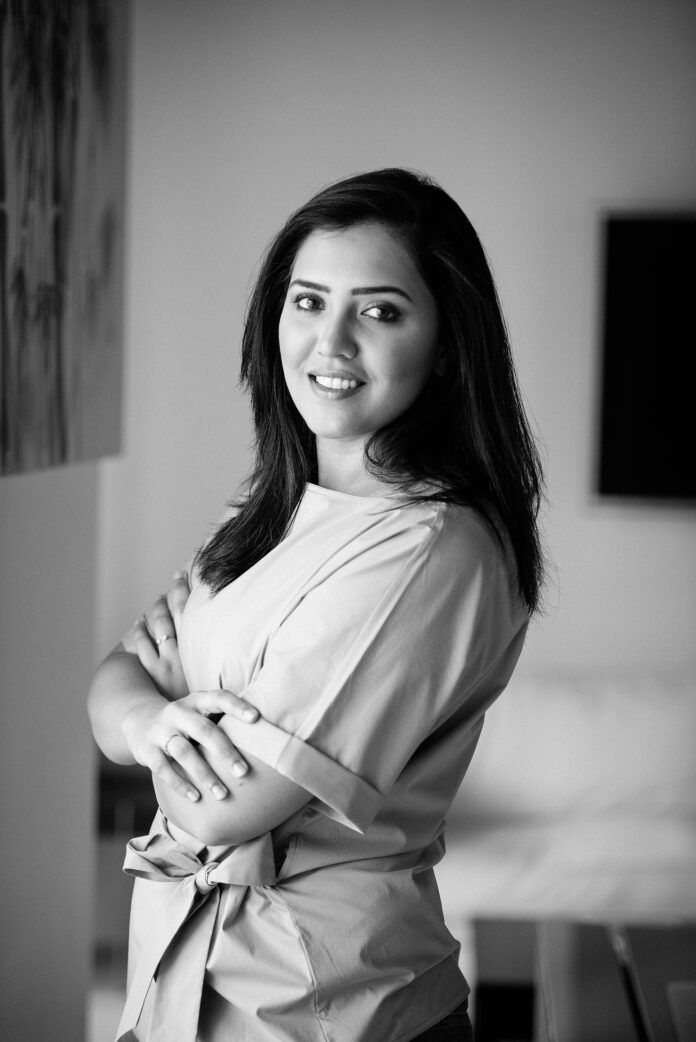 Fabidha Safar Rahman, a member of in5/DDFC, has been declared the winner of 'Meylas 2XL Interior Design Challenge' by 2XL Furniture & Home Décor and Swiss-Belhotel International. The competition was organised in collaboration with Behind the Scenes and was open to local designers who were invited to submit design proposals working with 2XL products to decorate the VIP room of Swiss-Belhotel International's stand at the Arabian Travel Market (ATM) being held in Dubai from 28th April to 1st May 2019.
As part of the challenge participating members submitted various proposals out of which Fabidha's design was voted the best by a special panel of judges. According to the organisers, the objective behind this initiative has been to bring to the fore talented local designers who can play an intrumental role in the hospitality industry and the Arabian Travel Market, which is the largest travel and tourism trade fair in the Middle East, is the perfect arena to present them.
Laurent A. Voivenel, Senior Vice President, Operations and Development for the Middle East, Africa and India, Swiss-Belhotel International, said, "We are delighted to collaborate with 2XL Furniture & Home Decor and Behind the Scenes in this unique project and very happy with the outcome. Fabidha has done a terrific job with interesting space planning and attention to detail, and we look forward to seeing its execution at the ATM."
Amit Yadav, Head of Marketing at 2XL Furniture & Home Décor, said, "Firstly, I would like to congratulate Fabidha for winning the 'Meylas 2XL Interior Design Challenge'. Interior designers have an innate ability to create visual coherence and Fabidha has produced an impressive design scheme. Being one of the leading luxury furniture brands, at 2XL we are always eager to provide opportunities to talented young designers and promote their creativity. Therefore, we are glad to support this wonderful project by Behind the Scenes in collaboration with Swiss-Belhotel International."
Mohammed Salem, Manager for Behind the Scenes said, "Behind the Scenes is a platform established in 2015 under His Highness Sheikh Mohammed bin Rashid Establishment (SME) specialty in Media production services, event management and exhibitions. Our aim is to provide emerging talents an opportunity to develop themselves by connecting them with local business establishments. We are very pleased to partner with Swiss-Belhotel International and 2XL Furniture & Home Decor, in this unique venture that has allowed one of our members to display her talent and skills at the ATM."
Fabidha, who is a Co-Founder and Design Director at Design Matter, stated, "I am very excited and thrilled to win this competition. My passion is designing spaces and I thoroughly enjoyed working on the project with the objective to create a distinctive experience for the VIP visitors at the Swiss-Belhotel International's ATM stand. I am glad my ideas have been liked."
Swiss-Belhotel International stand HC0825 will be located in Sheikh Saeed Arena in Dubai International Convention and Exhibition Centre.
For media contact:
Hina Bakht
Managing Director
EVOPS Marketing & PR
Mob: 00971 50 6975146
Tel: 00971 4 566 7355
Hina.bakht@evops-pr.com
www.evops-pr.com
About Swiss-Belhotel International
Swiss-Belhotel International currently manages a portfolio of more than 145* hotels, resorts and projects located in Cambodia, China, Indonesia, Malaysia, Philippines, Vietnam, Bahrain, Egypt, Georgia, Iraq, Kuwait, Oman, Qatar, Saudi Arabia, United Arab Emirates, Australia, New Zealand, Bulgaria, Germany, Italy and Tanzania. Awarded Indonesia's Leading Global Hotel Chain for eight years, Swiss-Belhotel International is one of the world's fastest-growing international hotel and hospitality management groups. The Group provides comprehensive and highly professional development and management services in all aspects of hotel, resort and serviced residences. Offices are located in Hong Kong, New Zealand, Australia, China, Europe, Indonesia, United Arab Emirates, and Vietnam.
*Numbers may fluctuate
For further information visit https://www.swiss-belhotel.com
About 2XL Furniture & Home Décor
UAE based 2XL Furniture & Home Décor is a retailer of luxury home furnishings since 2000. The retailer currently has 9 showrooms across Abu Dhabi, Dubai, Sharjah, Fujairah and Al Ain. The 2XL product range includes exclusive bedroom, living and dining room furniture as well as exquisitely crafted décor items, unique gifting ideas, plush rugs and gorgeous wall art, divine bed and bath linen, eye-catching tableware, and a fun, functional kitchenware range.
The 2XL range is very classic and French-inspired. Each retail item has been carefully chosen exclusively for 2XL and denotes a lifestyle that is regal, sophisticated and of a finer taste. We have something to suit every home setting
– from ornate gold-plated bedroom settings to the more subdued Parisian hues of shabby chic, quirky contemporary inspirations to more ethnic Eastern-inspired décor ideas.
For more information or to shop online please visit www.2xlme.com
Connect and tag us on @2xlfurniture
#2XLfurniture
About Design Matter
Design MATTER is an architecture and interior design firm. We design experiences that tell a client's unique story without having to say a word. Our service is always client-focused and our designs are centered on the end user. Good design reflects success, attracts customers and builds trust.
Our conceptual process incorporates our clients' values and branding into every aspect of design. We design spaces that inspire workplace pride and productivity, which in turn retains key talent.
We believe good design comes at the junction of intellect and instinct, reinforced by a trained eye. In our 30 years of combined experience in commercial and residential architecture and design, we have strived for sustainability and an uncompromising attitude towards maintaining built quality.