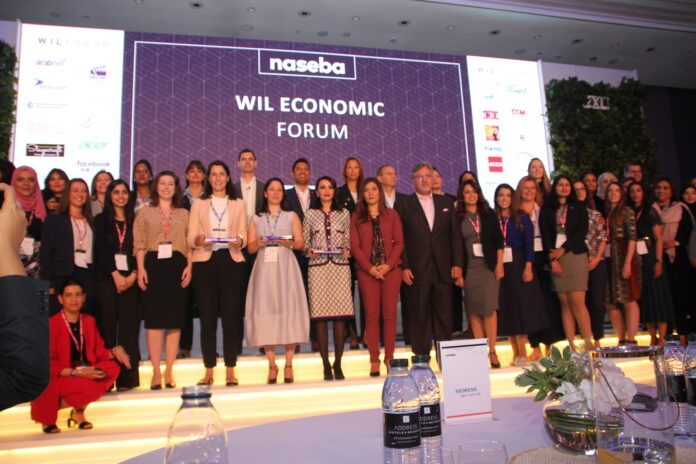 The 10th Anniversary Edition of the Women in Leadership (WIL) Economic Forum by Naseba opened today at the Address Sky View Hotel in Dubai under the theme, 'Daring to Build a Better Future'. The 2-day forum is the largest female economic empowerment platform in the Middle East and brings together leading regional and international organisations such as Siemens, Facebook, Allergan, FedEx, Philip Morris, PWC, General Motors and Emaar Hospitality to share their success stories on gender parity and inclusion.
In his opening remarks, Nic Watson, Managing Director of Naseba, said, "In the past 10 years, WIL Forum has travelled to 8 cities and connected thousands of men and women around the world, game changers who share a similar vision for a world where the gender divide is no longer a barrier to prosperity and innovation. WIL is more than an event, it is a community of people who believe in the power of connection, supporting, empowering and encouraging each other to make change happen".
In keeping with the growing recognition globally that the pace of women economic empowerment must be rapidly accelerated, over 50 thought leaders and panellists engaged in insightful conversations and informative sessions on advancing Gender diversity in our societies and economies.
Dr. Mark Esposito, Co-founder, Nexus Frontier Tech, made a case for 'Diversity in Times of Change' in his keynote speech. He questioned, "Why do many organisations still struggle to create inclusive workplace culture?"
The CEO's Panel on 'A Plan of Action for Diversity' moderated by Hadley Gamble, Anchor CNBC, highlighted key milestones achieved in recent years and roadmap for the next five years by some top companies. Participants Hani Ashkar, Senior Partner – Middle East Territory PwC; Elissar Farah Antonios, Chief Executive Officer, Citi UAE; Ozlem Fidanci, Chief Executive Officer, Philips Middle East & Turkey; Ali Matar, Head of Linkedin – MENA and EMEA Emerging Markets and Luciano Poli, President – Dow Chemical India, Middle East, North Africa & Turkey (IMENAT) shared views on how gender equality supports the diversification of the regional economy.
Franco Atassi, Senior Vice President Smart Infrastructure, Siemens Middle East, spoke on why gender equality is good for everyone – not just women and what is the role of male allies in achieving parity.
In a session 'Connect-Empower-Innovate' led by Facebook, panellists discussed how building trusted communities deepen career development and leverage women's unique insights for personal and professional development. Participating in it were Eleni Kitra, Head of Automotive & Financial Services, Middle East, North Africa, Facebook; Dr. Sara Al Madani, Board Member (UAE SME Council) Ministry of Economy; and Ramez Tannous Shehadi, Managing Director – Middle East & North Africa, Facebook.
Engaged in a discussion on how Artificial Intelligence can help organisations overcome bias and embrace and inclusive culture were panellists Eva Mourino, Senior Vice President HR Siemens Middle East, Madhuri Adettiwar, General Electric Renewables; and Dr. Mark Esposito, Co-founder, Nexus Frontier Tech.
H.E. Linda Rama, Economist and Wife of the Prime Minister of Albania, spoke on what current political leaders need to do to ensure they leave a positive legacy for a better future.
Talking about building and leading a diverse team, Ramsey Morad, Vice President, India Middle East and Africa, Allergan Middle East, elaborated on the key steps that leaders need to take to inspire diversity and inclusion.
Hermoine Macura-Noble, TV Anchor & Problem Solver, Straight Street Media, engaged in a fireside chat with Marianela Mirpuri, Board Member, Mirpuri Foundation on what can be done to create positivity through inclusive endeavours and behaviours.
Discussing the future of migration with Sophie Le Ray were panellists Tenzin Seldon, Founder Kinstep; Maysa Jalbout, Global advovate for supporting vulnerable people through philanthropy, education and technology, Noella Coursaris Musunka, Founder, Malaika; and Marie-Christine Nibagwire, Founder, Safe Refuge Rwanda.
Part of the programme were also exciting workshops on inclusive leadership, personal branding, mental health, public presence and communication.
WIL Economic Forum by Naseba will continue on 29 October and is supported by Emaar Hospitality, Chain Reaction, Allergan, FedEx, Facebook, General Motors, Siemens, PWC, Philip Morris, 2XL Furniture & Home Décor, Arabnet, Dubai Chamber, ACCA, Womena, Ellevate, Harvard Club of the UAE, She is Arab, When Women Win, CIO, The Tempest, Straight Street Media, WOW World of Cinema, French Business Council, CCM Consultancy, Thrive Global, Right Selection, Simply Healthy, Hikma, Hewlett Packard Enterprise, Acer, Du, The Talent Enterprise, IE, Haul In One, Stagecraft and Semper Green.
About Naseba
Naseba creates growth opportunities, connecting people, partners and ideas. Focused on deal facilitation, it helps clients raise capital, close sales, enter new markets, secure partners and educate workforces. Naseba creates opportunity and adds economic value at every stage of our client's journey.
Since 2002, Naseba has facilitated more than a billion dollars' worth of deals and has connected over 100,000 global executives through more than 1,000 proprietary business platforms in liquid growth markets.
Naseba is a signatory of the Women's Empowerment Principles – Equality Means Business, produced and disseminated by the United Nations Entity for Gender Equality and the Empowerment of Women (UN Women) and the United Nations Global Compact.
For media contact:
Hina Bakht
Managing Director
EVOPS Marketing & PR
Mob: 00971 50 6975146
Tel: 00971 4 566 7355
Hina.bakht@evops-pr.com
www.evops-pr.com